Five reasons why the New Orleans do'sant is superior to the New York cronut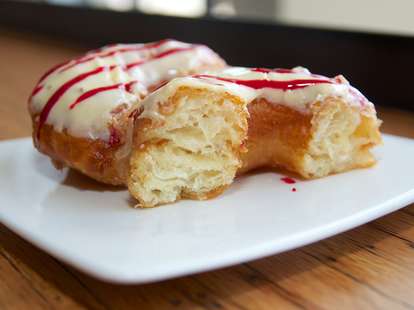 Scott Gold
Scott Gold
By now, we've all heard tales of Cronut Mania in New York, which has spread across the globe like some sort of delicious virus, commanding hordes of rabid fans willing to do horrible things for a taste of this pastry mutant (mostly getting up SUPER early). However, the Cronut has a rival in New Orleans' own "do'sant", ironically courtesy of bakery named Manhattanjack. It is superior to the Cronut in every way. Here are five of them.
1) The name.
Admit it, "Cronut" doesn't especially roll off the tongue. It sounds more like a greasy automobile part than a pastry. "Do'sant" has that lovely French lilt to it. Plus, the legally necessary inclusion of the trademark (and the difficulty in pronouncing it) takes all the fun out of the experience. Nothing says "enjoyable pastries" like intellectual property infringement paranoia.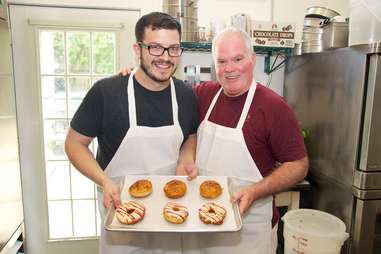 2)No insane lines.
According to the Dominique Ansel website, you can be assured to get one of their Cronuts if you're in line at their shop before 6a. Just to be clear, if you get there at 6:15a, then you missed out, buddy. The line at Manhattanjack is never much more than 5-10min, even during peak hours, and check this: if they do happen to run out of do'sants, then something magical happens... they just make more.
3) The flavors.
Manhattanjack's do'sants, fried perfectly, glazed and served hot, come in killer flavor offerings like Boston cream, peach melba, and Bananas Foster (in case you forgot, we're in New Orleans). But their trump card is clearly the Irish car bomb, made with Jameson's whisky, Guinness stout, and religious intolerance Bailey's Irish cream.

4)The attention to detail involved in the do'sant is unreal.
Not only does Manhattan Jack painstakingly laminate their own croissant dough, but all of the fruit used to flavor the do'sants is REAL. No syrups, no imitations.
5) Speaking of flavors, the creme brulee do'sant.
Oozing gleefully with perfect yellow custard, it can only be made by caramelizing hand-sprinkled sugar with a blowtorch. Does Dominique Ansel make his cronuts with a blowtorch? We thought not.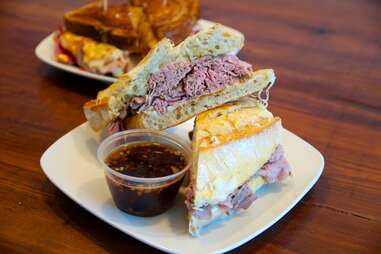 BONUS:
If you happen to stick around at Manhattanjack to wait out the inevitable, crushing sugar crash -- perhaps surfing the web on their free WiFi for a few hours until lunchtime -- you can treat yourself to some of the most amazing sandwiches in New Orleans, fashioned from fresh, homemade bread and meats from Cleaver & Company; the whole animal butcher shop right around the corner (rare roast beef with Italian provolone and killer au jus, anyone?).