The Official Etiquette Guide to a New Orleans Crawfish Boil
Outside of perhaps Carnival, there are few traditions in New Orleans -- and in South Louisiana in general -- more beloved than the backyard crawfish boil. It's a beautiful and distinctive part of our culture that helps make us who we are, not to mention a really, really tasty one. Sure, you can get crawfish at a seafood restaurant or buy a sack to take home for yourself, but there's nothing like sharing in the tradition with a bunch of friends, family, or even strangers (especially attractive strangers). If you're headed to a boil and you're maybe a little uneasy about how to conduct yourself, here are some important ground rules to get you started.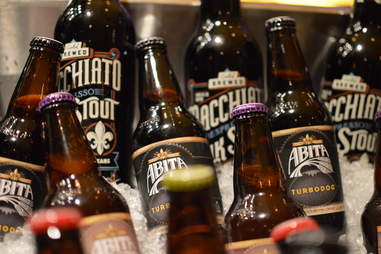 Nora McGunnigle/Thrillist
Never show up without beer
This should be an absolute no-brainer. You pretty much don't go to any event in someone's New Orleans home without bringing a six-pack or a bottle of something tasty. If you're feeling ambitious, bourbon is always a great choice for slow sipping after the crawfish run out. And during the boil, there NEEDS to be plenty of cold beer on hand, preferably something domestic and not too crazily over-hopped, since you don't want to interfere with the flavors of the seafood. If your host has a heavy hand with the cayenne, you'll also need a beer to help put out some flames in your mouth. Abita Amber is never a bad choice, as is Parish Brewing Co's Canebrake or NOLA Brewing's blonde ale.
 
Offer to help
Both before and, perhaps more importantly, after, help can be huge at a boil. If you have some serious crawfish boiling skills, an extra hand with the paddle from time to time won't go unappreciated. But an extra person pitching in with the pitching out (cleanup after a boil can be a chore if it's only a couple of people) will make you little less than heroic.
Greet the live ones
And respect the sacrifice they're about to make to the gods of blessed Louisiana tradition -- not to mention your belly. Since crawfish are boiled live, there should be sacks and sacks of live, wriggling mudbugs hanging around while the boil mix gets ready. Say hi to them and thank them for their service. If anything, it will maybe make you feel a little bit better before embarking on a wholesale crustacean apocalypse.
 
"Don't eat the dead ones"
This sounds counterintuitive, seeing that all crawfish are dead by the time they hit your lips; that's what boiling a creature live invariably does. But, as local legend has it, boiled crawfish with straight tails were dead before they hit the pot, and hence less palatable.
 
Respect the shift-system
If, per tradition, the consuming of hot boiled crawfish takes place at a long table (some even have holes right in the middle for the garbage bag, which is Louisiana-genius), don't be that guy who stays there the entire time if there are others waiting for a spot. Like in traffic, you should be magnanimous and waive them in, and they'll do the same after their round is finished. Then keep repeating until you or the crawfish are finished.
Pacing is polite
If you're new to the game and maybe a little slow at the pull-suck-peel-and-pinch, don't put a mountain of mudbugs in front of you, because everyone else will be finished before you're halfway through. And if you're really adroit in crawfish eating kung fu, don't eat all of them before the slower people (likely Yankee transplants) get a chance to enjoy.
 
Don't horde
When those beautifully boiled crawfish spill out onto the table, your primary instinct will be to take all of the big ones for yourself and slap the hand of anyone who dares to attempt the same. Don't be a dick. You'll get your fill, so don't be anxious and overzealous. Relax. Everyone's in your same boat (or pirogue, rather).
Pay good attention to the extras
A crawfish boiling pot almost never contains only crawfish. Traditionally, there will also be new (red) potatoes, corn, mushrooms, garlic, smoked sausage, and, if you're lucky, artichokes. Given the size of crawfish tails, it can be difficult for someone with a prodigious appetite to truly fill up, even if they're a fast peeler, so all of these bonus goodies can really help out with that, and also help to ensure the crawfish doesn't run out too quickly.
 
Chuck your shells
This should be commonly understood etiquette to anyone who wasn't raised in a cave by mountain wolves, but cleaning up after yourself is important. When you've devoured your round's allotment of mudbugs, make sure to discard the shells and tidy up a bit before the next batch is ready.
Liz Childers/Thrillist
Want special sides? It's on you.
If you want something other than what's going into the pot -- like, say, that great salad you make with butter lettuce, avocado, and hearts of palm, or even just coleslaw or chips -- don't expect it to be there unless you bring it yourself. Speaking of which, everybody who's worth knowing will appreciate a couple bags of Zapp's. (Be worth knowing.)
 
Do NOT encroach
If you failed to get enough craws on your first go, or just peeled and ate them faster than everyone else, and your neighbor still has a big, hot pile, resist every urge to start eating from their share. Very, very not cool, man. If they look like they're lagging, though, you can always politely ask if you can help them out. They can always say no, but don't just dig in there like it's your damned birthright.
 
Suck the heads!
As it is with ramen in Japanese culture, slurping is both accepted and encouraged. This is not a black tie affair... it's a crawfish boil. Anything more dressy than T-shirts, shorts, jeans, sneakers, and flip-flops would be considered anathema (more on that below), and people go about the wonderful business of crawfish eating in audibly apparent glee. Which of course means sucking the boiling liquid and that magnificent yellow crawfish fat out of the "head," which is, technically speaking, both the head and the thorax section of the animal. Wanna scoop that goop out with a finger? Go for it!
Music is always a good idea
Your host will almost always have taken care of having plenty of Zydeco or NOLA brass music on hand, but if you and your friends happen to have a folk trio going, or maybe you're a talented guitar, fiddle player, accordionist, etc., don't be afraid to bring your instrument. Late night, post-crawfish jam sessions are generally pretty fantastic in New Orleans, given the state of the local talent.
 
Extra chairs never hurt
Depending on the size of the boil and the crowd, you're never guaranteed an actual seat. In fact, many times crawfish are consumed standing. But if you know that tricky knee is going to act up if you've been on your feet for a few hours, throw a couple of foldable festival chairs in your car before you head over. And bring a couple of extras, if you have them, just in case somebody wants a seat but can't seem to find one.
 
Never use the "good" bathroom towels
These affairs are dirty as all get-out. If you don't have crawfish juice running up to your elbows and spices and bits of shell underneath your fingernails, you're absolutely doing it wrong. Which means that, like the table itself, you're going to need some cleaning up as well. Begin this process with paper towels, which should be in abundance, and/or wet-naps if available. Do your best, THEN go to the bathroom to finish the job with soap and water, if you must, but don't use your hosts decorative hand towels to get the job done. That's just plain rude.
Definitely make sure to thoroughly clean your hands before touching any sensitive bits
As above, you're going to wind up with crawfish stuff all over your hands and fingers, especially if you've been at it for a few hours. So for the love of all that's holy, ensure that your hands are clean of that spicy debris before touching your eyes or, God forbid, taking a pee. That's a one-way ticket to ouch-town, folks.
 
Bring an apron, bib, or change of shirt
Speaking of the mess that accompanies a crawfish boil, you're likely to wind up with splashes of fragrant crawfish juice and guts all over your person by the end of the party. If you're going anywhere else after, you'd be best to either have a bib or apron at the ready, or even a spare shirt, because if you're anything like the locals, you're going to smell like the bottom of a fish tank by the time this thing concludes.
 
Be gracious to your beautiful hosts
People who take the time and burden the expense to host a crawfish boil for their lucky friends and relatives are the best type of people in the world, so no "ghosting," which would be unspeakably discourteous. A simple, verbal "thank you" is all that's necessary.
Have fun!
Seriously, it's a crawfish boil, not a funeral. These things have been engineered by generations of Louisianians to be a rollicking good time. So let loose, laugh easily, and know that you're in the company of friends, whether or not you've actually met them before in your life. That's one of the most beautiful things about life down here. Well, that and the crawfish.
Sign up here for our daily New Orleans email and be the first to get all the food/drink/fun in the Big Easy.
Scott Gold is a writer in New Orleans who's always good for at least 5-6lbs of boiled mudbugs, and he never forgets to bring beer. Follow him on Twitter @scottgold