The 17 Worst Restaurant Decisions You Can Make in New Orleans
As a town world-famous for its indigenous cuisine, New Orleans might very well be the best city in the country for dining out. But nobody makes good decisions on an empty stomach, so there is, unfortunately, plenty of latitude for bad ones. Stay away from these ones in particular for a more positive dining experience in the Big Easy...
Deciding to "just pop in" for lunch at Galatoire's on a Friday
Hate to tell you, buster, but there is a longstanding tradition of waiting in line -- often for hours -- to snag a downstairs table for the first seating at this famous Bourbon St institution. So get there well early and, if at all possible, don't be one of those entitled d-bags who hires a homeless person to save your place (NOT cool).

Wearing white and/or fancy clothing to dinner at Mosca's or Pascal's Manale
The entrees as Mosca's are essentially a delicious garlic butter/oil delivery system (that chicken a la grande, my God...), and the famous BBQ shrimp at Manale's are drowning in the stuff as well. Unless you don't eat with abandon, which we highly recommend, a drop or two is going to find its way to your shirt. It is an immutable law of the universe.
Wearing dark clothing to Cafe Du Monde or Morning Call
Would you like some beignets with your powdered sugar? Also, make sure not to inhale as you deposit the donut into your mouth, lest you fall victim to the dreaded "beignet lung."

Shunning the sherry in your turtle soup
A cup or bowl of turtle soup is a beloved and classic New Orleans tradition, as is the extra hit of sherry when it arrives at your table. It just brings everything together.

Being bested by the line at Hansen's or Domilise's
Waiting for your satsuma Sno-Bliz or oyster po-boy is a true test of a person's patience and strength of character. Do not let the line get the better of you. You can do it. We believe in you!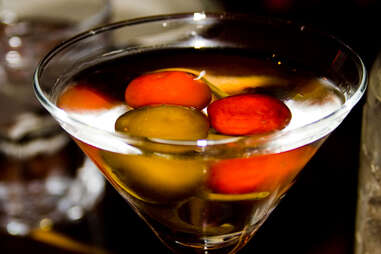 Overdoing it on the $.25 martinis at Commander's Palace
Best drink deal in town. Technically the limit is three per-person, but, as the adage goes, "martinis are like breasts: one is too little, and three is too much." Drink two and move to wine.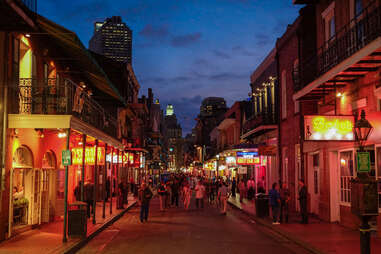 Getting Bourbon St Pizza EVER
Seriously, it has got to be the world's worst slice in all of human history, and God only knows how long it's been sitting there (we're guessing six to seven years). If you're tipsy and hungry in the French Quarter late at night, hit Verti Marte instead. You'll be happy you did.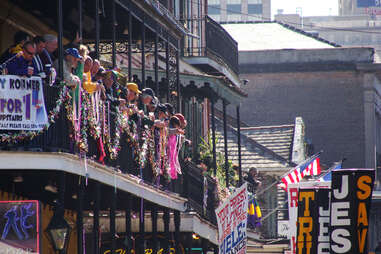 Not having your reservations in order the Friday before Mardi Gras or during graduation season
It's a restaurant mob scene, and only the smartest will get a good table at a coveted restaurant. Be that smart person and make your reservation well in advance.

Not asking your server for recommendations...
Surprise: New Orleans servers live in New Orleans. They know what's up (often more so than a hotel concierge), and not just in their own place of employment. Tip them well, and they'll be more than happy to give you the inside scoop on all their favorite places and things to do.

Or not taking your server's recommendations
See above. If a server tells you that you should do/see/eat/drink something, you'd be a fool to ignore their sagacious advice.
Ordering the chicken at a fish restaurant
If you're going to a place like Peche, which is famous for its hearth-cooked local seafood, you should definitely order seafood. Not that the chicken diablo there is bad by any stretch of the imagination, but c'mon... really? You're going to want a few things from the raw bar and the whole grilled fish for the table, trust us.
Failing to order the alligator sausage cheesecake at Jacques Imo's
It doesn't matter what else you're ordering for dinner (the fried chicken is particularly noteworthy), that savory cheesecake is a must.

Assuming a restaurant will be open on a Monday
Mondays in New Orleans are for eating red beans and rice at home, not going out. Hence many if not most local restaurants are closed that day, sometimes Tuesdays as well, or even, weirdly enough, Wednesdays.
Only visiting restaurants in the French Quarter
You don't have to go to Algiers or the West Bank, but for real, you should at least get to the Garden District or Mid-City for a meal. Many of the best restaurants in the city aren't in the Vieux Carré, so invest in cab fare, or at the very least $1.25 for the streetcar.

Asking for a menu at Charlie's
You should know what you want when you sit down. At the very least, ask your server what's up that evening, but skip the menu. Here, we'll do it for you. Repeat: "I'll have the 18oz ribeye, medium rare, with creamed spinach, garlic bread, and onion rings." See? Wasn't that easy?
Not ordering a po-boy "dressed"
Fried seafood or roast beef swimming in gravy on French bread isn't complete without lettuce, tomatoes, pickles, and mayo. And preferably Crystal hot sauce, too. Having it any other way is just dumb.
Skipping dessert
At the bare minimum, you MUST order one creme brulee, bread pudding with whiskey sauce, or bananas Foster for the table.
Sign up here for our daily New Orleans email and be the first to get all the food/drink/fun in the Big Easy.