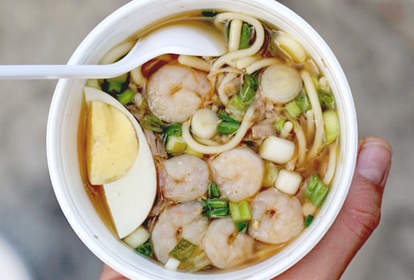 NewOrleans.com / Paul Broussard
The Secret Comfort Food That New Orleanians Swear By
"It's all about the juice," says Linda Green. The chef is referring to the fragrant, savory broth that is the secret ingredient of her famous ya-ka-mein. And she should know. The 60-year-old proprietor of Ms. Linda's Soul Food is so synonymous with the classic New Orleans soup that she's endearingly known as "The Ya-Ka-Mein Lady."
Ya-ka-mein isn't well-known outside the Crescent City, and it's not as prevalent here as, say, po-boys, or gumbo, or any number of other dishes associated with southern Louisiana cuisine. Its claim-to-fame is its restorative quality, long-touted by locals, even before Green's booth became a fixture along second-line routes. Though it resembles Vietnamese pho, its ingredients are rooted in Chinese and African-American cooking: traditionally, a beef-based broth infused with soy sauce and a blend of Creole spices, containing chunks of beef, spaghetti noodles, hard-boiled eggs, and chopped green onions. The resulting taste is hot, spicy, and savory. And unquestionably soothing.
Matthew Noel
While in other places, the cure for some discomfort after a night out might be to pop an aspirin and take a nap, in New Orleans -- where go-cups are ubiquitous and many bars stay open 'til dawn, especially during the annual ritual of Carnival season -- locals know that a (potentially) equally effective solution is to get your hands on some ya-ka-mein. It's even earned the cheeky nickname "Old Sober" among some fans.
You won't find ya-ka-mein on the menu at most sit-down restaurants in New Orleans. In addition to Green's booth, it's served (typically in Styrofoam cups) at corner stores and small takeout spots throughout town, like at the Olympia Food Store in Mid-City, where a heaping portion sells for $6.99. Vivian Nguyen, who operates the store, uses pork stock in her recipe and includes shrimp, beef, and pork.
As with any home-cooked dish that's passed down through generations, ya-ka-mein's exact origins are a bit murky. Some tie it back to New Orleans' former Chinatown of the mid-1800s, when Chinese migrants arrived in the city to work alongside slaves building the railroads. Another theory, as Jyl Benson writes in her cookbook Fun, Funky & Fabulous: New Orleans' Casual Restaurant Recipes, is that "Black Southern soldiers fighting abroad in the Korean War were first exposed to a version of the soup which they consumed after a day on the battlefield or an evening in a bar to sober up and fortify themselves." When those soldiers returned home to Louisiana, they tried to recreate it.
Matthew Noel
Green thinks both theories are credible. Personally, she learned to cook ya-ka-mein from her mother, grandmother, and great-grandmother while growing up in the city's predominantly black neighborhood of Central City. She never thought to write down the recipe. (Later, her two daughters would record it, when their grandmother was on her deathbed.) Green's mother, Shirley, who worked as a cook for the Orleans Parish School Board, was constantly preparing food at home, and their neighbors were drawn to the ya-ka-mein's powerful and enticing aroma.
"They would show up on our porch with empty bowls," Green recalls, "and my mama was always feeding them." Shirley also began selling the potent dish at the neighborhood bar, and it was, unsurprisingly, a hit amongst its patrons. (Her exact ingredients and technique are a secret to the rest of us, though a number of recipes can be found in local cookbooks and online.)
Like her mother, Green worked as a cook for the Orleans Parish School Board, and sold her ya-ka-mein on the side, at second-line celebrations and festivals, before making catering her full-time job in 2005. Now, the beloved Green and her popular booth can be found at the weekly Ogden After Hours concert series, and at the New Orleans Jazz & Heritage Festival every spring. She also caters private events, and during Carnival season, spends at least one entire day feeding the New Orleans Police Department.
NewOrleans.com / Paul Broussard
Green cooks her ya-ka-mein and other soul food dishes (gumbo, crawfish etouffee, jambalaya, bread pudding) in a kitchen she shares with Bywater Bakery, which also sells her famous elixir. She is constantly coming up with new recipes to fit a variety of dietary requests, including a seafood-only ya-ka-mein, and a vegetarian option, as well as more exotic versions like alligator and duck. Her personal favorite is the oyster ya-ka-mein. The local acclaim has even earned her national attention: Anthony Bourdain sampled her signature dish on his former Travel Channel series No Reservations, telling her it was a "flavor he'd never experienced before."
Still, ya-ka-mein remains relatively unknown beyond Louisiana. But that could change. Green hopes to one day franchise Ms. Linda's Soul Foul and bring the distinctly local dish to cities like Houston, Atlanta, and New York. Until then, she's keeping herself busy teaching her nine grandchildren how to cook.
"I tell them this is their legacy," she says.
We're guessing generations of New Orleanians, who have again and again turned to a warming bowl of ya-ka-mein as their cure-all, would have to agree.