Since you had a terrible stomach ache all of February after you ate all those chocolate boxes you...r girlfriend, yeah, your girlfriend bought you, we've put together this list of 10 epic restaurants/bars/brewpubs that opened up in February, and… hey, HEY! Put down the chocolates and listen, man.
Hinomaru Lucky Cat (click here for address and deets)
Midtown
You can never have enough go-to ramen spots, so you may as well add newly opened Lucky Cat to the list, which'll hook you up with tonkatsu broth'd goodness, as well as their specialty -- the "fire ball" with chili, chicken, pork, and fish broth. Also, try the miso. It somehow has more than 30 different ingredients.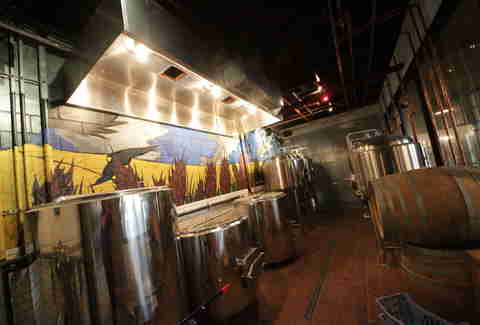 Dirck The Norseman (click here for address and deets)
Greenpoint
We've been looking forward to this for months, and it's finally here. Created by the team behind Brouwerij Lane, this brew pub (Brooklyn's first!) is an industrial looking beer hall pumping out hearty goods -- like beef brisket and chicken schnitzel -- while they brew beer in the back.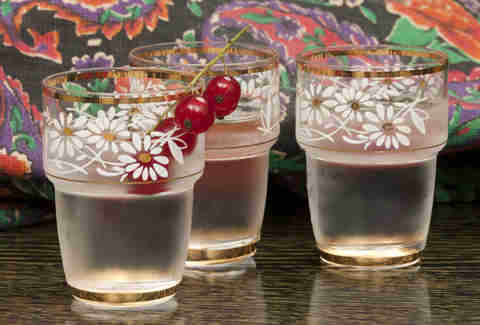 Moscow 57 (click here for address and deets)
LES
This deep-red Russian resto comes via the daughter of the owners of the Russian Tea Room, and features small plates of Russian and Central Asian eats (caviar, pomegranate lamb chops, crawfish boiled in beer, Chicken Kiev...), infused vodkas (pink peppercorn, Buffalo grass, coriander...), and badass live music.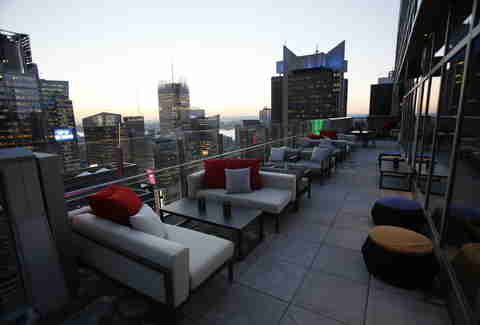 Bar 54 (click here for address and deets)
Midtown
It's New York's highest rooftop lounge (not that kind of highest), and features a completely legit cocktail menu, thanks to one of the best mixologists around, Julie Reiner (Flatiron Lounge, Clover Club), who's doing stuff like the Santana's Sour loaded with cilantro, jalapeño, and tequila.
El Rey Coffee Bar & Luncheonette (click here for address and deets)
LES
With offerings like duck confit and house-made hand pies, cashew grits, 18hr-braised pork, almond praline brownies, plenty of coffee, and and and and beer, this combo coffee shop and eatery is bringing its SoCal garden fresh steez to the neighborhood.
Untamed Sandwiches (click here for address and deets)
Midtown
This braised-meat sandwichery is now feeding the Midtown masses, with bread-stuffers like the "Hot Goldie", a beef brisket joint topped with red onion, sweet-and-sour cabbage & black pepper aioli, and "The Butt" with cider-braised pork butt, broccoli rabe, pepper jelly, Dijon mustard, and sharp cheddar.
Chicane (click here for address and deets)
Soho
As close as you're going to get to the French Riviera this Winter (or possibly ever), this new charmer is doing specialities from that region, like Barbajuans (basically a deep-fried pastry), hanger steak, and crispy calamari with fried herbs.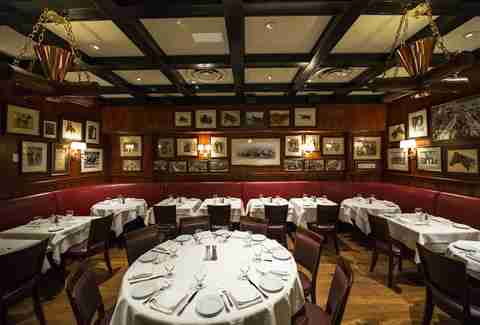 Gallaghers (click here for address and deets)
Midtown
After closing down for a renovation/watermelon-smashing party, Gallagher's is back and slinging a raw bar and steaks for four, joining the ranks with the best of NYC steakhouses again.
1 Knickerbocker (click here for address and deets)
Bushwick
This Chris Childs-loving, contemporary American barstaurant is plating upscale pub food, including mock turtle soup with sweetbread and oysters, a chicken-sausage Scotch egg, and a crispy pork cheek with brown-butter carrot puree and rye berries.
Campeon (click here for address and deets)
Union Square
They claim to be New York's best sports bar and Mexican restaurant, and they're also female-focused, so get down there ASAP for over 70 tequilas, lots of pink, wings stuffed with ghost peppers (!!!) called the Nuclear Option, and plenty of sports.
Andrew Zimmer is Thrillist's NYC Editor, and enjoys going out to as many new restaurants as possible. He also enjoys going to old restaurants, cooking at home, ordering in, and pretty much eating in general. Follow him as he does so, on Facebook, Twitter, and Instagram.