10 game-changing taco miracles (yes, there's foie gras involved)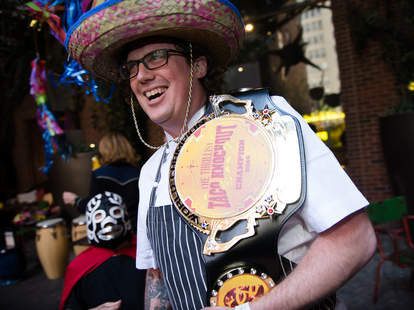 We rounded up ten chefs from around New York City -- including a Chopped champion and a former Top Chef winner -- and forced them to shake hands in the name of cooksmanship before serving up mouth-watering tacos all afternoon-long at Hudson Hotel's Tequila Park. Check out this year's meaty entries (and find out which one clinches victory):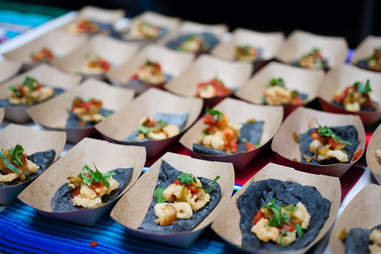 Best Pizza's Calamari Fried Diablo
You might not expect the best tacos from a joint called Best Pizza, but consider: the shell of Chef Frank Pinello's taco is made up of squid ink pizza dough tortilla, so it's not a total departure. As for what's inside: fried calamari, Arrabbiata sauce, pickled cherry peppers, and parsley complete this pizza-taco hybrid.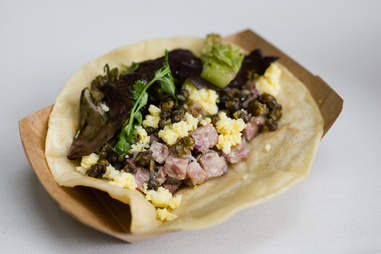 Biblio's Head Cheese Taco
It's no bacon, but eggs pretty much enhance any dish, so they're a welcome addition to Joe Macchia's creation, which places a hard cooked egg between a tortilla and adds crispy capers and baby lettuce heads with chili vinegar.
Neither the Archduke of Austria nor the British indie rock band, this Franz Ferdinand hails from Alphabet City, the brainchild of Chefs Eduard Frauneder & Wolfgang Ban. A healthy serving of flank steak with Berg Bergkäse is topped with spicy tomato jam & marinated spring onions. Note: this guy requires a healthy stack of napkins on-hand.
Chef Joe Dobias had three ingredients in mind when it came to perfecting his tacos: pulled pork, green salsa, and jalapeño mayo. He stacked about as much of all three as the tortilla could withstand before wrapping it up burrito-style and serving it in an incredibly handy paper sleeve.
Don't be fooled by their itsy-bitsy appearance, this "one bite'll do it" taco, courtesy of Chef Alex Garcia, packs its flavor in with slow roasted pork, creamy tomatillo, and avocado salsa with pico de gallo sitting snuggly in its crunchy cocoon shell.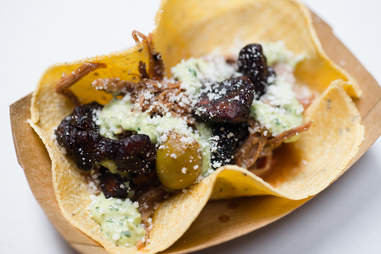 If this were a combination strictly based off of how delicious things sounded, this here might be the winner. Chef Alex Mitow combines skirt steak ropa vieja with bacon black beans. That would be good enough for your average knockout, but he takes it Thrillist-style adding sweet plantain crumbles and crumbled salty cheese topped with apple chipotle aioli.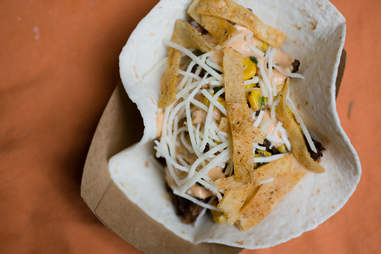 Mexicue's Carolina Pulled Pork Taco
Regular cheddar pails in comparison to white cheddar, and luckily that's just what you'll find sprinkled atop Chef Stan Duskiewicz's tacos. This white flour tortilla is amassed with smoky carnitas, crispy tortilla chips, fire roasted corn salsa, and creamy chipotle dressing before being garnished with a thick layer of cheese.
Chef Geoff Rudaw's home turf taco entry is so massive, it can barely be tamed by its paper container, let alone the tortilla that holds it. No matter though, this boneless BBQ lamb rib taco with leeks and thai basil's easily scarfed to completion in only a few bites. What you're left with: a juicy imprint.
The General's Chinese Chicken Tacos
This crowd-pleaser brought along by Chef Hung Huynh offered a trio of crunchific tacos comprised of chicken, onions, chili, peppers, soy, and fish sauce. Many attempted a two-bite situation for the first only to succumb to the realization that something shaped like a football ought to be thrown into the mouth in one fell swoop.
La Cenita's Duck Chorizo Taco
You don't win a taco knockout by bringing out little guns like shredded cheese and diced tomatoes. No, to win the Thrillist Taco Knockout it took guts and tenacity, but mostly just deliciousness, which Executive Chef Chris Leahy handled masterfully with this combination of duck, foie gras (seriously), and rhubarb mole on a mint tortilla. All hail the victor.