A big, gorgeous steakhouse with an on-premises butcher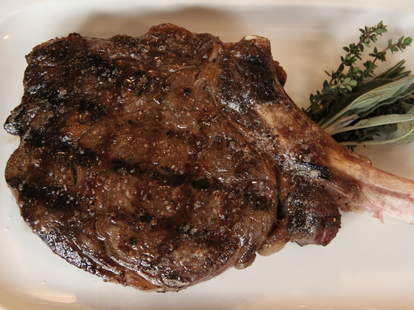 "I'll see ya in another steakhouse, brotha!" That's something you actually might never say once you experience Desmond's, a massive Midtown beef complex that greets you with a visible meat locker stuffed with cuts from Strassburger Meats, whose fifth-generation owner calls herself Suzy Sirloin, and supplies Keens, Sparks, and The Dutch
After passing that locker you'll head up this glass-lined staircase
The bar area is outfitted with massive tufted-leather booths that guard a private dining area covered in brick arches, fieldstone, and portholes, though any subs will have to be made with leftovers
The bar is 70ft long. That's really long
It's also manned by an Irish-accented bartender who's working on the "perfect execution of the classic cocktail" like the East Side with gin, lime, and simple syrup, and an Old Fashioned garnished with orange and lemon, "which is supposedly in the original recipe"
The bar leads into the the clubhouse-like dining room overlooking scenic 7th Ave
Possibly the greatest salad of all time: a wedge topped w/ Berkshire Blue Cheese dressing, roasted tomatoes, and massive hunks of applewood-smoked bacon
Here're the twin crab cakes with "no filler" -- just crab meat with a light crusting of breadcrumbs and lemon-lime mayo. Or go with the buffalo mozz with hot-house tomatoes and 8yr old balsamic. 8yr-old, dude
Spread lobster
This is the braised beef short rib with rutabaga puree and baby beets probably sourced from Lil Poopy
And now you know about Lil Poopy
Colorado lamb chops, which have a "much bigger eye than you would see on an Australian or New Zealand cut". Luckily, it's still not bigger than your stomach
Just a beautiful grilled yellowfin tuna. Excellent sprig placement
And this steakhouse even has steaks, which're aged in that locker for up to 50 days for a "richer and fuller flavor", before being butchered on-site. Here's the 24oz bone-in Cowboy, but there're also the requisite massive porterhouses and buttery filets
There's almost no way you saved room, but this Tiramisu is delicious, and looks like a very relaxing ottoman
And the Tarte Tatin, which is basically the fancy French way of saying caramel apple. See ya on another night, brotha!!