NYC barbecue is definitely a thing these days. To prove it, we invited nearly 20 Big Apple spots to a New York City Wine & Food Fest bash called Barbecue & The Blues, hosted by Restaurant: Impossible's Robert Irvine. Here's what they brought with them, with juicy dish pics and as many recipes (see links) as our sauce-caked fingers could scribble down.
Recommended Video
Potato Skin-Breaded Queso Balls Will Make All Other Apps Obsolete
Dinosaur Bar-B-Que's Texas Beef Brisket
When Hamlet said, "that's the rub", he was actually referring to John Stage's spice-loaded Texas Beef Brisket rub. At least according to SparkNotes? Study up here
Ducks Eatery's Offal Sloppy Joe
Will Horowitz gets to the heart, tongue, liver, lungs, and honeycomb tripe of the matter with this daring-ass recipe. Dare to make it
Mexicue's Green Chili Mac-n-Cheese
Milk AND heavy cream, cheddar AND Monterey jack, plus a dose of roasted poblanos make this side dish a main event. Make yourself heavy here
Jeepney Filipino Gastropub's BBQ Beef Adobo
Miguel Trinidad says there are three ingredients to making good food: "Love, technique, and talent". But where's the beef? And the palm sugar? They're right here
Mable's Smokehouse's "Smo-Cone"
Jeff Lutonsky had beef with snow cones: they didn't have enough pulled pork, or mac & cheese. See how his demented mind solved that problem here
Robert Irvine's BBQ Beef Brisket Cannelloni
As evidenced by this video, Robert Irvine is a huge, muscular god who will kill you if you don't make this cannelloni. That's not entirely true, because he's actually a really nice guy, but still, he'll at least maim you. Do up some meat-noodles
Fletcher's Brooklyn Barbecue's Brooklyn Dip
Matt Fisher's warm beef-broth is like a spa treatment for your tri-tip sandwich! Get protein-pampered here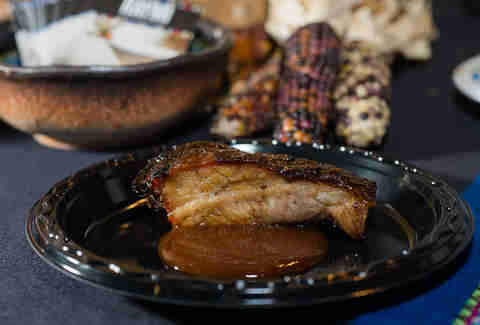 Raymi's Smoked Adobo Pork Ribs
Peru: home of the Norte Chico (the oldest known civilization in the Americas!), ceviche, and, now, BBQ, which Erik Ramirez knocks out of the park with these adobo spiced ribs. Tear into them here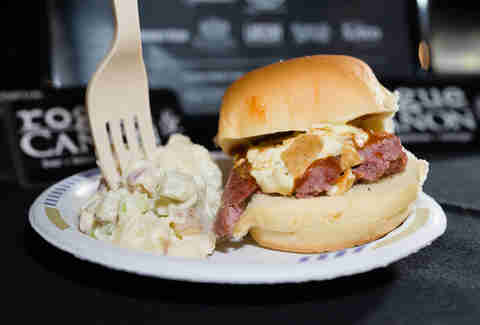 Rogue & Canon's Duck, Duck, Pig
We really shouldn't have to sell you on a sandwich that not only includes duck sausage, but also duck egg salad, pork rinds, and beer BBQ sauce, but here it goes: IT HAS DUCK SAUSAGE AND PORK RINDS AND BEER BBQ SAUCE. Make it. Make it good.
Delaney Barbecue's Beef Brisket
Daniel Delaney keeps his beef brisket straight-to-the-point with no more than dos ingredients; in this case, kosher salt and Tellicherry peppercorns, which achieve richer flavor by clinging to the vine longer, like that kid from Game of Thrones. Suckle the recipe
Fatty 'Cue's Brisket Sliders
Before a 12hr smoke session, Max Renney rubs down his brisket with a recipe including garlic, shallots, fish sauce, and gula jawa -- the palm sugar Indonesians make when they're not busy stripping droids for parts.
Joe & MissesDoe's Smokey-Garlic Beef Ribs
Joe Dobias took a look at beef ribs and thought, you know, these are great, but they could be smokier, and maybe garlic-ier too.Take a look at how he pulled that off
Mile End Deli's BBQ Beef Tongue Sandwich
Don't gloss over this recipe just because tongue sounds like something you should be getting from your Arch H. McCulloch Middle School dance date, not eating -- in fact, tongue is up to 75% fat, which basically makes it mouth butter. Lick up the recipe here
Percy Street Barbecue's Smoked Brisket Sliders
Because Erin O'Shea likes to do things right, this recipe walks you through brining and smoking your own brisket, pickling your own tomatoes, making your own mayo, and finding your own inner peace. That last part is only achieved when you put the first three parts in your mouth. Do it, son
Tchoup Shop's Pork Belly and Spicy Jumbo Lump Crab Sliders
Tchoup Tchoup ba-doop, Tchoup ba-doop. Tchoup ba-doop ba-doop ba-doop, Tchoup ba-doop, Tchoup ba-doop, Tchoup ba-doop ba-doop ba-doop. If you wanna Tchoup, do it here
Mighty Quinn's Brisket Sliders
The excellently named Hugh Magnum lets his brisket cure 12-14 hours before going into the smoker. Once it's in there, he says, "The fat layer keeps the brisket moist. The trick is not to mess with the meat too much. Let the natural process of heat, humidity, smoke, and seasoning do its work!" So even if you don't feel up to the challenge of these recipes, at least you'll walk away with the knowledge that your parents were right, and you really shouldn't mess with the meat too much.