You know what's better during the summer in NYC? Pretty much everything. Fridays? Better. Rooftops? Better. The 15 foods we listed out below? OhmyGodbetter. From a lobster roll to a fried chicken cone, here are 15 NYC foods you need to eat before you're back to being ankle-deep in slush puddles.
We're not saying your summer will be a failure if you don't eat all of these, but... we're kinda saying your summer will be a failure if you don't eat all of these.
A lobster roll
Perhaps the king of all summer sandwiches, few things in summertime life are better than a buttery roll filled with a hulking mound of lobster meat. There are several exemplary spots around the city to get one, but Luke's Lobster or Red Hook Lobster Pound are always safe bets.
Cheeseburgers
You should eat these regularly this summer, preferably straight off a grill or on the beach, especially if your on-the-beach one is the badass Hardbody.
Tacos from a truck
On a hot summer night, you don't want to mess with sitting at a restaurant or any of that BS -- tacos from a truck like El Vagabundo are a must-do.

Soft-shell crabs
Score a couple of these from dope Chelsea Market fish market The Lobster Place, take 'em home, and sauté them with some garlic and butter and whatever else you like and proceed to eat the crap out of them.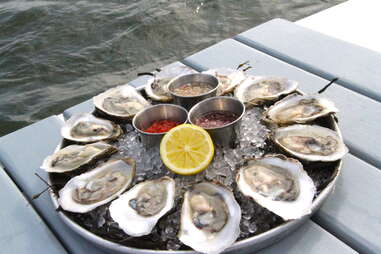 Oysters
Oysters and cocktails on a boat. Every summer night (and preferably afternoon) should start at Grand Banks.
Ice cream
Summer is the perfect excuse to eat ice cream -- use this momentous opportunity to stake out some space on Gowanus' Ample Hills roof deck and ply yourself with Snap Mallow Pop, Salted Crack Caramel, Ooey Gooey Butter Cake, or whatever other great seasonals they have on hand.

Clams
You can get clams pretty much any way you want at The Clam, and none of those would be wrong, but the summeriest clam move? Steamers. Do it, then get the clam-topped pizza.
Crabs
It's very satisfying to have one place that you can go to to sit in the sun, eat buckets of crabs, enjoy a crappy frozen drink, and then play a round of mini golf. Brooklyn Crab is that one place. Do it.

Mussels
Is there anything better than dipping bread in the broth of your bowl of mussels at Flex Mussels? No, no there is not.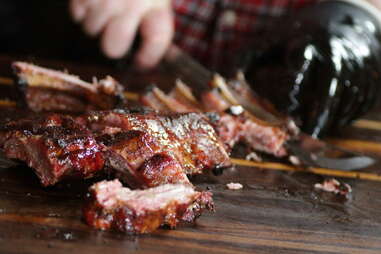 A really fresh margherita pizza
We know Motorino has a good one, but as long as its ingredients are fresh, and it's fresh out of the oven, there are tons of options around the city.

Mangos in those little baggies
They're the hot nuts of the summer. Don't be afraid of some hot sauce.
A fried chicken cone
The summer festival staple from Brooklyn Star is planting its flag at one of the newest outdoor food markets -- Riis Beach Bazaar -- get out there, get some beach time, then slam a waffle cone filled with fried chicken into your face. Just make sure to Instagram it first, guaranteed likes with this one.
Andrew Zimmer is Thrillist's NYC editor, and he's predicting the best summer ever for people who're reading this. Get after it people. Follow him on Instagram.