The Fulton

| Cole Saladino/Thrillist
The Fulton

| Cole Saladino/Thrillist
The race to keep up with new restaurant and bar openings in New York City is fueled by a cocktail of competition and necessity. Plenty of people revel in the rush of being among the first to try a promising addition to the culinary scene, and there's always a looming danger that if you don't get in early, and the place turns out to be a hit, you might never nab a table.
Of course, that doesn't mean that every addition is worth your time, money, and hashtags. Dozens of dining and drinking destinations have already landed in NYC this year -- many in Hudson Yards alone. But the unending drive toward novelty means that you might encounter a few duds before you find a new favorite. The ventures that might endure are all worth returning to even after that new car smell fades and the next hot spot pops. These are the best new restaurants and bars to open in New York City in 2019... so far.
Financial District
Special occasion dining for any occasion
Crown Shy's semi-secluded spot on a sedate-after-dark street in Lower Manhattan betrays its landmarked building's grand interior. Three subtly varied dining experiences flow through it's sweeping, 120-seat space. The long, slinky marble bar is a chic downtown destination for mysterious strangers and romantic evenings for one; the Pine Street-facing room is spacious enough for clandestine conversations; and you'll get dinner and a show in the open kitchen-adjacent section toward the back. The excellent menu's cylindrical Gruyère fritters, braised short ribs for two, and even the complimentary warm olive bread merit return trips, and the bar's signature Crown cocktails (each built around a different spirit) practically require them. [Find reservations on OpenTable.]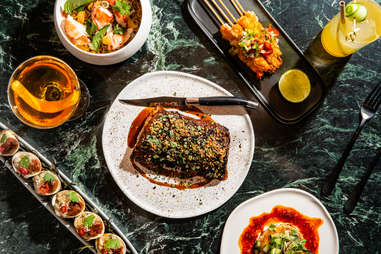 Nolita
Legacy fare that lives up to its name
Lucky for Chef Cedric Vongerichten, the plump shrimp satay, generously proportioned peekytoe crab cake, hearty baby back pork ribs, and lobster tangled with long ribbons of noodles at his solo premiere are all fun to eat and good enough to slake any expectations tied to his bold family name. The French-Indonesian restaurant is also beautiful from the outside in. It's exterior is adorned in subtle flashes of bronze, the bar turns out inventive but accessible cocktails beneath a halo of foliage, and the main dining room's golden hues bounce off of pale exposed brick and carved wood. [Find reservations on Resy.]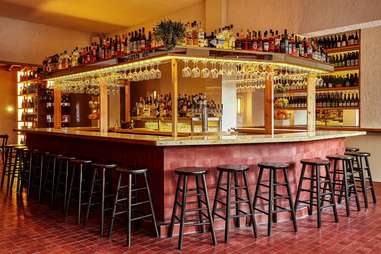 Bed-Stuy
A new neighborhood go-to sans surprises
From the team behind Cervo's and Hart's, The Fly is simultaneously making the chicken dinner interesting and keeping things simple. Dinner here -- where the wine, beer, and cocktail list is longer than the food menu -- is the easiest decision you'll make all week. You'll order rotisserie chicken bursting through its crispy skin, maybe zag and try it in sandwich form, and tack on a side of french fries, warm greens, or salad. Then you can power down your brain and rinse away any other impending decisions with familiar tipples like the lemon drop, dirty martini, or Pimm's cup.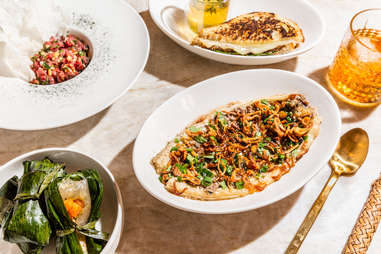 East Village
Modern Vietnamese with myriad possibilities
Van Da's dining areas are split in two: cozy, light and bright at sidewalk level; dimly lit and intimate downstairs. Its menu is cut into categories, too ("sidewalk classics, reinvented"; "ancient, refined, royal"; "traditional, authentic, subtle"; "bold, modern, driven"), but it's still hard to choose. Try to hit a few sections. The seasonal greens with fermented tofu are perky and refreshing, the grilled cheese and shot of pho broth marries satiny provolone with yielding short rib to decadent effect, the crispy mochi dumplings' texture is a welcome pivot from the textbook variety, and the tamarind-glazed pork ribs are emboldened by fish sauce caramel. A new, three course tasting menu for $45 per person is an ideal intro to Van Da's offerings. Libations like the Turtle Gin and Tonic (enlivened by cucumber juice and mint) and HoChiSmokey (a margarita cousin incorporating mango and aperol) will ease you out of your typical cocktail routine. [Find reservations on Resy.]
Prospect Heights
Finger foods and small plates from a neighborhood staple
Perennial Brooklyn favorite Olmsted opened three years ago and it still isn't easy to nab a primetime table, so scoot into its new sister venture ASAP. Maison Yaki's casual back patio and half the spots in its narrow, colorful, kicky dining room are dedicated to walk-ins, so you might be able to try crispy golden frog legs, earthy escargot in shiso butter, novel duck a l'orange (Surprise: It's on a skewer!), and supple scallops in sauce maltaise before the crowds come. If you've heard anything about this place, it's that nothing on the menu exceeds $9 -- not even on-tap cocktails like the zippy vespar martini, fragrant, not-too-sweet, cherry blossom Manhattan, and refreshing ginger French 75. Since there's so much to try, this doesn't exactly make it a budget locale, but maybe a choose-your-own-value adventure. [Find reservations on Resy.]
South Street Seaport
Waterfront dining with dazzling downtown views
Paradoxically, people in New York City will stand in line for practically anything, yet we're perpetually apathetic. Folks will wait 36 weeks for a reservation at a restaurant under the sea where the servers are bow tie-wearing narwhals and the chef has recently been resurrected from the dead, and still give it a resounding 'meh' on an ameteur review platform. Well guess what, you blasé babies, Jean-Georges' new venture on Pier 17 will take your breath away before you're even seated. Its double-bridge view over the sparkling East River is an ideal amuse-bouche to precede the light red snapper ceviche and avocado with a whisper of heat, crispy, yielding soft-shell crab, satiny black sea bass, and roasted monkfish medallions that rival the glazed lobster tangled in a bowl of rich longevity noodles. Cocktails like the classic lemon drop, Widow Jane whiskey sour with a shade of cherry, and tequila-forward Strawberry Fields are all perfectly calibrated for waterside imbibing. If I could hail a water taxi from here back to South Brooklyn -- and I had Sly Stallone money -- I'd be here every weekend. [Find reservations on Resy.]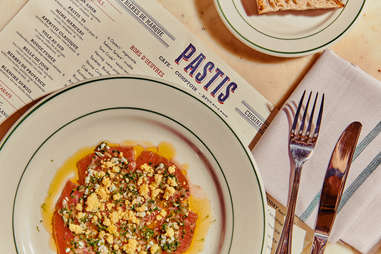 Meatpacking District
Party like it's 1999 at a long-awaited blast from the past
Pastis was a Meatpacking District money magnet, attracting literary luminaries and a spectrum of celebrities from 1999 until 2014, when it closed with a whisper of a promise to reopen someday. That day has come, but it's almost as hard to get a reservation as it was during its five-year hiatus. You should still try to swing by for a fresh look at NYC's perennial favorite restaurateur Keith McNally's old/new classic. McNally is now joined by his Philadelphia counterpart Stephen Starr, but the former's fingerprints are more pronounced in the gleamingly white tiled, mirrored, golden-hued space. Selections from the menu are good enough to call familiar rather than predictable. The escargots in garlic-parsley butter and pâté de campagne are rich enough to satisfy without overwhelming the palate, the duck aux olives is cooked to a perfect pink under a crispy skin, and even the cheapest of three tiers of steak frites (a $33 hanger) is a fine model for the bistrot go-to. Punchy cocktails like the gin-forward Pastis '99, slightly smoky tequila-based Rouge Fumée, and substantial Herbes de Provance are easy to sip, and the sidewalk seating is an ideal place to while away an afternoon with a carafe of white wine -- provided you've got the time to wait for a table. [Find reservations on Resy.]
Midtown East
Craveable duck worth a trip to Midtown
The newest of these 2019 newcomers, Hutong is big, beautiful, and ambitious. Every surface in the sprawling Art Deco inspired space shines like the top of the Chrysler Building and the dining room exudes sophisticated party vibes without any deep bass club trappings. Particular attention is paid to presentation: dim sum platters arrive like jewel boxes full of polished goodies, calamari is gently fashioned into "flowers," and the Peking duck is roasted until the skin crackles but the inside stays juicy and pink before it's carved tableside and served with translucent pancakes. You'll think it's all almost too pretty to eat until you find out how delicious everything is. Stick with classic cocktails or name your price and choose from the extensive wine list; plenty of bottles hover under $100.
Sign up here for our daily NYC email and be the first to get all the food/drink/fun New York has to offer.