If Shakespeare taught us anything, it's that the best way to express your love for someone is almost always through poetry. So we wrote 21 haiku (with the help of The Haiku Guys & Gal) to OUR special someone: the NYC breakfast sandwich.
Hit us up with your best effort (remember, 5-7-5) on Twitter or Instagram with the hashtag #BECHaiku, and we'll buy whoever submits the best one a breakfast sandwich.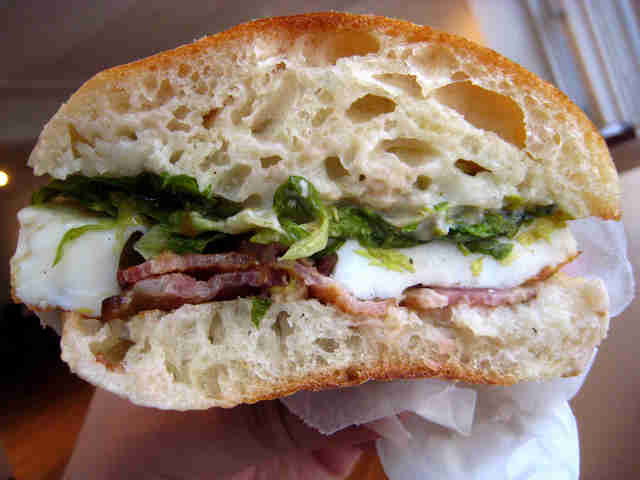 Bacon, spinach, egg
Save your friend the bigger half
He will be happy
-Erick Szentmiklosy, Haiku Guy
I crawl toward you
Egg cradled in gold pillows
Is my salvation
-Lisa Markuson, Haiku Gal
Savory strata
Studded with pepper and salt
Bedrock of the day
-Tania Asnes, reigning Haiku Duel champion
Breakfast on the train
Roll clutched in a paper bag
Secretive mouthfuls
-Tania Asnes, reigning Haiku Duel champion
Bacon, egg, and cheese
On the freshest Kaiser roll
New York State of Mind
-Michael Kannaley
Bypass the street cart
A special breakfast in mind
Panini-pressed love
-Zac O'Neill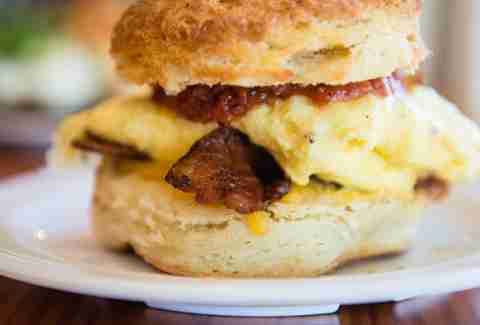 Eggwich so filling
I'll get a salad for lunch
Ha ha just kidding
-David Blend
A Queens dim ponir
(Egg and cheese in Bengali)
Royalty breakfast
-Megan DiBello
How is this bacon
Already soft when I just
Saw you make it? Balls.
-Karen Lo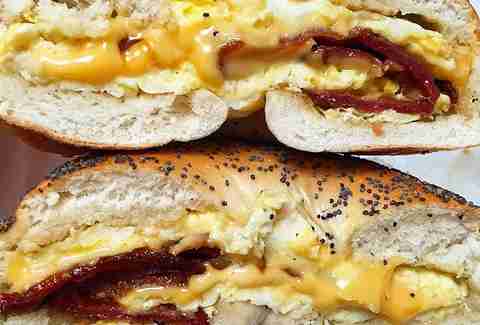 Last night was too fun
Bodega, the antidote
Over easy, please
-Ben Robinson
Bodega bagel
Old enough for bar mitzvah
Makes a man of me.
-Scottt Raven [sic]
Sausage, jam, on a
Bagel. Your Bubbe weeps in
Heaven. Clerk winces.
-Emily Alford
American cheese
This is the only place where
You truly belong
-A.V. Phibes
Ex-vegan, day one:
Look out, corner bodega
Mama's on her way
-Dana Kimmelman
My breakfast sandwich
Is never not a bagel
To life, L'chaim
-Janna Pelle
Pigeon, give up, dude
Each bite of this Sriracha-
Smothered mess is mine
-Jess Novak
D train smells: eggs, ham
Man licks lips. I brandish knife
His sandwich is mine
-Larry O'Neil
It's 50 degrees
Everyone wants iced coffee
I'm not that basic
-Gabriel Sands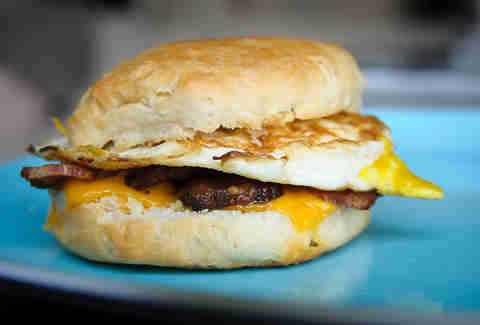 I think it's vegan
But each bite is mystery
Chew, fear, swallow, hope
-Tania Luna
You rule the mornings
With bacon, egg, cheese, hot sauce
King of sandwiches
-Andrew Zimmer
Filthy bodega
Your arms are always open
And filled with bacon
-Jill Stanewick
Sign up here for our daily NYC email and be the first to get all the food/drink/fun New York has to offer.
Jess Novak once thought that earning a master's degree in writing poems was a good idea. You can follow her questionable life choices on Twitter and Instagram.