8 new and amazing grilled cheeses (one has a whole lobster in it!)
<a href="http://www.thekitchenradio.com/" target="_blank">All Photos:&nbsp;Khushbu Shah</a>
No other food satisfies the need for crunchy, melty, and gooey in one go quite like a grilled cheese (close, but not even you, nachos). And since we love you and cheese almost equally, we've put together this list of eight brand new, must-try grilled cheeses that literally just dropped in NYC. Behold, and enjoy:
Tiny Fork (click here for address and deets)
Lower East Side
Wait, this place has upscale nautical decor AND an elegant, ocean-centric take on the humble grilled cheese sandwich??? True story, this borderline genius version was created as a more affordable alternative to the lobster sliders, and keeps things simple with just three ingredients: an entire (!?!) Maine lobster, white cheddar, and red chili flakes.
Melt Shop (click here for address and deets)
Midtown West
The veteran of the bunch, they've got a new third location with three additions unique to the shop, including the Grilled Chicken, an oozy wonder with hearty portions of perfectly cooked poultry, plenty of havarti, roasted tomatoes, and truffled mayo on slices of nutty multigrain bread.
Archie & Sons (click here for address and deets)
East Village
What's best about this East Village throwback luncheonette is you can mix and match breads and cheeses with additional toppings for customizable sandwiches. Even knowing all that though, you should still go with the classic-est of classics: slices of American cheese melted between buttery white bread.
Melt Kraft (click here for address and deets)
Park Slope
The only three words you need to know when you hit this cozy Park Slope restaurant? The Valley Thunder. The sandwich marries 12 month-aged cheddar with thinly sliced and insanely tender brisket, plus a heaping layer of mac and cheese, all slapped between two slices of bread and grilled to greasy perfection. While the double hit of cheese (all sourced from the Valley Shepherd creamery) is definitely delicious, it's the rich tomato sauce that coats the brisket that makes this thing next-level.
Morgan's BBQ (click here for address and deets)
Prospect Heights
Just a stone's throw away from the Barclay's Center, this Texas-touting BBQ joint is now home to the "Thrill Cheese", an off-menu GC created specially for Thrillist readers (that's you!) with tender pulled pork and housemade pork sausages made by Pit -master John Avila (from meat mecca Salt Lick in Austin), plus white cheddar, yellow cheddar, and a smoked queso laced with poblano peppers.
The Roof at Whole Foods (click here for address and deets)
Gowanus
Inspired by the flavors of a BLT, Chef Dan Rothman crafted a grilled cheese that holds up to hours of craft beer drinking on the Gowanus outpost's rooftop bar and restaurant. In this case, the B is a thick cut maple-cured bacon, the L is baby (L)arugula, and -- since tomatoes are more frequently out of season -- the T's a spicy and sweet tomato jam made with stout and spread on slices of Orwasher's levain with plenty of aged gouda.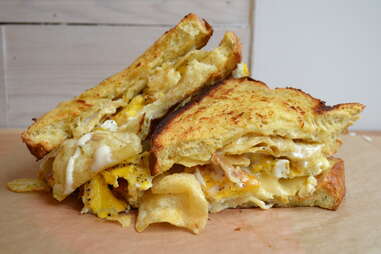 5oz. Factory (click here for address and deets)
West Village
Two Midwest natives opened this West Village joint as an altar to two staples of Wisconsin culture --grilled cheese and ruining everyone's March Madness brackets frozen custard. Aptly named the 4:21, this gut-boaster loads a savory French Toast brioche with smoked gouda, a massive fried egg, crunchy French onion chips, and a slather of ranch dressing.
The Shakespeare (click here for address and deets)
Murray Hill
Classily dubbed the Toasted British Cheese Sandwich, the grilled c at Murray Hill's latest English import gives any buttery, crispy, melty sammie a run for its money. Chef Robert Atkins melts pungent Stilton with sharp cheddar from his motherland with mild spring onions, and then serves the sandwich with a fork and knife to cut through the fried egg on top. Oh yeah, there's a fried egg on top.