Chukwudi Iwuji's Day Off in the East Village Revisits the Places That First Welcomed Him to NYC
The "Guardians of the Galaxy" star heads below 14th street for Thai food, coffee and horror novels.
Published on 5/23/2023 at 12:00 PM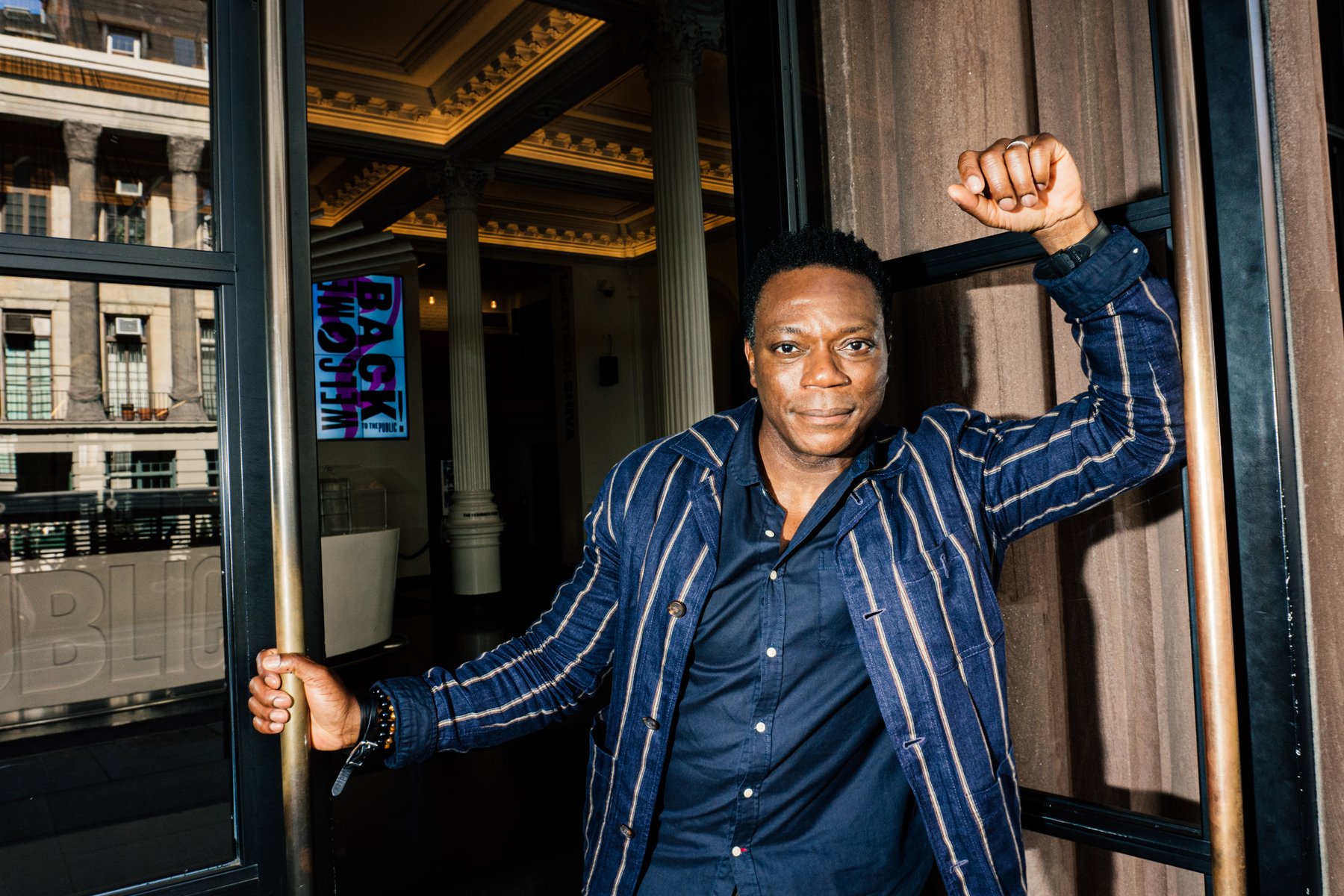 Chukwudi Iwuji at Joe's Pub | Photo by Jutharat Pinyodoonyachet for Thrillist
Nigerian-British actor Chukwudi Iwuji is a veteran of the stage and the screen. His credits include superhero blockbusters and Shakespearean tragedies. You may have seen him in the HBO Max original series Peacemaker, BBC drama The Split, Amazon's The Underground Railroad, or Michael Morrissey's The Girl Who Got Away. Theater folk may have seen his renditions of Othello, Antony and Cleopatra, King Lear, and Hamlet. Earlier this month, Iwuji made his blockbuster debut as the main villain, High Evolutionary, in Guardians of the Galaxy Vol. 3, making him one of the few actors to have starred in both Marvel and DC Comics projects. On his day off, Iwuji likes to spend time in downtown Manhattan, reminiscing about when he moved to New York 11 years ago and eating good food with his wife.
There are days that what gets me out of bed is the fact that we're about to have a coffee. My wife and I have this ritual where I'll usually get up and I'll meditate or I'll stretch, then I'll make us coffee. By the time I make the coffee, she's getting up. Then we spend the first chunk of the morning together reading with our coffee and our dog in bed. And it's all about our coffee.
I am a total coffee snob. I curl my lips up when I see people drinking coffee that I think is bad. I think La Colombe has good coffee. I have favorite coffee shops all over and there are a few I do like more than La Colombe to be honest, but when I'm in the area, La Colombe is where I like to go. This location can get very crowded, but I do like the vibe there. It takes me back to when I was working at the Public Theater and I would go there to learn my lines. When it comes to the coffee, what I like about La Colombe is that you don't have to think twice about what you're going to get. You know they're going to take care of you and it's going to be good coffee.
I grew up in Nigeria and food was such a big part of our lives. Every family gathering was a big feast. My mom was an exceptional cook. My parents got married in England in the 1960s, and while there, my mom became well known for her cooking. At one point she was one of the highest-paid African women in the city because people would come for her food. Later on, my parents worked for the UN, and the Nigerian embassy would send visitors to our home so that my mom could cook for them. My mom was that good of a cook. Food was such a big part of my upbringing which is why I love good food so much now.
Much like food was a big part of my upbringing, it is also a huge part of my marriage. My wife and I are both foodies and I love to joke that she married me because I cook. She's from San Francisco and we will debate about food—Mexican food here versus pizza there, for example. We even travel just to eat. We are happiest when we eat.
Wayla | Photo by Jutharat Pinyodoonyachet for Thrillist
"Another Thai spot I love is Wayla. The food at Wayla is off the charts and tastes homemade."
One of my favorite types of cuisine is Thai food. I think it is a food that has traveled well. There's great Thai food here, there's great Thai food in London, I've had great Thai food in Vienna, even. I think that Jackson Heights has some of the best Thai food in the city, but because sometimes we may not have time to travel to Queens, we've found the best Thai food in every neighborhood. Fish Cheeks is definitely one of those spots. I am a Libra and I think because of that I can never pick what to eat. It's why I love Thai food, and Fish Cheeks in general, because I can choose anything on the menu and I'll love it.
Another Thai spot I love is Wayla. The food at Wayla is off the charts and tastes homemade. The barbecue ribs and calamari are both amazing. The main dishes, such as the maa's gaeng pak, are amazing, but we shouldn't look past the shared plates. It is the sort of place that if your friend is running late, you can just have a cocktail while you wait. I will even turn up early when meeting someone here to have a cocktail alone. My favorite cocktail is the swae Wayla, made with gin and lemon. It is an indescribably good drink. Everything at Wayla is just well-curated. It's one of those spots where the staff know everything about everything on the menu, and the way they describe the food makes you want to try everything. And everything is good.
When it comes to no-fuss dining, some of my favorite spots are The Smith, Nón Lá, and Westville East. The Smith has several locations around the city, and I've been to most of them. I love this spot because it is open late and at any time of the night, I can get some good quality food. You don't go to the Smith for gourmet food. You want a burger? You want some salmon tartare? You want a cocktail? You want an apple crumble a la mode? The Smith has got you covered. They do standard American fare, and they do it really well. If you're involved in theater, The Smith is perfect for an after-show bite.
Nón Lá is a hole-in-the-wall Vietnamese spot in the Bowery area. I love hole in the wall places that aren't trying to be fancy. Fancy is great, I'll take it, but I have to believe it is worth it. Nón Lá isn't fancy but they're worth it. They make great pho. It's the perfect place for when I want some good comforting soup.
Westville is a great spot to meet someone in the daytime. It's one of those spots that caters to all audiences: people who are health nuts, people who don't really care, truly anyone. The food is healthy and you're not eating something that tastes like sawdust. I love their protein bowls with chicken, steak, or shrimp with the bowl of rice. Their salads are exceptional. And they make good desserts too. So you can be there being healthy, but you can still take care of that sugar fix.
Joe's Pub, The Public Theater | Photo by Jutharat Pinyodoonyachet for Thrillist
"The Public Theater is my spiritual home. They gave me my first job in America... I met my wife at Joe's Pub while I was doing a show."
Outside of food, one of my favorite places to go to on my day off is Joe's Pub, which is a part of The Public Theater. The Public Theater is my spiritual home. They gave me my first job in America. I did Antony and Cleopatra there. I did King Lear and Othello in the park. I played Hamlet with them. They championed me there, and they have become my home.
I met my wife at Joe's Pub while I was doing a show. She was a hostess. While trying to be smooth and impress her, I told her "oh I'm doing this show, if you want tickets, just let me know." Needless to say, she was not impressed with me. She said back, "I can see the show for free, I work here." I thought I played it smoothly but apparently not.
Eventually, I won her over. We have two different versions of this story. I was having a drink with some friends after a show one night, and she was also there having a drink at the bar. I was telling my friends about how I drove from San Francisco to Los Angeles, and she claims that I saw her, waved her over, and invited her to join the conversation, and we started chatting. After parting ways, we texted until three in the morning and had lunch the next day. The way I remember it, I was talking to my friends and, yes, I waved to her, and then all of a sudden she was right there. We'll never know what really happened that night at Joe's Pub but I do know that we still go to shows together there often.
The Strand | Photo by Jutharat Pinyodoonyachet for Thrillist
"I love to go to The Strand on a day off... Bookstores are dying, so I love the fact that Strand is always bustling."
I love to go to The Strand on a day off. The Strand is one of the few places that I can tolerate when it's crowded. I don't like crowds. Most places I will avoid if there's a crowd. But there's something about The Strand when there's a crowd. You're like "of course, you should be here browsing books!" There are very few places like that anymore now. Bookstores are dying, so I love the fact that Strand is always bustling. I love it when it's quiet too, but I don't mind it when it's crowded. When I go to The Strand, I go to the Best Of section and I like going to the staff picks. My favorite part of the store, however, is the back because I love horror fantasy—the Dan Simmons and Stephen King—and I see if there are any books there that I missed out on. And there are always new ones I didn't realize existed. So I love that back section. Sometimes I'll try and go and get myself something more highbrow then I'll go, Who am I fooling? I want a good Stephen King.
See's Candies is a bit of a detour from the other places I spend my day off at. See's Candies is in the West Village, but when I am in the Lower East Side or East Village, I will go out of my way to go to See's Candies. See's Candies originated on the West Coast. My wife grew up going there. My first Christmas I spent with her family, they bought me a box of See's Candies as a gift and from the moment I tasted it, I knew that was it. I think we sustained them through Covid because we were just there all the time just buying boxes. I don't typically like American chocolate. I grew up on really good chocolate because we lived in Switzerland and France, so I've had some top notch chocolate. And then I tasted See's and I was like, okay, this holds up to anyone.
I have lived in different areas of London such as Brixton and Clapton, and there's something about New York, particularly the downtown areas, that remind me of South London. People that live in London, I think, can also live in New York—the two cities are like cousins. I love living in New York now. I have lived all over Manhattan since first moving here eleven years ago, but I like to spend my days off downtown, particularly around the Lower East Side and East Village areas. When I first moved here, I lived in the Upper East Side, and I would walk all the way to Union Square on a nice day to visit the farmer's market. My first professional gigs here were in the area as well, so I would hang around here all the time. Between work and just loving the farmers' market, I thought that this area was just so cool. But the biggest reason I've gotten to really fall in love with this part of New York is because my wife really showed me around the area and introduced me to all the great spots here.
Annie Harrigan is an editorial coordinator for Thrillist, Eater, and Punch. Find her on Twitter @AnnieAHarrigan.
Places to Eat & Drink
100 Forsyth Street, New York, NY
55 3rd Avenue, New York, NY
400 Lafayette Street, New York, NY
173 Avenue A, New York, NY
128 East 4th Street, New York, NY
55 Bond Street, New York, NY
Things to See & Do
425 Lafayette Street, New York, NY
60 West 8th Street, New York, NY
828 Broadway, New York, NY