As the world begins to open up again, your itinerary could reacquaint you with LaGuardia, an airport with a less-than-stellar reputation. The good news? In a bid to improve its underdog ranking, LGA has been undergoing some major renovations, so you might just find yourself pleasantly surprised.
"There's more innovation as things are reopening," says Zach Griff, travel analyst at The Points Guy. "In the new LaGuardia Terminal B, they've partnered with some of the top names in New York."
Those top names include outposts of NYC mini-chains like coffee shop Irving Farm, Dos Toros Taqueria, the old-school bakery Zaro's, and more. While other terminals might still leave some culinary choices to be desired (we're looking at you, Terminal A), the updated LaGuardia has come a long way from when Biden called it a "third world country."
Even with LGA's updates and eased COVID restrictions—dining in NYC is currently back at 100% capacity—you might find yourself needing the same level of pre-pandemic patience for the unloved but highly-trafficked airport.
"For a lot of fliers who are coming back to travel for the first time, who have heard the stories of deserted airports, they're not going to experience that when they're back in the air," says Griff. "Airports, especially dining establishments, are crowded."
Restaurants across the country, including in airports, are having trouble staffing their kitchens and dining rooms, so try to be gracious and understanding when faced with long waits, crowded tables, and even closed restaurants.
As travel continues to change daily, we're making it as easy as possible to find a good meal in LGA. We've done our best to keep our lists up to date, but please be aware that changing precautions and airport staffing concerns will continue to affect airport dining day to day.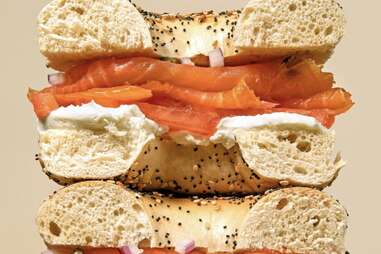 Terminal A (JetBlue, Spirit)
Departure Gates
Terminal A, the Art Deco Marine Air Terminal built in 1939, doesn't offer much in the way of dining options. It does, however, have Italian restaurant, Salotto, where you can grab a sandwich, a serviceable pizza, or an H&H bagel. Most importantly, they've got a wide selection of cocktails, which you're gonna need when you find yourself face-to-face with thousands of strangers after 18 months spent inside your apartment.
Terminal B (Air Canada, American Airlines, Southwest Airlines, United)
Level 4
Is Junior's for tourists? Yes. Do they still make a pretty good slice of New York cheesecake? Also yes! While in Rome, they say, do as the Romans do, so while in the airport, you might as well eat like a tourist. Order a deli sandwich for the plane or just sip a cup of coffee while making your way through a giant portion of their famous cheesecake. A slice of the classic cake is luscious, on the sweeter side, and travels surprisingly well, so you can save the other half for when you get hungry halfway over America.
Gates 40-59
New York mini-chain Irving Farm has a location in LGA for those mornings when you have to grab a cab at 4 am to make your flight. Sure, you can get caffeinated at Starbucks, but Irving Farm has a pretty stellar iced coffee. Most of the microwaved menu items would probably be better to skip, but the premade pastries are surprisingly good. Bonus—they're big enough to hold you over if you're still not emotionally prepared to eat on the plane.
Level 4
Zaro's began as a Kosher bakery in the Bronx all the way back in 1927—and 94 years later, it's a New York commuter mainstay, with locations in Grand Central Terminal, Penn Station, Port Authority, and right here in LaGuardia. The grab-and-go deli counter has bagels, pastries, and even a solid version of the black and white cookie. Order a selection to snack on, because a delayed flight is much more palatable with a bag of sweets.
Gates 24-30
Is a belly full of fancy cheese before a flight a good idea? We'll let you decide that for yourself (although your seat neighbor might have a different opinion…). Beecher's new outpost, an extension of their Flatiron flagship, is now open for all your pre- or post-flight dairy needs. Order a sandwich, shop a selection of their handmade options, and enjoy some of NYC's cheesiest food.
Other options in Terminal B:
Bar 212, District Market, Dos Toros Taqueria, Dunkin Donuts, Green Leaf's, Shake Shack, Starbucks, Tap & Pour, Tony & Benny's, Wendy's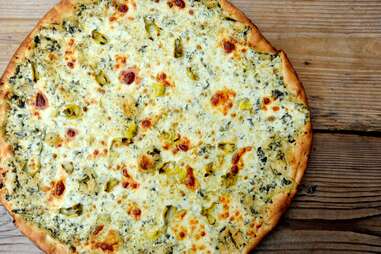 Terminal C (Delta, Frontier Airlines, Spirit, WestJet)
Gates C28-C29
You'll find Artichoke on a lot of lists of must-try NYC pizzas—and you don't even have to leave the airport to get a taste. The slices are saucy, stacked with stuff, and not strictly a traditional NY bite, but they taste pretty darn good. They're the perfect choice for a meal eaten while rushing to your gate. Just fold it in half, eat it over a paper plate, and rush to your destination like a real New Yorker.
Gates C28-C29
This burger spot with a Pat LaFrieda meat blend faces some stiff competition from the Shake Shack at Terminal B. Here, you can build your own burger while sipping a $19 beer (hey, you're at the airport!) or a house-made milkshake, which certainly stands up against the Shack's options. If you're saving your big meals for when you arrive at your destination, they've got a serious selection of salads, too.
Other options in Terminal C:
Cotto, World Bean
Gates 92-98
If you've got an early flight out of LGA, a good bagel and schmear will almost make up for that extremely expensive Uber. Originally open since 1972, H&H bagels has a long and storied history in NYC, making it a crucial bite on any New York tasting tour. Whether you're on your way out of the city or back in, a stop here is the perfect first or last part to your NYC experience.
Flatiron Tavern & Provisions
Gates 92-98
Sometimes, you just need to sip a vodka soda alone at an airport bar. When you're anxious about traveling or simply want to congratulate yourself for making it through another encounter with the TSA, Flatiron Tavern & Provisions is the perfect spot to soak your liver in liquor. The food is straightforward American fare, but you're not here for the burgers—you're here to make that Old Fashioned a double.
Gates 92-98
This thin-crust spot was opened with an early assist from Mark Iacono, the brains behind the Carroll Gardens classic (and Beyoncé-fave) pizzeria Lucali. Is the pizza as good as Lucali? Well, no, but you're at LaGuardia, so we'll take what we can get. It's a perfectly serviceable slice to eat while you listen to a podcast and watch the wonders of airport behavior unfold from other travelers.
Other options in Terminal D:
Cibo