Years of scientific studies have proven there is absolutely no wrong time of day for a biscuit. Breakfast? Obviously. Dinnertime with a little fried chicken? Delightful. After seven cocktails? THERE ARE NO RULES! So it's only natural that a couple of Bouley vets would open a 24hr biscuit hub with a Southern farmhouse-meets-Nordic cafe vibe, and a "Breakfast. Lunch. Dinner. Drunk." motto that's coupled with enough innovative homemade jams and butters (French toast butter, anyone?) & next-level sandwiches to blow your biscuit-loving mind.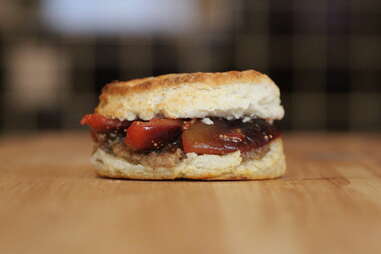 Let's start with those biscuits. You have your choice of either country-style (with lard) or all-butter -- dilemmas! Either way they are flaky, moist, and a little crunchy on the edge, all while being substantial enough to hold up to a relentless onslaught of toppings, starting with The Fig and Pig, which takes their bacon and cracklin' butter and combines it with super-chunky fig jam. Again, bacon butter.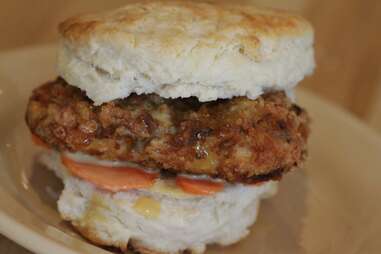 Clearly you can't have a biscuit joint without fried chicken, and their version doesn't disappoint: an expertly fried hunk is cooked up with buttermilk, marjoram (apparently totally underrated), and orange juice/zest, and then topped with "sauce a l'orange" & pickled carrots. If you get only one biscuit (which is borderline impossible), get this one.
Why yes, that IS a Scotch egg biscuit holding a deep-fried & sausage-wrapped poached egg that's runny and delicious and held into place with cheddar and whole grain mustard. Once that "hallelujah" chorus stops playing in your head, we'll continue.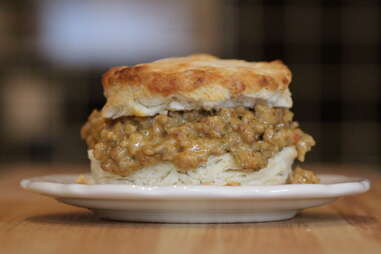 Confounding your expectations for traditional biscuits and gravy (slathering them only made sense if you were using leftover or sub-par biscuits), EM's version turns it into somewhat of a sloppy joe situation that's nonetheless easier to manage on-the-go, by filling their biscuit buns with three types of gravy: sausage, smoke & spice, Tasso ham & coffee, and vegetarian.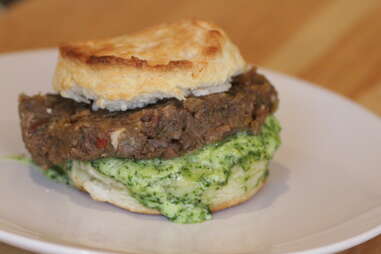 The Bright Crew (named for their neighbor) has got what they're calling oxtail and brown sugar jelly, but that jelly is basically a savory blend of meat and spices that's more of a glacé, and it's herbaceously supported by their fennel and arugula butter.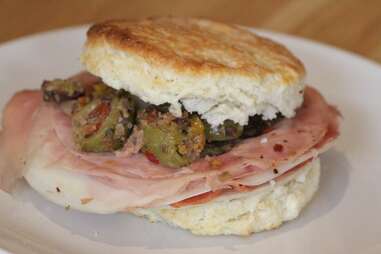 Hoping to show off the chef's New Orleans roots, they've also got bayou-influenced sandos like this "Man Sandwich" muffuletta loaded up with ham and olives.
Here's some pineapple and thyme jam with Creole cream cheese, which's different from other cream cheese because it's a bit more tangy, a little looser, and made in-house from buttermilk after a 24hr cooking process, allowing it to cut the sweetness of the jam like Edward Scissorhands. If Edward Scissorhands was cream cheese. Whatever, moving on.
They baked a giant pumpkin pie with all of their leftover biscuit dough to create the pumpkin pie butter filling for this seasonal bad boy.
To wash that goodness down, they've got a killer homemade citrusy cola engineered for biscuit-gorging support. It's loaded with something like 18 ingredients, though nobody's been able to guess more than eight so far, probably because they keep wishfully guessing "more bacon butter".