Chicken and waffle sandwiches are now a thing in Alphabet City
From Jeff Mcinnis -- the Chef behind Miami's big-deal Southern eats spot Yardbird -- and Top Chef contestant Janine Booth, Root & Bone on 3rd St and Ave B is a Southern kitchen doing takeout-able, down-home (yet sneakily refined) eats, in a spot that could easily be the ground floor of some country B&B somewhere.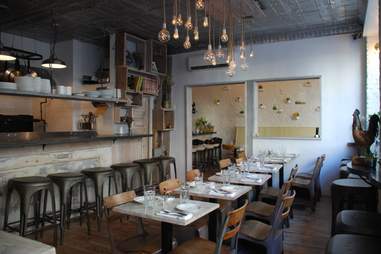 Root & Bone
The bright and inviting main dining room overlooks an open kitchen, and is adjacent to the takeout counter, in case you prefer to eat those four orders of fried chicken in private.
Once you figure out if you're eating there or at home, turn your attention immediately to the crispy bird parts. They're brined in sweet tea (!), dredged in seasoned flour, and pressure fried, which means the moisture is pushed into the bird, resulting in a "crazy juicy" bite. It's also topped with dehyrdated and ground lemon slices, which makes it feel Summery and light, and comes with a side of bourbon Tabasco honey, which makes you feel spicy and boozy.
If you like your chicken boneless and covered in cheese, the chicken and waffle sandwich is the move -- it's topped with pickled green tomato that "cuts the fat", sharp yellow cheddar, and whiskey maple syrup. Have. Mercy.
Side-ify your plate with waffle fries that offer the option of getting "gooey cheese sauce". You're gonna want to choose that option.
You can't open a Southern restaurant without shrimp and grits, and you can't leave until you've tried this excellent example of it, which's got Gulf shrimp, "melted" cherry tomatoes, country ham form Virginia, and local stone-ground grits form Trumansburg, NY.
Sadly, your carrot cake will only be a slice, but it will not be something you regret.