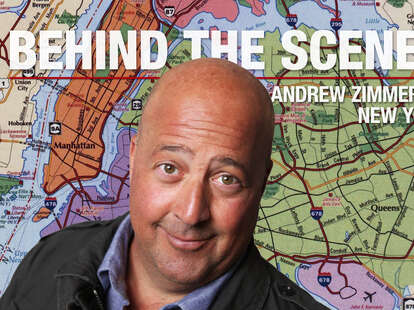 Andrew Zimmern
Andrew Zimmern
With his hit series Bizarre Foods, omnivoracious world traveler Andrew Zimmern (Twitter, Facebook, Instagram) has spent the past half-dozen years blowing viewers' minds eating stuff that would make them blow chunks. He's also made a habit of unearthing the best damn food wherever he goes. Now, he's tipping Thrillist off to the places he goes and things he does when the cameras aren't rolling, though be warned: spend a day in his shoes, and you might end up rolling home yourself.
Spicy snails hidden in Koreatown...
AZ: "This stretch of 32nd St is known for Korean-style all-night revelry, including great and often gritty restaurants, karaoke bars, and 24hr spas (yes, sometimes those kinds of spas). Head to Pocha 32 for heaping portions of pork belly-stuffed squid or noodles with spicy snails and scallions. And why not finish a dinner of spicy Korean specialties with a carafe of watermelon soju or Bohae Bokbunjajoo (wild black raspberry wine)? It'll give a whole different meaning to happy ending."
Chinatown's chef haunt...
AZ: "Great NY Noodletown is a Chinatown staple that serves a killer Hong Kong-style roast duck, with perfectly crisp skin and tender meat. They also offer a variety of noodles -- egg noodles, lo mein, chow fun –- accompanied by shrimp-stuffed dumplings, rich broth, fresh fish, and deftly prepared Cantonese BBQ meats. Open 'til 4a, this spot is popular with industry folks and night owls, ideal for getting a jump start on hangover management."
A piece of real Tokyo grows in Times Square...
AZ: "Even though it's located in Times Square, subterranean Japanese izakaya Sake Bar Hagi might as well be in Tokyo. All you need to know is it's the only good food in TSQ, serving authentic Japanese fare without high prices, gimmicks, or souvenir t-shirts. Order the chicken meatball skewers and chicken skin with ponzu sauce, spicy cod roe rice balls, or the pork belly with garlic shoots."
NYC's longest running bagel operation is on the beach...
AZ: "The oldest Jewish bialy and bagel shop in New York City was rescued by two Pakistani cab drivers, and they're keeping it kosher. Founded in 1920 by Morris Rosenzweig, a Jewish immigrant from Poland, Coney Island Bialys and Bagels was about to go out of business until Zafaryab Ali and Peerzada Shah stepped in. They're using the same old-fashioned recipes, ingredients, and suppliers, so if you've got a hankering for real-deal Jewish bagels and bialys, go here. The cultural ironies are hilarious, only in NY!"
The best bite to be found anywhere...
AZ: "Bukharan cuisine is centered around bread, and the folks at Rokhat Kosher Bakery make the breads of your dreams. Fired in clay ovens, just thinking about their incredible bukhara, rikistan, and -- my favorite -- chaat chaat loaves, make my mouth water. If you're just jonesing for lunch, head two doors down to their pie shop for samsas, a meaty hand pie stuffed with onion, fat, beef, and lamb, then fired in tandoor ovens. They're spectacular. Almost as perfect as their homemade sauerkraut hand pies which are my current favorite food anywhere. No joke... you need to see this place to believe it."
A six-seater that might be the best resto in the country...
AZ: "I'd put some of the food at Tawa Tandoor against any white tablecloth restaurant in America. Owned and operated by a family from Nepal, what they've created in a restaurant the size of a closet is unbelievable. There are so many different techniques and flavors on each plate, with dishes such as house made air dried beef (look over your head) with radish and pickle, goat stew, and vegetarian plates… it will make your head spin. Sweet heat, great meat, and vegetarians flock here… pretty awesome! Look behind the six seats at Tawa and you'll see the tortilla makers plying their trade. Shared spaces create strange bedfellows."
If it ain't broke...
AZ: "Modeled after the romanticized speakeasies of the 1920s, Employees Only is a popular hangout for food service industry folks thirsty after a long shift, offering its patrons a bowl of scratch-made chicken soup at last call (330a, daily). This is a real bar, with a modern beverage program, populated by real people late at night who need to have some fun. It's the kind of place you've been looking for but, until now, have only seemed to find imitations of."
The lowdown on rubdowns...
AZ: "Located in Tribeca, Roman-inspired spa Aire Ancient Baths is the spot for utter relaxation and get-away-from-it-all pampering. Every detail is thought out, from the candle-lit cavernous rooms blanketed in Spanish white stone to the lanterns imported from Morocco. Soak in one of the six pools of varying temperatures, or splurge on an olive oil or red wine treatment (both include a four-handed massage… and no, it's not that kind of massage)."
Experience the cash-saving rush of Fish Fridays...
AZ: "Acme Smoked Fish processes more than six million pounds of our finned friends annually, making it the largest smoked fish house in the country. Their fish is downright famous, found in stores all across town such as Zabar's and Barney Greengrass. For a fun change of pace, skip the purveyors and go straight to the source on "Fish Fridays". This is the only time they sell their fish to the public, and it goes for unbeatable wholesale prices. Stock up on smoked salmon, whitefish, trout, mackerel, or herring for weekend brunch."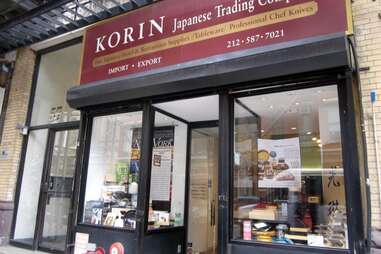 Drop $2,000 on a sashimi knife...
AZ: "Previously only open to industry folks, Korin Knives is one of the best shops in the world for Japanese knives. Most of the top-quality knives are sharpened the Japanese way, with techniques drawn from samurai sword-makers. Read: they are f*cking awesome. They could double as works of art, especially with handles made from ebony and horn, or inlaid with gold. Everyone always asks me for advice on a really cool knife store, and this is one. Just please don't use my house charge."
Apparently there are things called "books", and people sell them...
AZ: "The Complete Traveler Antiquarian Book Store stocks an incredible array of rare and antique travel books, along with vintage maps (I'm obsessed with them). They sell a variety of 18th and 19th century North and South American, European, and Asian maps, as well as WPA guides, books on world exploration, and probably the most extensive selection of NYC-centric travel books around. I could spend the entire afternoon perusing their collections. Need an 1888 edition of Baedaker's Rome guide? They got it."
Michelin-starred room service...
AZ: "The NoMad is no off-the-beaten-path hotel, and that's because it's too amazing to have remained a secret. Housed in a grand, turn-of-the-century limestone Beaux-Arts building, The NoMad's a destination crash pad: 168 luxury rooms that embody that irresistible BoBo motif (you know, bourgie bohemian). Custom furniture, original artwork, damask screens, distressed-leather chairs, stunning wood floors, and claw foot tubs… these are the things of editorial layouts in Anthropologie catalogs, and make for a pretty damn romantic setting if you're with your plus one. The food is beyond stellar, and I wouldn't expect anything less from Daniel Humm and Will Guidara of Eleven Madison Park fame, two of the most awarded hospitality/food gurus on planet Earth. For dinner, try one of their insanely creative, lick-the-plate vegetable salads, the plateau de mer, duck roasted with apricots and fennel, or the tagliatelle with king crab and Meyer lemon… and have dessert sent up to the room. If you don't want to get out of bed, order in. Unlike other hotels, 24hr room service here is soigne."