"This is a show about a very special place. A very special time. And some very special people. So much happened -- so much began -- on New York's Lower East Side," Anthony Bourdain wrote in the field notes for the final episode of his beloved television show, Parts Unknown -- sentiment betraying his tough guy exterior.
For Bourdain, it seemed, eating could unlock nostalgia. And New York -- a city taken with its own past -- is a fitting, though bittersweet location for his series' end. It's here where he began an ascent into the food world that took him all over the globe, and back home again.
In the last episode Bourdain completed before his premature death earlier this year, he samples plates of red sauce and pierogies with the local artists, writers, and musicians who transformed the neighborhood into the nucleus of culture that it became. He holds court at Max Fish, and sips egg creams outside Ray's Candy Store. He dines with Debbie Harry and Fab 5 Freddy. He does it all while traversing the city that fueled the early stages of what became a lifetime of culinary exploration. "Who gets to tell the stories? This is a question asked often," Bourdain asks in another episode. "The answer in this case, for better or for worse, is I do -- at least this time out."
Here are all the places you can follow him to this last time out.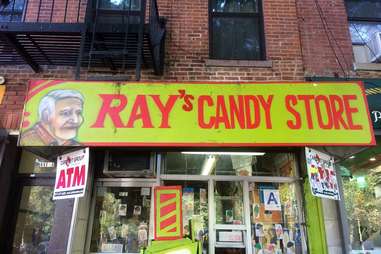 Ray's is exactly the sort of place where you'd expect to find Bourdain -- run-down, garish, and authentic. The unvarnished storefront made famous by its egg creams is a Lower East Side institution -- cluttered with a mosaic of shabby food photos and handwritten signs. Here, Bourdain sips on the inaccurately-titled carbonated beverage (it contains neither egg nor cream) with former Cro-Mags bassist Harley Flanagan outside the shop's graffitied facade.
This decades-old Dominican mainstay serves Caribbean-Spanish plates in a space that simultaneously resembles an old-school diner and a nursing home. The house stays busy by catering to a crowd of primarily Hispanic locals, dishing up plates of chuletas, pernil, and costilla de res hearty enough to feed Bourdain and his guest, hip-hop legend Fab Five Freddy.
Veselka needs no introduction. It's the place that takes your tired, your poor, your huddled masses, your inebriated, into its arms, offering shelter and steaming potato pierogies at two in the morning. It's also technically located in the East Village, but Bourdain was a maverick! He visits the Ukranian gem with punk rock music industry executive Danny Fields, savoring his own pile of cheesy potato dumplings.
This buzzy downtown art bar has long been the favorite watering hole of starving artists and their not-so-starving NYU friends. It's got pool, it's got pinball, and it's got a monthly rotating art gallery adorning the walls. Fittingly enough, Bourdain hunkers down with filmmakers Jim Jarmusch and Amos Poe, both of whom are the sort of people who probably drank here before it was cool.
This kosher diner serves what is indisputably the best matzo ball soup in New York City (don't @ me). The place is humble and cramped, but warm and lively nonetheless. If you play your cards right, by your fourth trip, the staff will remember your name.
Opened in 2017, Jean-Georges Vongerichten's 150-seat spot is by far the youngest of Bourdain's picks. Tucked into the Public Hotel beside the ultra-hip cocktail bar, Diego, the place is slightly more upscale than the show's typical features. Vongerichten says the menu is intended as an homage to New York's endlessly eclectic roster of cultural influences. Seated with popular '70s singer and poet Lydia Lunch, Bourdain dines on octopus and fish.
It's fitting that Bourdain's date with Blondie's Debbie Harry and Chris Stein would be at a restaurant that unashamedly courts the cache that comes with celebrity clients. The framed photographs adorning the walls depict bold-name guests, and the owner is something of a neighborhood star, himself. Pasta dishes and plates of veal parm are outsized, comforting, and classic, like the man himself.
Open since 1908, you can take your nonna to John's for Sunday dinner in full confidence. The place is old-school in the best possible way, with white tablecloths, and a staff of dapper, bowtied servers. Here (technically north of the LES), Bourdain feasts with East Village-based painter and performance artist Joe Coleman, whom he had long considered a friend.
Sign up here for our daily NYC email and be the first to get all the food/drink/fun New York has to offer.
Eliza Dumais is a news writer at Thrillist who cried shamelessly on Sunday.