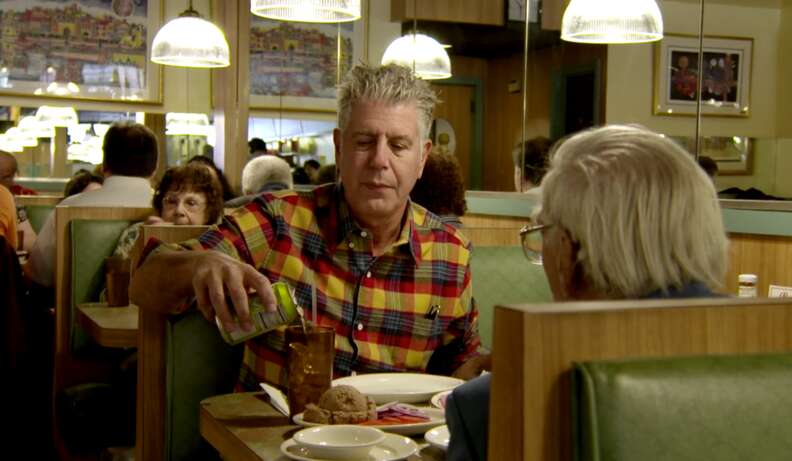 Liebman's/Parts Unknown

| Courtesy of Netflix
Liebman's/Parts Unknown

| Courtesy of Netflix
Before his death at the age of 61, chef-turned-writer-turned-TV-host Anthony Bourdain traveled to cities across the world to film his CNN docu-series Parts Unknown. He had Vietnamese beer with President Obama in Hanoi and dipped pizza in ketchup in Tehran, but no place stacked up quite like his hometown of NYC (well, adopted hometown -- he grew up across the river in New Jersey). Bourdain dedicated two episodes of his globetrotting show to NYC: the Bronx, which he visited in Season 4, and, Queens, which he visited in Season 9. (A third NYC episode featuring the Lower East Side has yet to air.) Chances are, you'll probably never get to drink beer with Obama in Vietnam, but you can live like Tony by visiting all the NYC restaurants featured in Parts Unknown.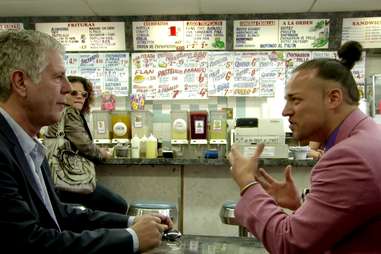 Season 4, Episode 2: The Bronx
Grand Concourse
Bourdain's introduction to Bronx cuisine is at this Puerto Rican greasy spoon that he lovingly calls "the center of the pork universe" in New York. The focus here is deep-fried pig parts, aka cuchifritos. If you go, do as Tony does and order as many plates of pork skin, fat, and juice as your table can fit, paying particular attention to the chicharrones and morcilla (that's blood sausage, FYI).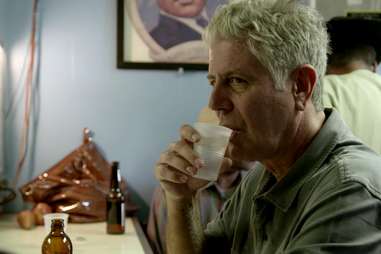 Wakefield
The speciality at this Jamaican bar is the ultra-strong Wray & Nephew white rum, which is typically mixed with cranberry juice, milk, or water. Bourdain continues his pork tour of the Bronx with rum and a hearty-looking bowl of pigtail stew (plus a bottle of Red Stripe).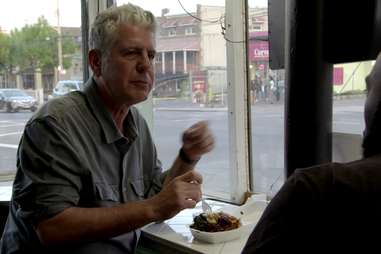 Edenwald
This nondescript counter-service Caribbean joint has been on the corner of East 233rd St and Gunther Ave for ages, despite going through various owners. Bourdain and his guide for the day, Bodega Boys personality Desus Nice, come here for curried goat and stewed oxtail, served in an overflowing to-go container with rice, collard greens, and a heaping scoop of mac & cheese. Honestly, it looks delicious.
City Island
City Island, a Cape Cod-like fishing village in the Bronx, is one of the most underrated day-trip destinations in NYC -- and one of the best places to eat fresh fish. There are a few seafood spots worth exploring, but Parts Unknown focuses on Sea Shore Restaurant, an old-school restaurant on the Marina. The menu features a variety of seafood, from sushi rolls to linguine with clams and shrimp scampi, but Bourdain's here for the steamers, snow crab, and boiled striped bass.
Riverdale
Every New York borough has its OG Jewish deli, the one that's been around the longest and that regulars swear is better than the rest. Bourdain heads to the Bronx's claim to fame, Liebman's, which has been serving matzoh ball soup, chopped liver, and pastrami since the early 1950s. This is the kind of place where a pickle plate and plate of coleslaw greet you the minute you sit down.
Various locations
This mini-burger chain isn't native to the Bronx at all (it was founded in Kansas), but Bourdain explains that it was an essential part of his childhood, and more relevantly, his guide, singer Dick Manitoba's Bronx upbringing.
Season 9, Episode 4: Queens
Flushing
The best way to experience Queens' dumpling scene is to hit a bunch of places in one day, but if you have to choose just one it should be Yu Garden in Flushing. Bourdain goes here with the rapper Heems, who grew up and went to temple nearby. They order a few dishes -- spicy beef and tripe, pork meatballs with ginger and soy -- but the main event is the xiao long bao, soup dumplings filled with ground pork and piping hot broth.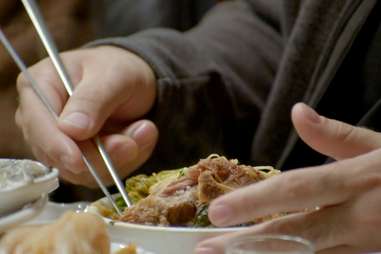 Flushing
Bourdain goes to this Korean restaurant with two of Queens' most well-known restaurateurs: Josh Smookler of Mu Ramen and Cosme Aguilar of Casa Enrique. They talk about the success of both their restaurants (Pete Wells named Mu the best ramen in New York and Casa Enrique is the only Michelin-starred Mexican restaurant in the city) over pork neck bone soup-marinated short ribs, or as Bourdain calls them, "meat candy."
Woodhaven
This tavern is known for a lot more than its appearance on Parts Unknown: Founded in 1829, it's one of the oldest bars in New York and was the backdrop for a scene in Goodfellas, which according to Bourdain is the "greatest American film ever made."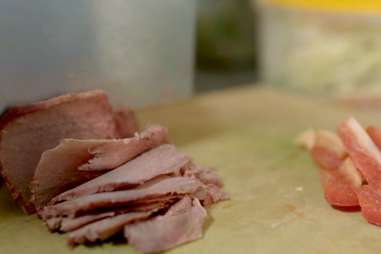 Jackson Heights
One of the lesser represented cuisines in New York, Tibetan food gets the spotlight in this episode when Bourdain heads to Lhasa Fast Food, a hole-in-the-wall hidden between a cell phone and jewelry store. The thing to order here is momo, Tibetan steamed dumplings filled with beef.
Rockaway Park
The episode wouldn't truly capture Queens without a segment on the Rockaways; and instead of going to one of the trendy, summer-vibes-only spots frequented mainly by the beach town's daytrippers (Tacoway Beach, Whit's End), Bourdain goes to this unassuming Spanish diner. The display cases here are stacked with empanadas, mashed plantains, and beef, oxtail, and pork stews, plus the avocado looks pretty darn fresh.
Jamaica
The episode ends with Bourdain going to this one-woman-show Nigerian kitchen, one of many African restaurants in Jamaica, Queens. The soul food menu features spicy, homestyle plates like egusi soup, pounded yam, and goat stew.
Sign up here for our daily NYC email and be the first to get all the food/drink/fun New York has to offer.