Anthony Bourdain's Huge NYC Food Market Finally Has a Location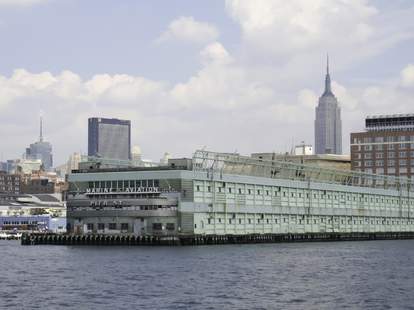 <a href="http://www.shutterstock.com/gallery-96766p1.html?cr=00&amp;pl=edit-00">Erin Cadigan</a> / <a href="http://www.shutterstock.com/editorial?cr=00&amp;pl=edit-00">Shutterstock.com</a>
We may finally know the location of celebrity chef Anthony Bourdain's enormous, highly-anticipated international food hall, Bourdain Market, thanks to a new report on Wednesday by Commercial Observer.
The chef, TV personality, and author is reportedly in negotiations for 100,000sqft of space at Pier 57, an abandoned shipping and passenger terminal located at West 15th St and the Hudson River that will be redeveloped into what's dubbed as "SuperPier," according to the report, which cites sources close to the matter.
Last month, Eater reported that the market will feature a huge variety of food offerings, including a farmers market, tapas bar, and bakery, among about 100 different vendors, some permanent and some temporary or rotating when it opens in 2016. There could also be a rooftop beer garden in the works, according to Eater. Other than that, there are few other details about the market and its offerings, which Bourdain and business partner Stephen Werther have recently teased as a bustling marketplace resembling street hawker centers.
"It is meant to be crowded and chaotic because that's what hawker centres should be," Werther said this April in a report by Singapore's Today. "[I]t is supposed to be a mash-up of foods, styles, smells, tastes and visuals. New York needs this. New York's idea of street food, with a few rare exceptions, are sort of new versions of what we call fast casual. And that's not what this is. It might be casual, but it's not fast."
Follow us on Facebook for a steady stream of daily NYC stories, and be the first to get all the food/drink/fun/news New York has to offer.
Tony Merevick is Cities News Editor at Thrillist and believes you can never have too many massive food markets, especially in NYC. Send news tips to news@thrillist.com and follow him on Twitter @tonymerevick.