Anton's

| Giada Paoloni
Anton's

| Giada Paoloni
If you squint, you can almost block out the bank branches, corporate coffee chains, and lifestyle fitness franchises that have replaced local spots like Anton's in the West Village and a lot of other NYC neighborhoods.

Situated on the darling corner of Hudson and West 11th Street, Anton's seems to have sprung fully formed from a sepia-toned snapshot of what the West Village used look and feel like. And it kind of did, having kept plenty of previous occupant Frankies 570's Old New York design elements. You know the look. Often misnomered Hemingwayesque, area restaurants like Chumley's, Minetta Tavern, Frankies, and now Anton's share a style that harks back to real deal speakeasies: mahogany, candles, last-moments-of-golden-hour lighting. The whole schtick can sometimes skew theme-y, but, bolstered by Frankies' foundation, Anton's sticks the throwback landing.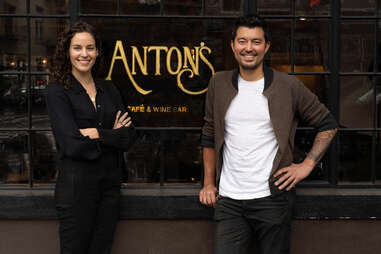 It is also quite comfortable in a few seldom seen ways. There are hooks on the walls for your coats and bags; swoony tunes like "Let's Stay Together" play at a conversational volume, tables are spaced far enough apart that they don't require professional movers to help you scoot in and out, and there is enough space to wait near (but not at, when it's crowded) the bar.
"Ice Box" martinis and Manhattan are true to form, blessedly free from superfluous ingredients or twists that would turn them into "takes." Named for a preparation novelty, they're made in batches and refrigerated -- a timesaving perk, rather than an unnecessary quirk. Other cocktails like the dangerously drinkable Pink Lady (gin, apple brandy, pomegranate, lemon) are made to order.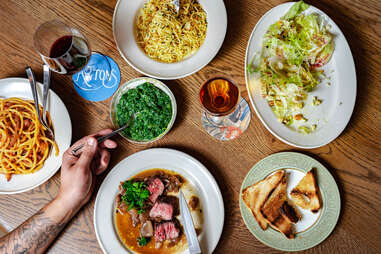 Anton's food is straightforward, too. The pork rib chop -- grilled just long enough to stay juicy without killing you, sliced, reassembled around the bone, and paired with green applesauce -- is lean porcine perfection laced with satiny fat. House-made lasagnette (narrower lasagna ribbons) is tossed with Parmesan and pecorino to creamy effect and topped with a beef and lamb-rich ragu. And Atlantic salmon is cooked to the ideal medium rare without provocation and served with white beans and just enough fennel to enhance rather than overpower.
Ink-stained wretch fetishists, vintage devotees, Rat Pack cosplayers, and normal people alike will get a kick out of Anton's. Underneath all that Old New York style, it's a solid local spot with good food that anyone would be lucky to call their regular.
The Anton's Cheat Sheet:
Est. November 11, 2019 | West Village
An Old New York Throwback with staying power
The buzz: Just weeks after taking over the old Frankies 570 space, chef Nick Anderer's Anton's is just as popular as the erstwhile neighborhood favorite. A smidge of the new spot's early success is owed to its predecessor: most of the design details remain unchanged and Frankies' owners are Anderer's silent partners. This is Anderer's inaugural solo venture after ascending the ranks at Danny Meyer's behemoth Union Square Hospitality Group.
The vibe: Classic Manhattan without feeling old fashioned. Anton's atmosphere is equal parts romantic and convivial, with vintage style, enough room to have a private conversation, and good music at a low enough volume to hear it. The dining room is equally suited to duos and groups, and the bar is an ideal place for a fictionalized 1960s-era maverick advertising executive to have a three-martini lunch and mull the duality of human nature.
The food: Familiar, well-executed staples. The grilled pork rib chops, whole or half roast chicken, and half-a-dozen house-made pastas including the excellent lasagnette with lamb ragu are all solid options. Anton's best cocktails are the batch-made "Ice Box" Manhattan and martini, and the subtly fruity, gin-based Pink Lady. Beer and more than 550 bottles of wine (about 20 available by the glass) are also available.
Sign up here for our daily NYC email and be the first to get all the food/drink/fun New York has to offer.