Waiting in line for a pie at Lucali in Brooklyn is practically a rite of passage for any New York pizza obsessive (you have to get in line right at 5 pm for even a chance at a table.) Because of its cult following and long lines, it's also a destination for celebrities like Jay-Z and Beyonce, who are among the few who can cut right to the front. But things may be looking up for those who have always wanted to try the famed pies, but didn't have the time, patience, or VIP connections. Owned and operated by Mark Iacono, the iconic cash-only, no reservations, whole-pie-only pizzeria recently expanded for the first time in its 15-year history with the opening of Baby Luc's slice shop, just down the street in Carroll Gardens.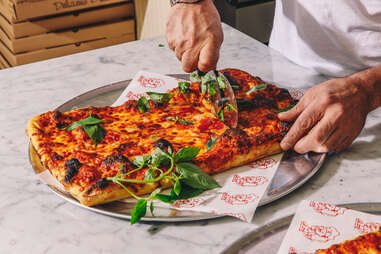 Operated by Mark and partner Cobi Levy (Little Prince, Lola Taverna), Baby Luc's offers four styles of pizza–Classic Margherita; Pepperoni; Sausage and Peppers; and Broccoli Rabe and Ricotta. Prices range from $3.50-$4 for slices and $30 for a whole pie. Plans to expand the menu to include items like chicken parm and meatball heroes, wings, and Italian Ices are in the works for the fall, as well as expanding hours to all day (currently the shop opens at 5 pm).
Helmed by pizza chef Aminu Tedla, a vet of spots like Rubirosa, Pasquale Jones, and Speedy Romeo, the pies here are slightly different from Lucali. Namely, there's no wood-burning pizza oven, and the slices are square, Sicliian-style vs the round, thin-crust iterations Lucali is known for. Also unlike Lucali, alcohol is served including bottled Negronis and beers on tap from Other Half Brewing. Regardless, lines down the block for slices are already a regular occurrence on Court Street since the spot opened up a few weeks back.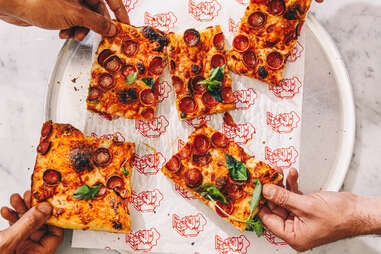 While it's primarily a slice shop, both indoor and outdoor seating are available, including at the neighboring garden next door.
Baby Luc's is located at 387 Court Street and is open starting at 5 pm until sold out from Tuesday-Saturday.
Kelly Dobkin is the Editorial Director of Local at Thrillist. She has FOMO she's not in New York for this one.