A message to all New Yorkers and visitors to our fair city: please quit throwing uneaten pizza slices on the sidewalk. It's disgusting. It's disgustingly wasteful. More than anything, it's a civic tragedy: the slice is the triangular Flag of the City of New York. You don't toss it on the concrete to super-congeal amongst the Wild Irish Roses and the soiled condoms discarded by guys whose OKCupid profiles read "always prepared to be totally spontaneous". Is a slice of streetza grosser than dog crap? No. Did a pile of dog crap ever make anybody say, "Man I'm hungry; I wish that dog's owner would have given me that poop instead of leaving it on the sidewalk"? Probably yes, but hopefully not very often. Here's what you could do with that slice instead of subjecting it to public disgrace:
Put it in your refrigerator. Assuming you're on your way home anyway, which you should be, because if you're intoxicated enough to buy a slice and throw it on the ground, slapping a police horse on the ass can't be far off in your future. Even if it's early, you're probably still on your way home, because your friends just told you they don't want to hang out with someone who could ever be that cruel to pizza.
Offer it to a homeless guy. "But homeless guys only want booze money" you say. No, homeless guys will only show gratitude in exchange for booze money. That doesn't mean they don't want that pizza. They sure as hell don't want to pay for pizza out of the money they're saving up to buy booze with. So what if they don't acknowledge your magnanimity with a "thanks, mister" whose heartbreaking quaver suggests you are the first person to treat them like a human being since well before the unfortunate circumstances that landed them on the street. Are you so desperate for affirmation of your altruistic nature that you need to get it from a guy who'll go to sleep underneath a box from a pizza a better man than you actually finished?
Lay it on top of a mailbox, where it can be easily found by a homeless guy, or by a Stern MBA from Texas who wants to show all the nerdier Stern MBAs how hard he partied in college. Pin a note reading "Still Good" underneath it.
Throw it in a trashcan. Yes, you're still an unconscionable blight on humanity, but at least you're not rubbing your profligacy in other peoples' faces. Trashcans, if you didn't know, are those cylindrical receptacles you find on every single corner of this city. You can use them to dispose of all kinds of waste, including the slice of pizza that you stupidly refuse to eat. Don't worry about getting fined $100. Slices are not "household trash", and even if they were, no one in the history of people being fined for things has ever been forced to pay that fine.
Recommended Video
Feast Your Eyes on the Torpasta
Houston between A and B. If this special kind of jagoff hit the nearest Sbarro (34th & 5th), then he traveled between 2.5 and 3 miles before deciding not to walk several more feet to a trashcan. To his defense, 1) he licked the cheese off first, and 2) Sbarro isn't pizza.

Then again, you could just EAT THE SLICE OF PIZZA, because that's what people are supposed to do when they buy pizza slices. You can make all the excuses you want for engaging in your insultingly irrational purchasing behavior, but they're all bunk. That's right, bunk:

"I thought I was hungry." What does that even mean? You either have an aching void in your stomach or you don't. It's like an erection. When you have an erection, you don't think you're horny, you are horny. Of course sometimes you lose the erection due to lack of confidence, or drinking too much. But you do not lose hunger for pizza due to lack of confidence or drinking too much. If you did, New York City would only sell four slices per year.

"I thought I was hungrier." So you bought two slices, but could only handle one. How many times are you going to do this before you accept that you are not a member of the Big Boy Club?

"I was already full." If you were actually full, what the hell did you buy pizza for? Because eating a late-night slice even though you already had dinner earlier is a habit you've listlessly continued to indulge in for years, and tonight you finally decided to acknowledge that you're so depressed, you no longer enjoy it? That is pure horse manure. That level of depression doesn't even exist. Your body actually fades into pure nothingness and all memory of your existence is wiped from the minds of everyone you've ever known before your mental wellbeing can plummet to a state where a pizza nightcap no longer tickles your dopamine center. Ask a scientist. Really, any scientist you know will tell you this is true.

"I thought I would like it." Come on dude. It's pizza. The only way you haven't had pizza before is if you're Starman, from the surprisingly touching John Carpenter movie where Jeff Bridges is an alien whose UFO gets shot down by the army, so he mimics the body of Karen Allen's dead husband to try and fit in but he doesn't fit in at all because he exhibits a conspicuously un-hyperactive child's curiosity about things we take for granted, like television, and Karen Allen's vagina. Listen up, buddy: there was only one Starman, and because his body could only survive Earth's atmosphere for three days, he had to hustle back to his home planet, Starmangia, or else he'd die. No one else from Starmangia ever came down here, because of the atmosphere thing, and because our government treated Starman like a dick. He did impregnate Karen Allen, but unless you have the most beautiful brown eyes the world has ever seen and the power to reanimate dead deer in roadside diner parking lots, you are not the son of Starman and Karen Allen. Ergo you have eaten pizza before, and already know whether or not you like it.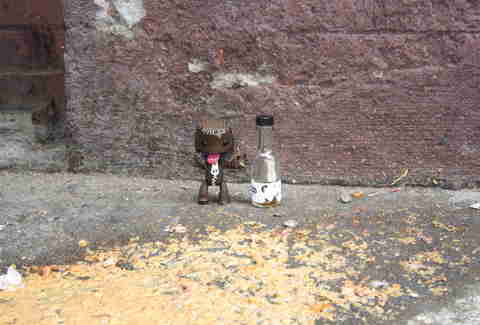 This is the only acceptable way to dispose of pizza on the street

Now that all of your excuses have been trashed more rudely than you trashed that pizza, you're ready to break out the all-time classic rebuttal, "Who cares, it's biodegradable". Is it? Is it biodegradable? Like, way the hell in the future it will have biodegrated through the concrete, and up will have sprung a beautiful pizza flower no one will care about except Will Smith, because we're all dead and thankful for it because who wants to hang out with Will Smith all day watching him run on a treadmill and do lame half-pull-ups he gets away with because there are no more personal trainers to shame him into maintaining proper form? That is a long time to wait for biodegration.

Even if you throw it in the dirt, where it might biodegrade over a more reasonable time frame, other things are biodegradable too. And yet we still make people pick those other things up with little plastic baggies. When they don't, we hate them. We hate them even more than we hate you. But don't worry about that hate gap widening too much: if you keep your body thin and spry by continuing to purchase pizza and then not eating it, you'll catch up.