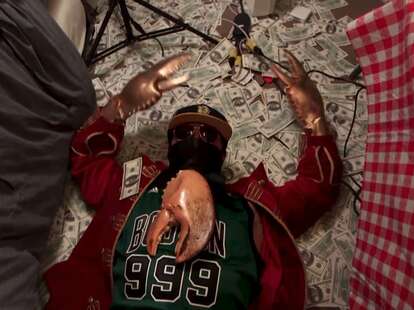 It was summer 2010 when the Department of Health raided Ben Sargent's basement apartment in Greenpoint and shut down his illicit lobster-roll business for selling "potentially hazardous foods without a permit." But, surprisingly, all was not lost. After a few sad days, the then-nascent Cooking Channel suddenly came calling, proposing that the seafood-obsessed Boston native host a new series. In a way, this was everything he had worked towards -- not so much a TV show, but getting paid to fish, eat, and hang out with fishermen. Of course, there was a catch. As the show developed, he remembers an ominous meeting with a network representative in the back of a limousine:
"She was like, 'You work for us now. There is no more Dr. Klaw.' And I had this moment of being like, 'Whoa, this is not going to end well."
For the next three years, Sargent was the star of Hook, Line & Dinner, where he traveled up and down the East and West Coasts to check out the best crab shacks and seafood eateries and talk to fishermen. Sargent says he loved it, but the whole time, couldn't stop thinking about his days as Dr. Klaw, aka the Lobstah Pushah.
Think Ali G with a Boston accent and a giant gold lobster claw hanging from an oversized neck chain.
"Nobody likes being silenced," the 38-year-old tells me from the very same garden-accessible studio in which he used to steam all the lobsters. "Especially when you're doing something people like and love, and they know you for it." Ultimately, his days of working for the man couldn't last because, as he says, "those Klaw days were just way too much fun."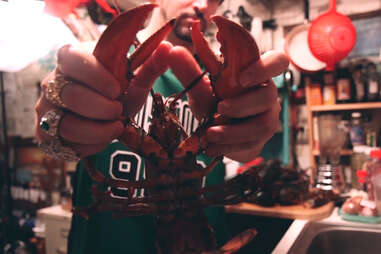 For the uninitiated, Dr. Klaw was Sargent's Inspector Gadget-inspired alter ego from the spring of 2010 to the summer of 2014, surreptitiously selling lobster rolls to those who knew somebody who knew somebody who knew somebody.
"I was like a cross-dresser," says Sargent, who's also been known to take people sport fishing along the East River after dark. "Every single night, I'd put on this soundtrack, like 'Pusherman' [by Curtis Mayfield] -- I didn't have makeup, but I always kept a chinstrap [beard], and even [groomed] my eyebrows. It was like a total transformation." Think Ali G with a Boston accent, a giant gold lobster claw hanging from an oversized neck chain, and a lobster tail-inspired, custom-designed glove on his hand.
"I'm not bragging, but I do think my lobster roll is by far the best lobster roll in New York," says Sargent, a culinary school dropout who first started hawking rolls at his erstwhile chowder/sandwich shop Hurricane Hopeful, which he opened in 2001 with a former girlfriend. The restaurant, which he had envisioned having a New England/cold water/fishermen/surf theme, and which New York Times restaurant critic Sam Sifton described as "strange and maddening, almost wonderful," existed for a few years in desolate Williamsburg and offered $12 lobster rolls, long before they got popular (Sargent says customers deemed it too expensive at the time). By the time Dr. Klaw emerged, lobster rolls had hit high tide in the New York restaurant scene. "My entire life was New England. All these chefs were making lobster rolls, and I didn't think these guys knew what a lobster roll was. I just woke up one morning and thought, 'Fuck this, I'm going to show these guys what a lobster roll is.'"
His rolls, inspired by summers spent on Cape Cod, incorporated a New England-style split-top Pepperidge Farm bun, fresh steamed lobster mixed with mayo, and a little garlic butter and Old Bay seasoning.
Sargent's biggest issue with how most NYC chefs were doing lobster rolls was proportion. "Some [chefs] would do an over-fancy version of a lobster roll, but you're completely missing the point, which is in that bite," he says. "You should get that toasty, buttery, high-fructose corn syrup bun in the same bite as lobster, and it's all ratio. But if you're just trying to impress everyone with this thing that's gushing with greens and lobster and it's on a baguette, that's not a lobster roll, because you aren't getting layers in that same bite."
By the time his apartment operation started, his above-ground brick-and-mortar was long gone. In 2009, Sargent was experimenting with a chowder book concept and had friends come by his apartment to try his recipes. And though he was cooking up chowder (his acclaimed versions at Hurricane Hopeful led to an appearance on the Food Network's first Throwdown! with Bobby Flay), it was his lobster rolls that ignited the most fervor, so he narrowed the operation to lobster only. Word got around, and the clandestine supper club became a regular occurrence. Soon there was a Facebook page that provided a phone number to call, and he was in business.
It's hard to imagine how many people could have possibly squeezed into the cramped space or how he managed to generate hundreds of made-to-order lobster rolls a night, not just because of the minimal square footage, but also because, as he says, it "looks like Captain Ahab has taken an acid tab" -- old surfboards suspended from a low ceiling, rows of cookbooks crammed along one wall, overstuffed kitchen shelves holding pots, pans, spice, etc, and most mesmerizing, a glowing aquarium filled with crayfish that looks like a cross between an underwater junkyard and a sea wreck.
"The fire department said I had enough propane to blow up an entire city block."
* * *
In early 2010, after a few press outlets reported on his new venture (honoring his underground business by not revealing the exact address), more customers showed up looking for him and his lobster rolls. And ultimately, so did city officials.
"The fire department said I had enough propane to blow up an entire city block -- I was using it to steam off lobster out my backyard," he says. But Sargent wasn't ready to go, and soon Klaw appeared, taking Sargent's game to the street. Customers would call or text with an order, and Dr. Klaw, in full regalia and a hood obfuscating his face, would meet them outside for the handoff, charging $14 a roll.
Sargent says his entire customer base was built out of New Englanders who had transplanted to New York. "I still have all their contacts in my phone, like a drug dealer. It's all 508 and 617. It's all these die-hard lobster roll fans."
By the summer of 2010, Sargent was selling, on average, 250 rolls each shift, and making so much money (roughly $5,000 a night, when you included tips), he no longer had to steam his own lobsters. He'd just tell his purveyors to send him the pickings -- pre-shelled meat, which can run up to $40/lb. "You're paying top dollar, but they'd send you a block of meat. Shipped fresh -- it was so expensive." One day he calculated $30,000 worth of lobster in his apartment (the average market price this summer is $5/lb), cooling inside three refrigerators (one full-size, two lowboys). "That was when I was like, 'I am a drug dealer.'"
But it wasn't just the crustacean-tainted cash flow that drew comparison to Sargent being a drug pusher. From the front stoop of his building, he points out the red wall with barbed wire where customers used to line up to wait for the goods, sometimes 20 deep. Every night, from sundown until four in the morning, when the bars would let out, he'd emerge and quickly make the transactions.
"It did look like fiending drug addicts trying to get hooked up," he says of his lobster roll customers. "Too often, I'd have to tell people, if I don't come out in five minutes, you have to keep walking around the block. The neighbors were really getting freaked out, and I basically had to explain to all [of them] that I was not dealing drugs."
He recalls the time Sarah Jessica Parker, Matthew Broderick, and their son showed up in a Zipcar to pick up an order. And in a matter of time, so did the DOH. In the end, Sargent suspects he had been outed through Foursquare, the app that lets users discover places like restaurants and bars through their social network. Apparently, one customer wanted to be "the mayor" (i.e. the person that has checked in most to a location in the past 30 days) of Dr. Klaw's Underground.
"I was like, dude, you just gave away my exact location."
* * *
"Ben is a nut... a full-on nut," says his friend and former "partner-in-crime" Michael Barth, now the chair at the Hong Kong chapter of the Explorers Club. "I had a lobster roll and a clam chowder the first day I met Ben -- the food was so good and pure that I worked with him for the next two years around the clock, slinging rolls and chowder at Hurricane Hopeful -- if we weren't cooking, we were surfing in Rockaway. Ben was doing lobster rolls 10 years before they were cool in New York. It was really just him and Rebecca Charles of Pearl Oyster Bar for a good long time."
"That was when I was like, 'I am a drug dealer.'"
Following the DOH shutdown, Sargent continued his renegade lobster-dealing intermittently. Barth recalls letting Dr. Klaw distribute his lobster rolls from his West Village apartment one Saturday night. "Within 30 minutes, over 100 rolls changed hands, right across the street from the local police precinct," he says. "We had a sliding door with blinds at street level, and Klaw just stuck his hand through so no one ever saw him -- just the claw."
* * *
Even two years after Sargent's last moneyed transaction as a seafood superhero saving the world from bad lobster rolls, he's still not over it. "Dr. Klaw represented the graffiti of the [art] world or the skateboarding of sports," says Sargent, likening the underground food operation to the least commercialized versions of other acts of personal expression. "It was very pure. It was all word of mouth. Everything was super-personal. I just feel like that's so missing in this day and age."
In recent years, he's tried different cooking projects, and even a $1250/night Airbnb houseboat rental in Far Rockaway (that literally sunk), but nothing compares to the highly personal nature of the Dr. Klaw operation, and his mission to supply diehard lobster roll fanatics with something they can't get anywhere else. "Everybody's like, 'Do a pop-up at Smorgasbord,' and I'm like, you're missing the point," he says. "The whole point is that it's like a food rave. The whole word of mouth was real. You had to vouch for somebody, and it's all very organic."
But now, Sargent's in the last days of a $45,000 Kickstarter campaign to resurrect Dr. Klaw: a solo cross-country road trip/cooking show, livestreamed via Periscope, featuring his custom-built lobster motorcycle and pop-up food events. He likens it to a choose-your-own-adventure book, where viewers can watch in real time as he hunts for Dr. Klaw, dropping in on a downloadable app and helping decide the course of his trip as he tracks down "genuinely crazy, underground" fishermen and seafood chefs at the dock that you wouldn't normally see on network TV.
And that's not the only thing that separates this new show from Sargent's old one. "The entire thing is an experiment," says Sargent, who will be using a GoPro to film his adventures. "Not having a crew will let me get into the action in a way I was never able to do with a team of five people. We missed a lot of crazy stuff trying to set up cameras and making wardrobe adjustments for continuity and stuff. The biggest difference is this time, the audience gets to taste the food because they will be given secret locations along the way where they can meet me and be part of the adventure and the tasting." It's easy to see why it's appealing to him; this new project seemingly has the potential to be just as personal and community-serving as his underground lobster roll business.
"I do believe that being an artist, if I'm going to call myself that, is not knowing. Because the whole exciting part is figuring it out as you go," says Sargent, who plans to bring Klaw back in some way, regardless of the Kickstarter success. "The Dr. Klaw thing is a perfect example. I didn't know what it was going to become. I could have never in a million years [known]. My entire life has been not knowing."
What Sargent does know is that Dr. Klaw is coming back to town. And soon, maybe even to yours.
Sign up here for our daily NYC email and be the first to get all the food/drink/fun New York has to offer.
Claudine Ko often feels like a crustacean, especially when she's under a tight deadline. Follow her @lucidean or check out her other stories at www.claudineko.com