New York City may have it all, but often that "all" comes in very limited quantities, making all-you-can-eat meals arguably the best thing that could ever happen to a New Yorker.
However, unlike bottomless booze, all-you-can-eat meals often get a bad rap. There's a prevailing notion that it's all subpar food designed to draw in diners with quantity over quality. But you'd be surprised to find that some of the city's best restaurants offer endless portions of actually great food. When you're ready to stuff your face with endless pasta, pizza, dim sum, curry, and more, here's where you need to go.
Recommended Video
This Restaurant Reinvented the McGriddle
Hunters Point
Price: $17 for endless gnocchi, $16 for endless slices
Come hungry (and pace yourself...) for the ultimate carbo-loading at LIC's Tutti Matti, where every Monday you can order off-menu, all-you-can-eat gnocchi. Four saucy variations of homemade gnocchi are served -- pesto, Bolognese, pomodoro, and quattro formaggi -- and plates are refilled until you're ready to crawl home along Vernon Blvd. Come back again the next night (and plan to run a marathon the morning after that), because Tuesday is pizza night, when you can get endless Neapolitan slices in margherita, spicy diavola, and chef's-choice varieties. Yes, this is sufficiently better than stuffing your face with dollar slices.
Theater District
Price: $20 at lunch, $25 at dinner
One of the most elegant all-you-can-eat options in New York City (and possibly the entire world?) is at Becco, Lidia Bastianich's Theater District gem. Call ahead to get the day's "Sinfonia di Paste," a daily rotating trio of pasta dishes that comes in unlimited portions. Past dishes have included spaghetti alla chitarra with tomato & fresh basil, artichoke ravioli with fresh marjoram sauce, orecchiette with sausage & broccoli rabe, and gemelli alla Bolognese with spring peas.
Chinatown
Price: $55 per person, or $45 per person without alcohol; 20% deposit required with reservations (which are limited)
Nom Wah's unadvertised, unlimited dim sum is one of the greatest hidden deals in New York City. Groups of 10 or more can reserve a table to eat unlimited quantities of some of Chinatown's finest dumplings (and more) for two and a half hours. You've got 10 dishes you can get constant refills on, with the exception of sampler platters and fried crab claws. Unlimited beer and wine will flow as well.
Jackson Heights
Price: $11.95
At this no-frills Indian spot in Jackson Heights, you can expect endless trays of familiar foods like saag paneer, tandoori chicken, assorted curries, and more, all served from 11:30am-4:30pm. Hillary Clinton recently stopped here on the campaign trail, and though she didn't take advantage of the buffet (big mistake), she reportedly left with two to-go bags.
Tribeca
Price: $32 with domestic beer (Bud Lights), or $38 with premium beer (Stella, Guinness, Brooklyn Lager, Lagunitas IPA, more)
Get five or more of your hungriest friends together and fill up on a two-hour frenzy of all-you-can-eat wings, fries, and beer at this Tribeca mainstay. Orders of four different wing flavors at a time are permitted, with flavors ranging from buffalo, Bonelick BBQ, butterscotch bourbon & bacon, Jamaican jerk, and many more.
Financial District
Price: $20; add a Bloody Mary, mimosa, or Guinness for $5
Bottomless boozy brunch takes a backseat at this FiDi Sunday brunch, which offers an unlimited feast, including a carving station with corned beef, turkey, and blackened salmon; an endless cheese board; lox platters; salads; and sides like bacon, mac & cheese, coconut French toast, and more. Oh, and there's a raw bar to help you eat your money's worth before lunchtime officially kicks in.
Upper East Side
Price: Bottomless food $30, $45 with drinks
Stuff your face with Mexican food and drinks at Maya's all-you-can-eat weekend brunch from 11:30am-4:30pm. For two hours, you can enjoy endless small plates, including several egg options (huevos rancheros! chilaquiles!), plus chicken tamales, mahi-mahi ceviche, tacos de barbacoa, a bacon-wrapped hot dog, and much more. Chase it all down with unlimited cocktails, including a variety of fruity mimosas, margaritas, and sparkling sangria. Of course, guac is extra, and not included in the AYCE package.
Lower East Side
Price: $25
This Lower East Side Italian spot offers an under-the-radar all-you-can-eat spaghetti & meatballs dinner in addition to an all-you-can-drink sangria special on Monday nights from 5-11pm. Will you survive it? Maybe not. But it certainly makes Mondays far less excruciating (and it's highly encouraged for a memorable date night, with unlimited Lady and the Tramp selfie opps).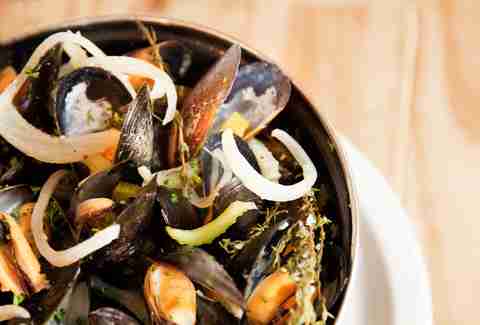 Gramercy (& Chelsea)
Price: $28 (includes a Stella or Hoegaarden).
This New York mini-chain has been hosting all-you-can-eat mussels on Wednesdays since 1998, with a longstanding record of 11lbs of mussels eaten in a single serving. You can enjoy yours in three different preparations -- Marinières with white wine, celery, and garlic broth; Grand-Mere with bacon and beer sauce; or Basques with roasted peppers and Puebla's chorizo.
East Village (& West Village)
Price: $28 without drinks, $37 with drinks
You're not getting the fanciest omakase spread in the city here, but you are getting a lot of good sushi and sides. The AYCE sushi deal includes all sushi rolls on the menu rolled to order (no buffet here!), as well as sashimi, salads, beer, sake, and wine for two hours. Highly recommended for birthday parties, or just because you're really hungry.
Lower East Side
Price: $18.99 for AYCE hot pot; $25.99 for AYCE buffet; $30.99 for both
This LES gem offers an endless stream of Chinese food that you only wish Seamless would deliver. Choose between the endless hot pot (which has the option of six different broths and 46 ingredients to add in) or the hot buffet (which is loaded with chicken, beef, pork, seafood, and vegetable dishes) to indulge any Chinese-food cravings. And if you're eating on your birthday, the buffet is free! Just be careful not to overdo it: 99 Favor Taste warns it will charge $13.99/lb of food wasted on your plate. Reserve a table if you don't want to wait.
Stuy Town
Price: $28, includes margarita
Taco Tuesday comes a day early at Vamos' weekly Monday night all-you-can-eat taco night. For 90 minutes, choose from a variety of tacos including carne asada, carnitas, al pastor, salmon, lamb, or red snapper, and stuff your face as you sip on a margarita (also included in the deal).
Flatiron & Downtown Brooklyn
Price: $32
Load up on all the brisket, market chicken, spare ribs, and sides you could ever want at Hill Country's all-you-can-eat night from 5-10pm on Mondays. We recommend eating with your hands for optimum face-stuffing enjoyment.
Sign up here for our daily NYC email and be the first to get all the food/drink/fun New York has to offer.