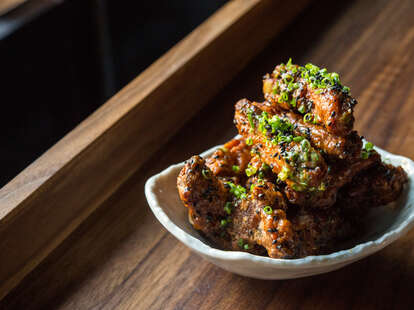 Bar Goto

| Photo by Daniel Krieger
Bar Goto

| Photo by Daniel Krieger
After a year-long ban on sitting at a bar, and Governor Cuomo's dictum that anyone who orders an alcoholic beverage from a restaurant or bar must also order food, as of this month, New York City is finally loosening its restrictive pandemic-era rules and easing into more comfortable semblances of pre-COVID life. While, later this week, restaurants and bars will be able to increase their dining occupancy from 50 to 75 percent, right now, patrons can also once again begin to claim bar stools, and are no longer required to balance booze with a cheap snack.
So, now that we can say goodbye to those requisite bags of $1 chips, which bar snacks are actually worth paying for? We've rounded up some of the best bar bites in town. From uni deviled eggs and cheeseburger tacos to passion fruit ice cream cookie sandwiches, whether you're hanging with all of your vaxxed pals or just looking to grab a solo drink, read on to scope the best bar snack spots around.
The third location of Korean drinking den and small plate number Barn Joo is now soft open in NoMad, and with the debut comes a new bar snack menu specific to the area. Alongside soju and Korean-accented cocktails, the team is offering kimchi-steamed dumplings and a riff on maki rolls, with proteins like galbi, saewoo twigim (deep fried prawns), or shiitake and black truffle.
Seeyamañana––the newest addition from the team behind nearby bar Patent Pending–– celebrates Cali-Mexican flavors and ingredients from around the Baja, and with its weathered wood and tropical plant getup, the bar's overall aesthetic suggests you're close to the beach. To pair with botanical highball cocktails flavored with coconut and prickly pear, patrons can choose from a mostly plant-based menu of jackfruit infladitas and veggie ceviche studded with lotus root, bamboo shoots, and cilantro. Note: seeyamañana accepts walk-ins, however those who would like a guaranteed seat can make a reservation for the $89, three-course cocktail prix fix.
How to book: Walk-ins welcome. Reservations available only for pre-fixed menu via special form or by calling 917-374-1682.
One of the City's very first Japanese-style cocktail bars, barman Kenta Goto is behind this shoebox-sized, izakaya-inspired drinking den that's perpetually packed. Think riffs on classic cocktails enhanced with Japanese ingredients and spirits (like the Kyoto old fashioned, reworked with matcha and rice vodka), and a snack menu to match. Booze-friendly bites focus on Japanese flavors presented in familiar forms––look no further than the miso chicken wings or the togarashi chips and dip. By way of seating, expect six bar seats.
How to book: Indoor/outdoor seating available; takeout/delivery via bargoto.com
Lauded barman Greg Boehm (Katana Kitten, Mace) is behind The Cabinet, a chic, east side mezcaleria that pays tribute to Mexican culture through both booze and bites. Patrons can grab one of six bar seats and choose from 207 mezcals, paired with tamales the team sources from a little hole-in-the wall in Harlem, Tamales Lupita. Other snack options include chicharrons with lime salt.
How to book: Indoor/outdoor seating available; takeout/delivery via website.
Sleek, minimalist-designed Double Chicken Please opened in the middle of the pandemic (so until now their entire back bar has remained untouched), yet bar team and co-owners Faye Chen and GN Chan have already amassed a devout following for both their excellent, well-seasoned cocktails on tap, and fried chicken sando. Deriving inspiration from Taiwanese and American cuisines, that killer hot honey chicken sandwich calls for a buttermilk and hot sauce-dipped chicken patty that's fried and served on a pretzel bun with chili-spiked honey and Thai basil aioli. We also suggest ordering the chicken liver mousse and adding a smear to the sando.
How to book: Indoor/outdoor seating available; takeout/delivery via Caviar.
Chef Alex Stupak's beloved agave spirit-focused bar is named after what might be the greatest bar snack of all time: the al pastor taco. And after six years, this East Village staple is still going strong. With a motley menu inspired by Mexican antojitos (snacks), Chinese-American takeout, and stoner food in general––all designed to pair with booze, of course––those imbibing can choose from chalupas, pork fried rice, or a breakfast burrito served all-day except for breakfast hours. Classic. Oh, and there's a cheeseburger taco, too. Currently, Empellón is equipped with six bar stools, in addition to booths and tables.
How to book: Indoor/outdoor seating available; takeout by calling 646-833-7039.
About a year ago, the Atera team launched a tiny adjacent wine bar, but thanks to the pandemic it has gone generally overlooked. Grab one of the six bar seats for elegant, wine-friendly plates by chef Alec Vaughn, such as half of a Hasselback potato topped with crème fraiche and loaded with a mountain of Kaluga caviar. Don't miss the house-favorite: salmon tartare that's mixed with pickled mustard seeds and potato chip, then served with baby sheets of nori for a DIY experience.
How to book: Indoor/outdoor seating available; email info@farranyc.com for takeout
Diminutive, cult favorite wine bar The Four Horsemen––renowned by even the most discerning oenophiles for having one of the city's most impressive small-producer wine collections––is just as lauded for its vino as it is for its regularly-changing small plates. Chef Nick Curtola has earned countless acclaim for his hyper seasonal wine-friendly bites; right now, one will find razor clams with zippy green garlic butter, alongside silky scallops in leche de tigre.
How to book: Outdoor seating available; takeout via website.
Raw bar fans flock to this six-year-old hipster hang for fresh ocean animals, alongside tropical-leaning cocktails spiked with passionfruit and PX sherry. New to the team is chef Thom Chun, who just rolled out a revamped menu with subtly Japanese-influenced bar snacks, like uni deviled eggs, panko-crusted baked oysters, and habanero kosho sea bass ceviche. After a long hiatus, 10 bar seats are back in business.
How to book: Indoor/outdoor seating available; takeout by calling 718-643-1503.
Iconic NYC chef Alfred Portale (Gotham Bar & Grill) launched his namesake restaurant and bar just a few months before the pandemic hit. A substantial portion of this upscale Italian number––decked out in painted white brick––is defined by a long bar, which now offers six seats. Drop by for a mix of savory and sweet bites from salt cod croquettes with Calabrian chili aioli, to a passion fruit ice cream cookie sandwich.
How to book: Indoor/outdoor seating available; takeout/delivery via website.
Shige Kabashima of lauded Japanese cocktail bar ROKC debuted his sophomore effort, NR, about a year and a half ago on the Upper East Side. In his signature style, the spot is also dedicated to cocktails built with Japanese ingredients served in whimsical vessels with elaborate garnishes, and there's a fun snack menu to match. Loosely inspired by kaiseki cuisine, chef Takashi Igarashi (Kajitsu, Odo) is behind the menu here; think soupless ramen with uni and ikura, and a truffled Japanese egg sandwich served with melted butter on the side. While NR typically offers 20 bar seats, starting this month they'll begin with eight.
How to book: Indoor/outdoor seating available; takeout/delivery via website.
Up in Harlem, dimly-lit two-year-old cocktail lounge Sugar Monk is ready to offer guests six bar stools and a Mediterranean-inspired snack menu. Co-owner and head mixologist Ektoras Binikos hails from Greece, and a number of the bar's dishes––such as the hummus, moussaka, and harissa-laced, marinated octopus––are old family recipes. Pair any of the aforementioned with globally-flavored cocktails like the The Runnable Stag, which blends 12-year Scotch, Suze, Salers, star anise, and orange bitters.