The Essential Places to Eat & Drink Near the Barclays Center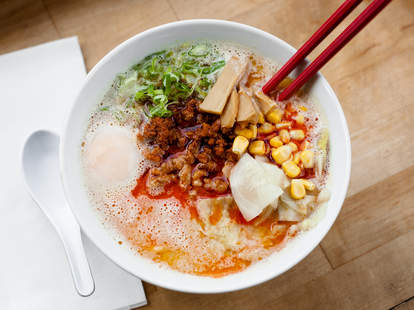 Autumn is the best time to be in the orbit of Brooklyn's four-year-old pre-weathered steel stadium, the Barclays Center. Hockey and hoops season get underway in mid-October, meaning both local teams, the Brooklyn Nets and New York Islanders, are in action. And there are multiple non-sports events on the docket as well, like this charming husband-and-wife musical duo, Beyoncé and Jay Z (perhaps you've heard of them), who are putting on a benefit concert with a slew of their famous friends.
The next time you're Barclays-bound, be sure to check out the surrounding neighborhood, which is chockablock with excellent eating and drinking places. Here are 10 of our favorites:
Courtesy of Shake Shack
<em>170 Flatbush Ave</em><br />
Conveniently located right across the street from the arena, the local outpost of restaurateur Danny Meyer's popular burger chain serves up perhaps the finest example of NYC's latest comfort-food obsession: the chicken sandwich. Crisp and juicy, dressed with lettuce, pickles and a creamy buttermilk mayo on a soft potato roll, the <a href="https://www.thrillist.com/eat/new-york/brooklyn/we-ate-the-chickenshack…; target="_blank">ChickenShack</a>&nbsp;made its big debut right here in Brooklyn. And it beats anything comparable that you might find at the stadium. (Sorry, Carla Hall.)
<em>58 5th Ave</em><br />
With 18 taps and an extensive selection of bottled and canned brews (check <a href="http://www.unclebarrys.com/beers-2/&quot; target="_blank">the beer list</a>!), this no-frills watering hole, located just two blocks from the arena, is the perfect spot for pre- and post-event suds sipping. The bar doesn't serve food, but it does offer vintage games and trivia -- mind over matter, dude.
<em>87 S Elliott Pl</em><br />
Head a little farther north in Fort Greene for some seriously tasty 12-hour hickory-smoked pulled pork and St. Louis-style rib racks. The hot dogs -- topped with pulled pork, beef, or chicken -- also require mention, because meat on meat is a God-given right, or something.
Drew Pickles
<em>589 Vanderbilt Ave</em><br />
Expect strictly no-nonsense cocktails and a fun, uncontrived atmosphere. Not sure what to order? Opt for the bartender's choice: pick a spirit and the crafty character behind the stick will custom-make you something seriously sippable.
Courtesy of Chuko Ramen
<em>565 Vanderbilt Ave</em><br />
New ramen shops keep bubbling up in South Brooklyn, but this cozy spot in Prospect Heights is unique. Unlike most NYC noodle shops, where tonkotsu-style pork broth reigns supreme, Chuko's specialty is a veggie-based soup swimming with tofu and fresh produce, though meatier options are equally slurp-worthy.
<em>85 5th Ave</em><br />
This old-school pizzeria is a cut above your typical NYC-style slice joint, with ample seating and a whimsical decor. The standard triangular and square-shaped portions are both solid options (each just $2.75), but the pro move here is the stuffed slice, jam-packed with Italian sausage and cheese inside a double crust.
<em>162 5th Ave</em><br />
This casual yet stylish Vietnamese-inspired gastropub is one of the best places to eat right now in NYC. Period. Even if you're perplexed by the house's signature "unshaking" beef -- nevermind the metaphysical descriptor, just think: saucy rib-eye -- the Sriracha butter chicken wings are approachable enough for the most simple-minded sports fan. Grab a seat on the lush back patio, if weather permits.
<em>702 Union St</em><br />
It's hip in a way that doesn't feel like it's trying too hard, even though there are bocce ball courts, frequent karaoke/slam poetry nights in the basement, old-book-lined walls, and slouchy couches taken up by bespectacled fathers journaling while waiting for their wives to finish shifts at the food co-op up the block.
<em>56 5th Ave</em><br />
This dark, laid-back food &amp; drink den has above-average taps, big booths, and shelves crowded with knickknacks that make so little contextual sense that they actually make complete sense. As for menu specifics, the grass-fed Angus burger is a standout, served on an onion brioche bun.
<em>247 5th Ave.</em><br />
Chef Dale Talde and partners David Massoni and John Bush, the dudes behind the super-successful Talde, opened this little roadhouse-style bar a few years back and have been slinging classic American eats to the neighborhood's delight ever since. Pair your affordable porky melt -- cheddarwurst, griddled onions, mustard, rye -- with a pour of Pappy Van Winkle just because you can. Bonus: best tater tots ever.
Sign up here for our daily NYC email and be the first to get all the food/drink/fun New York has to offer.