A couple years ago, BBQ kind of sucked in NYC (not all of it, but definitely pretty much all of it). Then, like Eli Manning that time he won a Super Bowl, it stopped being totally terrible. BBQ joint after BBQ joint emerged, leaving NYC with an actually respectable 'cue game.
For the sake of this list of NYC's 11 best spots, we're gonna leave off both out-of-the-box BBQ-ers Fatty 'Cue and recent Brisket King of NYC Ducks Eatery, and go full-on traditional. We hope you brought napkins.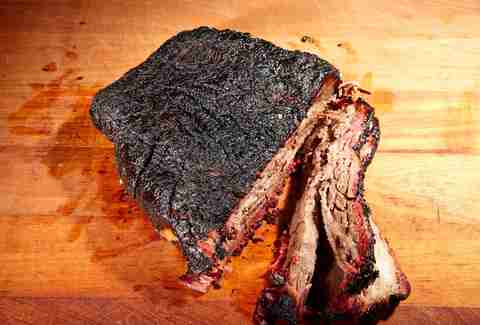 Mighty Quinn's Barbeque (click here for address and info)
East Village
Finally opening a proper restaurant after its massive success at Smorgasburg (where it still has a stand), this Texas and Carolina hybrid spot from pit master Hugh Mangum offers a no-frills counter service environment flush with hardwood-smoked, bigger-than-your-head beef ribs, just-as-delicious-but-less-humongous spare ribs, and excellent brisket.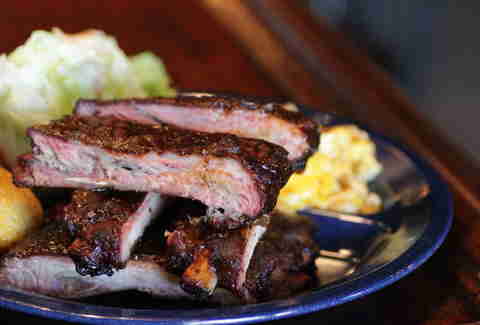 Dinosaur Bar-B-Que (click here for address and info)
Harlem and Gowanus
Originally from upstate (and actually also starting as a food stand of sorts for Harley riders), Dinosaur is one of the old guards in NYC that still stands up. Now available at two locations (hello, Brooklyn branch), you can grab their St. Louis ribs, brisket, and less traditional fare like the Pork-Sket (Texas brisket layered with cheese, then topped with pulled pork and slaw).
BrisketTown (click here for address and info)
Williamsburg
After a long haul from Texas with a trailer of wood in tow, and countless tests with the subscription pop-up BrisketLab, Daniel Delaney's Brooklyn shop now serves an exemplary version of the tender, smoked meat in surroundings that draw just as much influence from the Texas originals. Bonus: you can catch them doing their thing in sandwich-form at the SmokeLine on the High Line, with chopped brisket, pulled pork, or smoked chicken.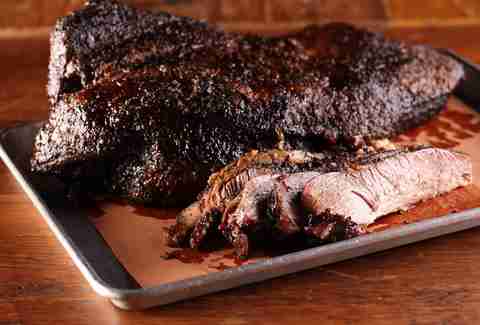 Hill Country (click here for address and info)
Flatiron and Downtown Brooklyn
Technically, you can get lean brisket here... but you can also get single-stuffed Oreos, and you don't do that, do you? Go with the moist, and then feel free to load up on sausage, chicken, and green bean casserole before heading downstairs for some awesome live music in this ode to central-Texas meat markets.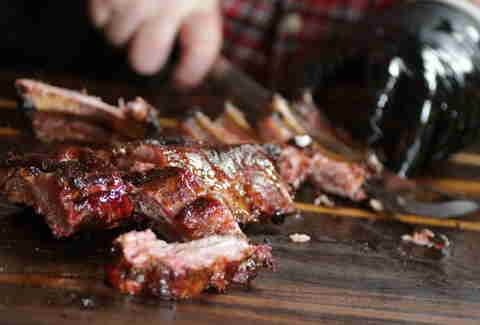 Hometown Bar-B-Que (click here for address and info)
Red Hook
It's worth the trek to Red Hook for this massive BBQ hall doing Texas-style brisket, St. Louis-style ribs, and a bunch of other meat-sweat inducers that pit master Billy Durney traveled all over the country learning how to do just right. Oh, and they're breaking the rules a bit too, with additions like a lamb belly banh mi and jerk baby back ribs.
John Brown Smokehouse (click here for address and info)
LIC
Head here for Kansas City-style eats, like their killer burnt ends and awesome pulled pork that mingle with things like house-cured pastrami, badass lamb sausage, and even foie gras.
Blue Smoke (click here for address and info)
Gramercy and Financial District
Danny Meyer's spot helped usher in an air of respectability in the NY BBQ scene. And even if it's not considered super-authentic, it's still damn delicious, thanks to a North Carolina-style pulled pork platter, Texas-style salt and pepper beef ribs, and Memphis baby backs all on hand (or on face, more likely).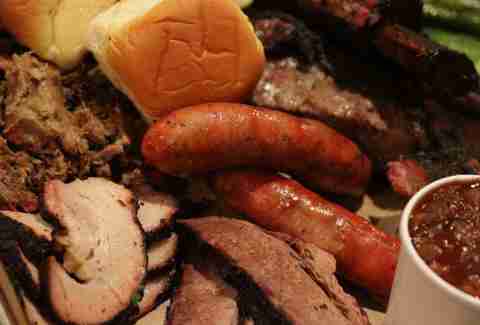 Fette Sau (click here for address and info)
Williamsburg
This narrow garage-like spot in Williamsburg offers an excellent beer selection, on top of meats like a pork belly that gets rubbed with espresso, melt-in-your mouth brisket, and sometimes -- if you're lucky -- one of their amazing specials like the don't-knock-it-'til-you-try-it pastrami beef tongue.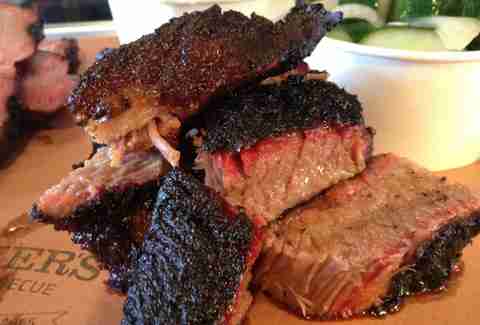 Fletcher's Brooklyn Barbecue (click here for address and info)
Gowanus
Wood-smoking everything in a pit made in Texas, this spot also aims to honor the neighborhood and borough by keeping ingredients as local as possible for their brisket, burnt ends, and ribs, as well as letting some local influence creep in for dishes like their char siu pork steak.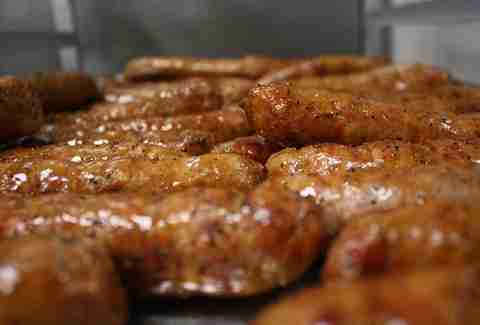 The Smoke Joint (click here for address and info)
Fort Greene
Combining tried-and-true BBQ methods with skills picked up from years at fine dining establishments, this roadhouse-style spot is doing eats like St. Louis ribs, pulled pork smoked for 12 hours over hickory, and what some consider to be one of the best hot dogs in the game -- which, by the way, you can also top with pulled pork, beef, or chicken.
Mable's Smokehouse & Banquet Hall (click here for address and info)
Williamsburg
This labor of love -- from a husband and wife team who're using their Grandma Mable's recipes -- rocks a honky-tonk feel and gets dirty with Frito pies, awesome mac 'n cheese, and of course, meats like hot links, St. Louis ribs, and brisket.