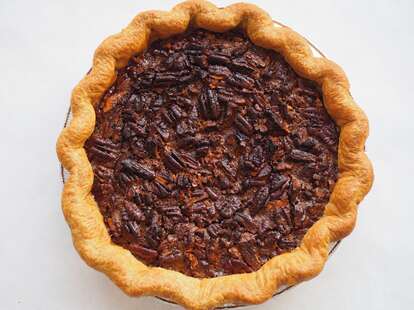 This Thanksgiving, relieve yourself (and your oven) from the tedious burden of baking a holiday pie. This is New York City after all, where kitchen space is limited and dishwashers are few and far between. What the city is replete with, luckily, is independently owned bakeries, each specializing in making gorgeous goodies that are sure to impress.
Ordering your pie from a Brooklyn bakery is a triple whammy of holiday joy, really. Not only do you get to save time, and gain a flaky, golden brown pie, but you can also feel good about supporting your borough's small businesses heading into the holidays.
Read on to discover some of Brooklyn's best Thanksgiving pie offerings—and some top local restaurants who have Thanksgiving dinner covered—then get a move on to claim yours before they're all gobbled up.
This popular woman-owned bakery on a lively block of Clinton Hill's Fulton Street is offering a rich and nutty take on a classic with their Brown Butter Pumpkin Pie, as well as a Chocolate Bourbon Pecan Pie. At The Good Batch, pre-orders for pies close at the end of the day on November 18th, but they'll have plenty available for walk-ins starting on the 21st. Those looking ahead to December holidays can also pre-order a festive collection of seasonal cookies, including gingerbread men donning I Love New York t-shirts.
If you've never thought about introducing Japanese-inspired flavors to your Thanksgiving table, think again. Kitsby on Grand Ave is already well-known for its dessert kits and fun collaborations, and now they're pulling out all the stops for the holidays. There, pre-order and pick up unique offerings like Hojicha Pumpkin Cream Pie, Chocolate Cream Puff and Mandarin Pie, Miso Butterscotch Apple Five Spice Crumble Pie, or a Thanksgiving Cookie Box. Delivery for qualified zones is on November 22nd and 23rd, and pick up is on the 23rd.
Don't let the line around the block intimidate you at this uber-popular French bakery on Montague Street. Besides their famed croissants and tahini chocolate chip cookies, L'Appartement 4F is also bringing back their classic Tarte aux Pomme, an apple pie made with fancy French butter. It will be available for purchase at their shop for only four days, from Monday, November 21st to Thursday, November 24th.
This family-owned bakery on Fulton St is known for its famous Navy Bean Pie—a traditional staple of the Nation of Islam that is custard-like with a mellow sweetness and tons of nutritional value. Grab one for your Thanksgiving table in one of three sizes (mini pies, anyone?) or a classic Pecan, Sweet Potato, or Coconut Custard. While there isn't a specific cut off date, try to place your pie order by Monday, November 21st.
Bakeri
Williamsburg & Greenpoint
Brooklynites know that a morning spent at either location of Bakeri is a good one, thanks to delicious pastries and charm to spare. This Thanksgiving, they're offering up uniquely flavored holiday pies, like a Pumpkin Ginger Labne Cheesecake, an Apple Oat Crumble Pie, a Chocolate Bourbon Pecan Pie, and a Vegan Chocolate Mousse Pie. Pre-order your favorite on their website for pick-up, but don't wait too long because they are planning on cutting off orders on Sunday, November 20th.
Brooklyn Sweet Spot on Myrtle Ave is known for their decadent cakes and cupcakes. Their seasonal pie offerings include a classic Sweet Potato Pie, a Maple Roasted Pumpkin Pie, an Apple Crumb Pie, and a Bourbon Pecan Pie. If you're looking to supplement your dessert offerings, they also have Southern Bread Pudding with Rum Sauce, Banana Pudding, and tons of cakes. Be sure to place your online order before Monday, November 21st at midnight, but we've been told that stragglers will be able to come into the shop for last minute pick ups.
Thanksgiving pies from this bustling vegan bakery and cafe are perfect if you and your loved ones plan on enjoying a dairy-free holiday meal, or simply want to have that option available. At Clementine, pre-order their Pumpkin, Apple, Maple Pecan, Sweet Potato Coconut, Mixed Berry or Cherry Pies online for pick up or delivery. Take note: pie orders need to be placed at least 48 hours before you plan to grab them.
This sweet little pie shop owned by two sisters makes some of the best pies in Brooklyn, which is why their Thanksgiving pre-sale is already sold out. Luckily, Four & Twenty Blackbirds will have a limited number of first-come first-served pies available starting Monday, November 21 until Thanksgiving Day at their 3rd St location in Gowanus, including a Brown Butter Apple Streusel, their signature Salty Honey Pie, Chocolate Chess, Matcha Custard, and more.
This small batch French bakery and cafe on Myrtle Ave is a one-stop shop for goodies from pastry to cheese and beer. While at L'Imprimerie, grab a four-pack of local brews for this Thanksgiving to pair with their Bourdeloue (an Almond Pear Pie), Bourbon Pecan Pie, Chocolate Bourbon Pecan Pie, or Pumpkin Pie.
Every Maman location (there are now several sprinkled throughout Manhattan) is known for having its own unique charm, and now they will also have delicious Thanksgiving pies. Choose from classics like Pecan Pie or Pumpkin Pie, or switch things up a bit with a Spiced Apple Crumble Pie or a Mixed Berry Pie. While you're at it, there's no harm in grabbing some of their beloved pastries as well, like a Nutella Beignet or mini croissants dipped in matcha white chocolate. Pies are available to pre-order online or by email up until November 20th.
Taiwanese restaurant and bakery Win Son on Graham Ave is a Brooklyn go-to for mochi donuts and breakfast sandos on milk bread. This Thanksgiving, however, they're switching things up with a Banana Cream Pie, Pecan Pie, and Sweet Potato Pie. Pre-order your pie online, or walk-in to pick one up, by Friday, November 18th.
Austa Somvichian-Clausen is a freelance food and travel writer, who lives in Brooklyn with her girlfriend and two fur babies.