New York Although the last thing anyone wants to do Sunday morning is move from their I-had-too-much-whiskey-last-night-and-now-I-have-a-headache zone by the bed/couch/bathroom, we promise it'll be a worthy and invigorating trip to get one of these five breakfast sandwiches.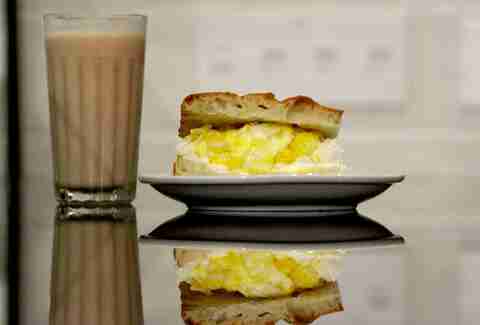 Ship's Biscuit at Saltie: This one sandwich may completely change your opinion about the necessity of breakfast meat on every single morning-after-partying meal. It sounds so simple, but it's so amazing: soft-scrambled eggs, ricotta, and focaccia.
Continue Reading
Porchetta at Maialino: Their chef knows how to keep things going 'til 4am, so you know they're going to have a bomb Sunday morning option. Enter the Porchetta, loaded with roast pork and fried eggs. It's more of a meal than a light, early-morning snack.
Potato & Eggs at Defonte's: This bad-boy from one of NYC's best and oldest sandwich shops replenishes you with fresh-baked Italian bread, potatoes, eggs, and mozzarella, plus you've also got the option to add Virginia ham... likely an option you've never not taken.


Candied Bacon Sandwich at Goat Town: This East Village farm-to-table bistro has a masterpiece of an eye-opener with scrambled eggs, cheese, and sweet, smoky, beautiful candied bacon.
The Breakfast Sandwich at Mile End: It's kind of like a bodega sandwich, but about a billion times better, with fried eggs, house bacon, and aged cheddar. Also: they probably don't even microwave the roll.