The 5 Best Burritos in NYC
While our modern idea of Cinco de Mayo might be synonymous with a pitcher of icy margaritas, the holiday actually began as a commemoration of a Mexican military victory. At the Battle of Puebla on May 5th, 1862, 4,000 Mexican soldiers won a bloody fight against the French army despite being under-equipped and significantly outmanned. Legend has it that when news of the victory finally made it all the way to California, a group of Mexican miners broke into spontaneous celebration.
Over a 150 years later, New Yorkers are lucky enough to get to celebrate in a city with a thriving Latino culture -- including some of the best Mexican food in the world. So put down that fourth shot of Patrón (don't worry, you can pick it up again in a second!) and toast to Cinco de Mayo with one of the five best burritos in the city this week.
Breakfast Burrito
East Village
Start your Cinco de Mayo with a six-dollar breakfast burrito as big as your arm. Downtown Bakery serves up a few variations on the humble combo of cheesy eggs and beans; fried with potatoes or your choice of meat, they're served up with a generous helping of smoky salsa. You can order breakfast from 6am to 10pm, so you might want to wait and order a burrito while nursing your hangover on the afternoon of Seis de Mayo.  
Chorizo Burrito
Harlem
Frijolito's burritos are best ordered for delivery; they're so heavy, they might hurt your arm when you carry them home. Filled absolutely to bursting with spicy meat and rice, you can split one with a friend, order chips and guac and a couple of Mexican Cokes, get stuffed, and still walk out with change from your twenty. Sure, you could order your burrito in a bowl instead of wrapped in a blanket-sized tortilla, but your mama didn't raise a quitter.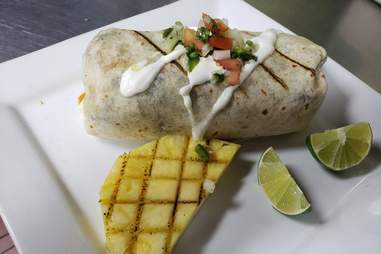 Al Pastor Burrito

| Courtesy of Taqueria El Maguey
Al Pastor Burrito
Sunset Park
Although it's a taqueria staple, al pastor -- pork marinated in chilies and then spit-roasted, shawarma-style -- Was introduced to Mexico Lebanese immigrants in the early 1900s. Sweet with pineapple and crispy with rendered fat, the al pastor at this small restaurant is a standout even in Sunset Park, where you can't walk a block without finding a solid burrito. And it's worth the trip even if you don't live nearby: Order your burrito to go, sit at the Sunset Park's highest point, and watch the sun go down on the Statue of Liberty.
Carne Asada Burrito
Woodside
Mole poblano, sweet and bitter and a little redder than the mole you see on many menus, gets its color from dried chilies and a small amount of chocolate. De Mole serves this unctuous, slightly-spiced sauce in their pollo con mole poblano burrito, complete with the classic sprinkle of sesame seeds. Mole is Mexico's national dish, and although it has a million origin stories, it most likely began as the Aztec mōlli before morphing, under international influences, into the sauce we know today. Why not celebrate Cinco de Mayo with a forkful of Mexican history?
Tex-Mex Burrito
Williamsburg
Taco Chulo's burrito filling choices -- including tender cactus, poblanos, mushrooms, and spicy house-made vegan sausage -- make it an ideal spot for herbivores. You can get meat, too, of course, and if you order the Tex-Mex, they'll wrap it up with beans, rice, and the crown jewel of the Tex-Mex genre: creamy, gooey queso. Scarf a burrito down, then toast to Cinco de Drinko with a marg flavored with lime, cactus, hibiscus, or (my favorite) tamarind.
Sign up here for our daily NYC email and be the first to get all the food/drink/fun New York has to offer.