On the Ides of March, Julius Caesar was brutally stabbed to death by members of the Roman Senate. It happened 2,063 years ago, so I don't think it's too soon to commemorate the occasion with a crunchy, garlicky, Parmesan-y Caesar salad.
Sure, the Caesar salad was really invented in Tijuana by an Italian a hundred years ago, but that doesn't mean you can't take the opportunity to raise a glass to the man who freakin' veni, vidi, vici'd. I've rounded up the five best Caesars in the city for you to try this week, but fair warning -- don't invite anyone named Brutus to lunch.
Recommended Video
Art of the Meal: Chloe Rose Makes Super Mario Bros Art With Hot Sauces
Greenwich Village
We'll start with New York's most famous -- and famously expensive -- Caesar salad. Prepared tableside (just like it was at Caesar's, the Tijuana restaurant where it was invented), this $25 salad is a true-to-form take on the classic: crisp gem lettuce; salty anchovies; Worcestershire sauce; sharp grated Parmesan; and buttery, garlicky croutons. It's a splash, sure, but half of the cocktails in this godforsaken city cost $17. More importantly, Carbone's Caesar is a thoughtful, serious take on a salad that's often taken for granted.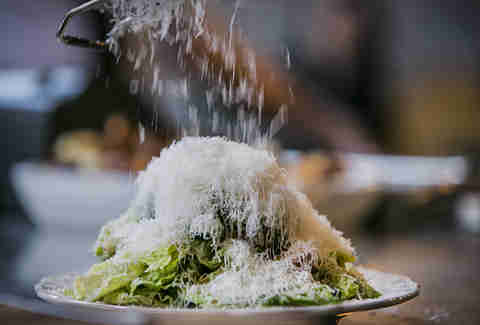 Long Island City
Like most of the Caesars on this list, this salad looks deceptively simple. Some greens, a toss of dressing, a handful of croutons. But by swapping the traditional anchovy with smoked herring, its meatier whitefish brother, M. Wells has imagined a smokier, saltier, and more complex version of the chophouse staple. The dressing covers a pile of crisp torn romaine, but you'd be forgiven for missing the green beneath the Parmesan cheese so deep it seems like it might be tongue-in-cheek.
Williamsburg
Known for its Detroit-style pizzas (and, it must be said, their spectacular burger), Emmy Squared seems like an unlikely spot for a killer Caesar. But this preparation, meant to balance out the crust and grease of deep-dish pies, shows the delicate, acidic side of the salad. By replacing the greens with bitter bok choy, adding spicy slices of raw radish, and topping it all with Bottarga roe, this Caesar becomes a little fussier but a whole lot brighter.
Chinatown
Calling back to the Tijuana roots of the Caesar salad, this Mexican-fusion spot deserves a place on the list. Lalito's version is vegan -- so no fish at all, for those of you who are squeamish about eating anything with eyes. The creaminess of the dressing and the nuttiness of the cheese are replicated with cashews and nutritional yeast, respectively, and two kinds of seaweed stand in for the oceanic umami of the anchovy. Overall, it's more than just a vegan pretender to the Caesar throne: it's its own thing, salty and sweetish and slathered in a satisfying dressing.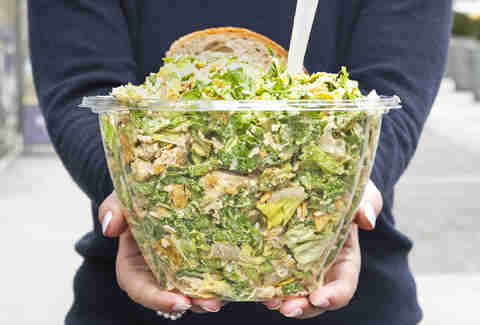 Multiple locations
Don't have $25 to spend on a salad at Carbone? You can always celebrate Caesar with a seemingly-endless, apparently self-regenerating bowl of salad that you can eat while you stare at your screen for two hours at work. Chop't's Mexican Caesar is… fine! It's good, even! It swaps the Parmesan for cotija, the croutons for tortilla chips, and adds a little bit of spice with jalapeno. While there are some knock-your-toga off Caesars in the city, Chopt is satisfying in the mindless, bottomless way that only a desk salad can be. Order your Caesar on Seamless and be grateful that your office politics aren't as petty as the Roman Senate's.
Sign up here for our daily NYC email and be the first to get all the food/drink/fun New York has to offer.