It's officially wedding season! You know what that means: It's time to spend a ton of money on some friends you've barely spoken to since college. I'm sure we can all agree that the best part of any wedding is the free booze; the second best, as far as I'm concerned, is the cake.
If I could round up "The Best Free Booze in NYC," I would, but since that's not a thing, I've rounded up the best cakes in town, instead. So skip the weddings, send a toaster to your cousin or that sorority sister you never really liked, and have some cake on your couch while you rewatch the first seven seasons of Game of Thrones. Sounds like the perfect way to spend wedding season to me.
Mimosa Cake

| Courtesy of Lady M
Mimosa Cake
Multiple locations
Lady M's Mimosa Cake doesn't look -- or taste -- like any vanilla cake you've had before. Named for the round mimosa flower, its layers of vanilla sponge and smooth golden custard are topped with an intricate pattern of cake cubes to form a perfect dome, putting the classic yellow-cake-with-buttercream to shame. Lady M cakes are particularly popular with the Ladies Who Lunch set, but they taste exactly as good eaten out of the box while standing over your kitchen sink.
Explosion Cake

| Flour Shop
Explosion Cake
SoHo
You might have seen the Flour Shop's Explosion Cake on Instagram: The rainbow layer cake is filled, piñata-style, with candy that cascades out when you slice it. But how does it taste? As sweet as you'd imagine, cut only with the tartness of the cream cheese frosting. But -- and I say this as a sworn enemy of both social media and cakes that cost more than a hundred bucks -- this cake is fun. I gotta hand it to this cake! A neon sponge and a fistful of sprinkles still thrills whatever tiny part inside of us can still feel joy.
Pineapple Upside Down Cake

| Julie Dovan
Pineapple Upside Down Cake
Multiple locations
With four shops in Manhattan, Billy's Bakery is never too far away in a Cake Emergency. Billy's has some modern cakes, including Confetti and Bourbon Salted Caramel, but it really excels at the old-fashioned classics. Its retro Pineapple Upside Down Cake might look a little inelegant next to all the flawless pastel buttercream in the pastry case, but the flavor is richer and deeper, with a burnt-sugar bite from the cast iron pan that it's been baked in.
Red Velvet Cake
Jackson Heights, Queens
This French patisserie bakes its Red Velvet with beets and an acidic batter to turn the chocolate cake naturally red. The resulting crumb is fork tender, and not cloyingly sweet in the way Food Dye #2 red velvet cakes tend to be. The cream cheese frosting helps, too: It's slightly sour, and applied with a light hand. If you don't feel like sharing, choose a mini cake instead of the full size to leave room for one (or four) of Cannelle's chocolate croissants.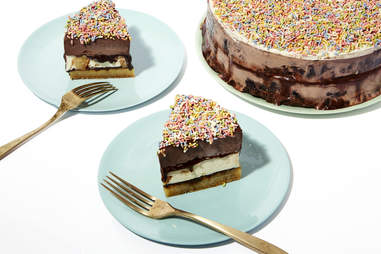 Ice Cream Cake

| Brian Kennedy
Ice Cream Cake
Multiple locations
Brooklyn's own Ample Hills scoop shop takes the classic ice cream cake and turns it up to 11. Choose two flavors -- I'm partial to the cookie dough-packed "Baked/Unbaked" and sweet-and-salty "The Munchies," but follow your heart -- for them to stack with a butter cake or brownie base and a gooey layer of fudge. It's all covered in whipped cream and your favorite topping, making it the perfect cake to sprinkle with tears while crying about being a bridesmaid for the 17th time.
Sign up here for our daily NYC email and be the first to get all the food/drink/fun New York has to offer.