Yes, living in NYC is kinda super really insanely OH MY GOD THIS BEER IS HOW MUCH? expensive, but no, that doesn't mean you can't still get a good, cheap burger. Case in point, here are 15 different, and all totally delicious, $10-or-less burgers in NYC.
Brass tacks: 1) we didn't include tax in the price, and 2) we didn't include extras (like cheese, bacon, a fried egg, etc.), but you should still definitely add all of those anyway.
Bushwick
Hamburger - $10, +$1 for cheese, but you won't need it
Fritzl's chef and owner Dan Ross-Leutwyler serves the most flavorful beef of any burger on this list. A 6oz griddled patty is topped with extra-sharp cheddar, "Special Sauce" (it's a charred miso aioli), and homemade relish, all between a sesame-studded "Big Marty" bun. These are all nice accoutrements, but it's the rough-ground beef and beef chuck -- that're the stars.
Mill Basin
Cheeseburger - $5.00
From his little truck all the way out in Mill Basin, Chef and owner Andrew Zurica makes a case for one of the best burgers in the city (cheap or otherwise) with an extra-fatty blend of freshly ground chuck. Served on a Martin's Potato Roll, the burger sports a dark sear from Zurica's griddle. Ask for sautéed onions cooked in bacon fat (and get some of that bacon, too). Zurica recommends a single patty, but the double and triple burgers both still come in under $10.
Williamsburg
Double Cheeseburger - $6.75
Though still relatively new, Blue Collar has settled into a comfortable groove, serving one of Williamsburg's finest bun-patty-bun options. Kinda, sorta Shake Shack-ish, the rich, fatty patties have a strong sear and are served inside a toasted potato roll. The toppings -- bright slices of tomato, raw onions, lettuce, and pickles -- are fresh and the prices are hardly objectionable. A single cheeseburger ($4.95) will fill you up, but the double ($6.75) will fill you up... TIMES TWO.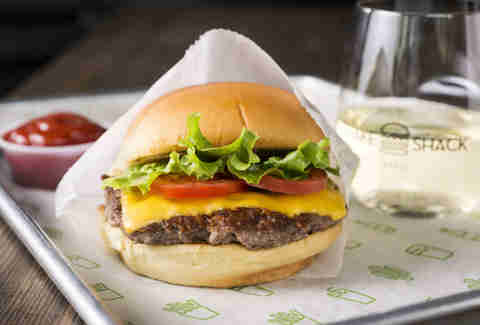 Multiple Locations
Shackburger - $4.95 and up
Shake Shack (which actually started as a hot dog cart) still makes one of the best burgers in town. With a new location near Barclays Center, the distance you have to travel for a Shack Burger in any direction continues to diminish exponentially. Ubiquity has its benefits.

Midtown West
Frisco Melt with fries - $5.49
Thank the storied Midwestern chain for opening a labyrinthine, loss-leading flagship in the tourist heart of Midtown and then having the guts to charge barely over $5 for a burger and fries. Go for the Frisco Melt, a utilitarian pair of burger patties on barely-sour sourdough with "Frisco Sauce". No greenery or tomato, just meat, bread, and sauce.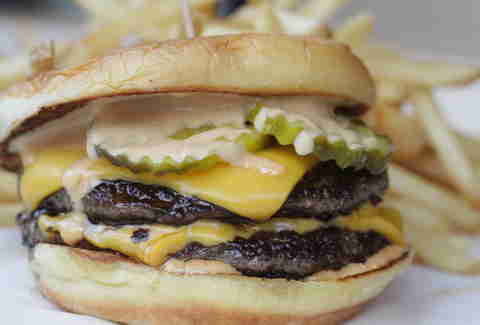 Hell's Kitchen
The Classic Burger - $8.04
Ivan Ramen Slurp Shop is the buzzy draw at Gotham West Market, which is great 'cause it keeps the line short at incredible burger-making Genuine Roadside. Thin patties develop a dark sear on one side before being flipped and topped with American cheese, fresh lettuce, tomatoes, and a pickle. The secret sauce (it's kinda like a Thousand Island) provides a pleasant tang and a bit of spice without overwhelming the other ingredients. Also note that the double (pictured) is barely over $10.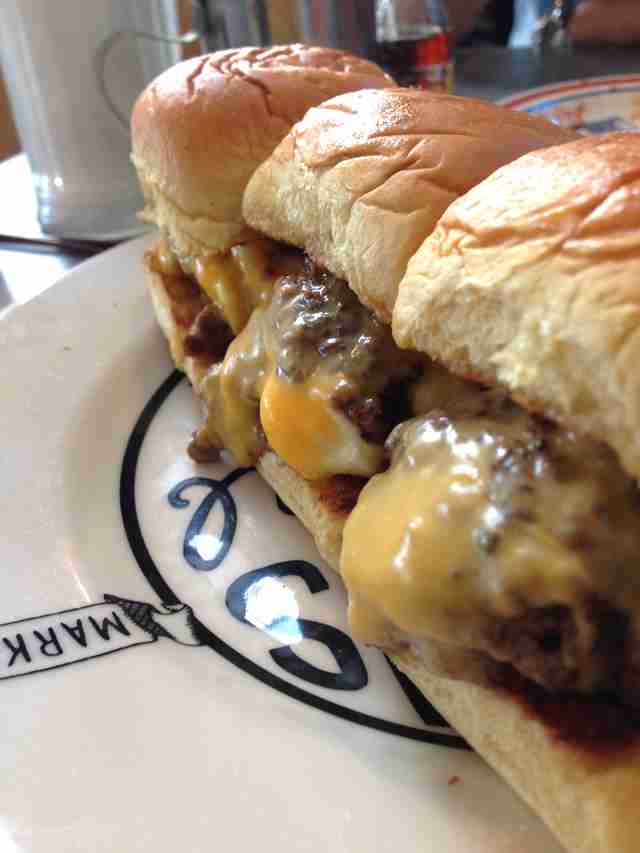 Lower East Side
Sliders - $10 (for three)
Slider nirvana can be achieved in sunny Essex Street Market, where the line is long (but worth it), and the sliders sport a remarkable char from Shopsins notoriously hot griddle, and are balanced by onions and melted cheese. Be advised, 10 bucks doesn't get you far at Shopsins, and it's advisable to splurge, especially since you're likely to get ridiculed for such a petite order, but these still technically make the cut.
Carroll Gardens
Pimento Cheeseburger - $8.00
With the optional (not for you, but, like, other people) pimento cheese topping, the 1/3lb burger at the recently opened Carroll Gardens spot from the Seersucker team goes from solid cheap burger to solid-est cheap burger. Get. The. Pimento. Cheese.

Bushwick
Chimi Mundo - $6.50
An improvised shack meets broken-down food truck, Chimi Mundo sits on a busy section of Myrtle Ave where it isn't open during the day, but instead on nights and weekends. Their Chimichurri (shortened to "Chimi") Mundo tastes like a Big Mac filtered through a Dominican lens -- a thin beef patty (you can get a second for $1 more) is topped with tomato, mayo, ketchup, lettuce, and American cheese (plus bacon and hot sauce!), all layered between two halves of a griddled roll commonly used for tortas.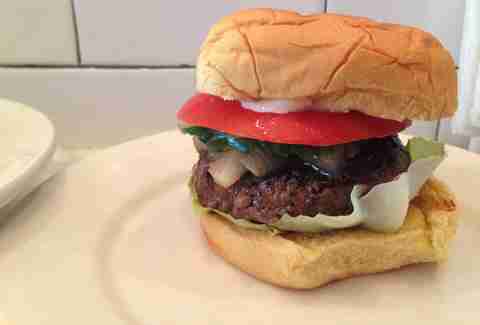 East Village
Upstate Burger - $7.00, +$1 for cheese
Fresh vegetables. Whitmans' tomatoes, Bibb lettuce, and seared onions -- those're what make this burger a burger worth getting. Oh, and the $7 thing. Oh, and also the special sauce. Last thing, we swear: the sirloin-heavy blend. (And it's only $1 to add cheese, OK WE'RE DONE FOR REAL.)
Cobble Hill
Two8Two Burger - $9.50
With roasted poblano peppers, cheddar cheese, and "Two8Two Sauce" (basically Thousand Island), this is a serious local version of New Mexico's green chile cheeseburger (and sometimes they even have the real thing!). Best for lunch, when you can actually get a beer and a burger for less than $10.
East Village
Slider - $2.75
If you want sliders, go to Mark. It's as simple as that. No one does a better rendition of the classic griddled onion slider than this narrow St. Marks spot, plus you can rack up three for less than an Alexander Hamilton.
Multiple Locations
Green Chile Cheeseburger - $7.49
The chile has a gentle heat that mixes well with the liquified cheese blend for a small, but satisfying burger.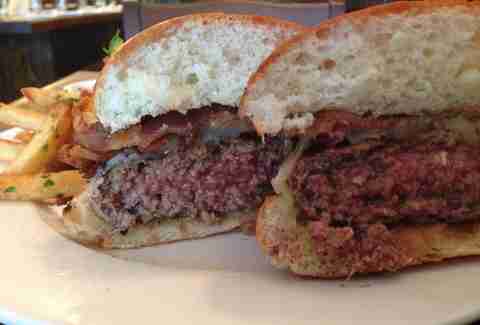 Ridgewood
House Burger - $10
Do you like DuMont Burger? If so, this young Ridgewood restaurant produces an admirable tribute, down to the sweet bread and butter pickles and fries. For exactly $10, your belly will go home with a massive grilled burger topped with cheddar, tomato, lettuce, and red onions. Brioche doesn't always work with burgers, but here it stands up to the meaty juices.
Chelsea
Cheeseburger - $7.95
This Canadian chain recently opened its first New York City location on Seventh Ave in Chelsea, serving char-broiled burgers that taste suspiciously like fading Southern franchise Backyard Burger. They do smoked Canadian cheddar on their cheeseburger, which comes sparsely topped with a tomato, plus sides of poutine which you are basically required to order because, well, poutine.
Sign up here for our daily NYC email and be the first to get all the food/drink/fun New York has to offer.
Noah Arenstein is a practicing lawyer, freelance writer, cook, and co-founder and managing editor of Real Cheap Eats, a site dedicated to finding the best dishes under $10 in NYC. In 2013, Noah founded the "Global Jewish Sandwich" stand Scharf & Zoyer. He also produces food events and pop-ups, including the Crow Hill Supper Club.