Welcome to Cheap Eats NYC, where every week, we'll be highlighting an incredible NYC meal for less than $10. Know of a great all-you-can eat Indian buffet, under-the-radar burger, or other cheap eat in the five boroughs? Let us know in the comments!
Recommended Video
This Pizza Dip Lets You Throw a New Kind of Pizza Party
Before all the high-rises and chain restaurants began pushing it out in the '80s, the Hungarian community and its hearty eateries dominated Yorkville -- to the point where it was once considered Little Budapest. Today, Hungarian food is scarce in Manhattan, making Yorkville's Budapest Café, and its Hungarian crepes, or "palacsinta," all the more sacred.
The understated, narrow cafe (previously known as Andre's Cafe & European Bakery) is a brick-lined space adorned with handmade trinkets, bottles of Hungarian wine on wooden shelves, and a sweeping photo of the gorgeous Parliament Building in Budapest. The crepe to order is the Hortobágyi Palacsinta -- a thin, delicate pancake stuffed with one of Hungary's most beloved dishes, chicken paprikash. The tender, pulled meat is seasoned with plenty of onion and the country's favorite spice, paprika. It gives the chicken (and the broth that the crepe is served atop) a peppery taste and a vibrant orange tint. It's not only a supremely comforting dish -- particularly when it's colder out -- but it also sticks to your bones for hours, meaning you can have a full meal for just $9.95. As the Hungarians say: "Bon appetit!" Just kidding -- they say, "Jó étvágyat."
Sign up here for our daily NYC email and be the first to get all the food/drink/fun New York has to offer.
Previous Venue
Next Venue
Venue Description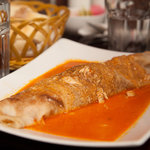 1. Budapest Cafe
1631 2nd Ave, New York, NY 10028-4464
One of the few authentic Hungarian restaurants in New York, Budapest Cafe is a reminder of when Yorkville was once considered Little Budapest, back in the '80s. This slender cafe is serving up hearty dishes beloved in the motherland -- from sweet and savory palacsinta (Hungarian crepes) to chicken paprikash and stuffed cabbage. For dessert, there's strudel by the slice, chestnut purée with whipped cream, rolad, and more pastries. Like classic Hungarian cuisine should, these filling plates will stick to your ribs and warm you up on a brisk day. The brick walls adorned with knick-knacks, photos, and Hungarian wines will have you feeling cozy, too.