Welcome to Cheap Eats NYC, where every week, we'll be highlighting an incredible NYC meal for less than $10. Know of a great all-you-can eat Indian buffet, under-the-radar burger, or other cheap eat in the five boroughs? Let us know in the comments!

Recommended Video
Winter Starbucks Beverages Around The World
No bigger than the smallest apartment room you've ever occupied, Lahore Deli is the kind of spot that you only discover by word-of-mouth. You could easily work on that block of SoHo, walk by it twice a day, and never realize it exists -- it's that small. Once you do find this Pakistani counter shop, get the curried chicken with okra over rice -- it's a saucy, fragrant order of protein, with a dull heat from both the green pea-dotted rice and the chicken. If you've ever tried cooking with one of those teeny bottles of orange and green powders, take this lentil-colored meal as an example of what your final product should actually look and taste like. Speaking of, sides of lentils, chickpeas, samosas, and fried dumplings rolled in coconut shavings (gulab jaman) are also lauded by loyal customers, and should warrant return trips.
Unlike the gut- and mouth-burning bomb that is the signature white and red sauce from Halal Guys -- the unofficial king of chicken & rice -- Lahore's will satisfy your need for heat (in addition to your daily suggested serving of rice) without cutting the rest of your work day short.
Sign up here for our daily NYC email and be the first to get all the food/drink/fun New York has to offer.
Previous Venue
Next Venue
Venue Description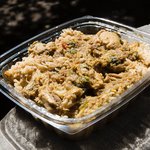 1. Lahore Deli
132 Crosby St, New York, NY 10012
Surrounded by freight entrances on a quiet block in Soho, this Pakistani deli serves quick, filling meals of chicken and rice topped with vegetarian add-ons like lentils and okra. The closet-sized to-go spot is popular among cab drivers and delivery workers, but the 24/7 location ultimately draws every kind of downtown wanderer craving a taste of authentically-spiced fish sandwiches and chicken patties. Lahore has no more than two stools, but luckily, nearby stoops on Crosby Street will easily accommodate you and your clear, plastic container of spicy goat curry.