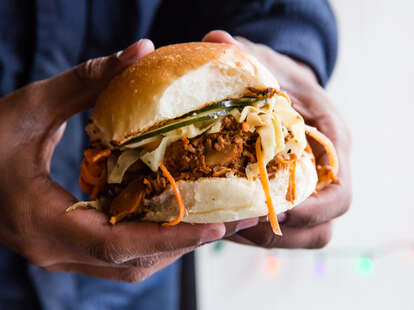 Cole Saladino/Thrillist
Cole Saladino/Thrillist
Welcome to Cheap Eats NYC, where every week, we'll be highlighting an incredible NYC meal for less than $10. Know of a great all-you-can-eat Indian buffet, under-the-radar burger, or other cheap eat in the five boroughs? Let us know in the comments!
Even in the era of by CHLOE. and can't-believe-it's-not-meat burgers at restaurants like Nishi and Superiority Burger, vegan menus still get stigmatized as being all leaves and steamed veggies. Toad Style, a 14-seater in Bed-Stuy, fights against that reputation by frying, marinating, and smoking its ingredients to recreate the flavor of meat-heavy classics without using any animal-based ingredients -- that includes a jackfruit sandwich that's as savory as anything at a typical barbecue restaurant.
A tropical fruit in the fig family, jackfruit is starchy and full of fiber. At Toad Style, it gets shredded (just like pulled pork) and smoked for an hour over hickory wood, making it extra tender. It's then coated in a sweet and smoky house-made barbecue sauce and piled into a big puffy bun. Although it doesn't have the exact texture of meat, the jackfruit is able to deliver all the smoky flavors of a barbecue sandwich. A layer of slightly sweet pickles and grilled cabbage slaw round out the $9 sandwich, which ends up so big and juicy that you'll need at least eight napkins to clean up the mess.
Sign up here for our daily NYC email and be the first to get all the food/drink/fun New York has to offer.
Ciera Velarde is an editorial production assistant at Thrillist who loves that french fries are vegan. Follow her on Instagram.