Welcome to Cheap Eats NYC, where every week, we'll be highlighting an incredible NYC meal for less than $10. Know of a great all-you-can eat Indian buffet, under-the-radar burger, or other cheap eat in the five boroughs? Let us know in the comments!

Recommended Video
Winter Starbucks Beverages Around The World

In New York, "chicken over rice" typically means street meat, chopped up, splattered with white sauce, and piled into a Styrofoam container from the food cart down the street.
The unassuming Wah Mei Fast Food in Chinatown is an altogether different experience.
Instead of the usual diced poultry parts, Wah Mei gives you a full, bone-in drumstick and thigh, seasoned with black pepper and salt, and deep-fried without batter so that the skin crunches. When you bite into it, the interior bursts with juicy fat and umami. This perfectly prepared quarter-chicken comes in a bowl of steamed white rice, sour mustard greens, cabbage, and salty pork sauce, all for $5 (add a hard-boiled egg for an extra $.50 -- trust me, it's worth it). It's a combination of flavors that most NYC restaurants will charge you three times the price for, and no food cart can quite reproduce.
Hungry office drones have clearly taken notice. Around midday, the line can stack in single file clear out the door of this tiny storefront on Hester St. You might find yourself hypnotized watching as the cheerfully chatty employees behind the counter diligently pass bowls of rice back and forth, packing them with food. Be advised: Dawdling is a strict no-no, and yes, they only take cash.
But for that price, you won't find a more wholesome chicken dish in the city.
Sign up here for our daily NYC email and be the first to get all the food/drink/fun New York has to offer.
Previous Venue
Next Venue
Venue Description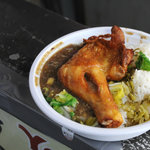 1. Wah Mei Fast Food
190 Hester St, New York, NY 10013
Chinatown's Wah Mei Fast Food's name implies the speed and ease with which they serve Taiwanese staples, but what it doesn't say remains the best part: it's incredibly cheap. The requisite order is the chicken over rice, but don't expect minced street meat: a juicy, umami-kissed leg is deep fried and placed on top of rice and pickled vegetables before being drowned in creamy pork sauce. Grab a brown tea egg, hard-boiled and flavored with anise, black tea and soy, if you want to go all the way. Bring cash, and if you come midday, expect lunch-crowd lines from surrounding offices.