Wings. They're basically the perfect food when done correctly but, for some reason, in a city that can somehow master bong-smoked oysters, ramen burgers, and deconstructed-pastrami-sandwich pasta, it's way harder to find them than it should be. But that doesn't mean they're not out there, which is why we compiled a go-to list for wings both Buffalo and beyond, to satisfy any and all cravings for the king of handheld bar foods.
Recommended Video
The Best Cheap Burger in NYC's Upper East Side
Wogies Bar & Grill
West Village
Nice heat, nice meat, top-notch crispiness. Just an excellent execution of the classic that started in the place where Darryl Talley used to wear skin-tight Spyder suits while playing football.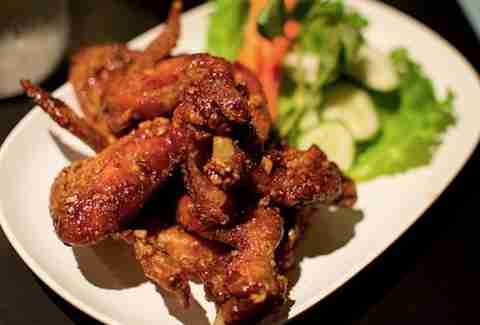 Ike's Vietnamese Fish Sauce Wings, Whiskey Soda Lounge and Pok Pok NY
Brooklyn
Marinated in fish sauce and palm sugar, then coated in garlic and more fish sauce because it turns out fish sauce is delicious, Ike's deep fried gold mines of flavor are a deviation from standard wings, for sure, but just as -- if not more -- delicious.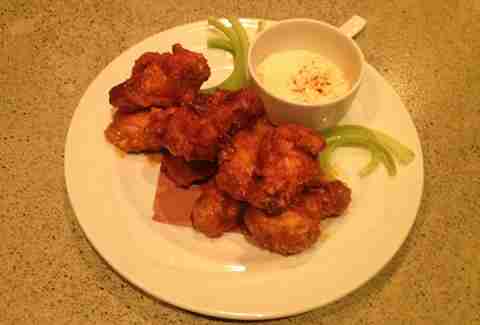 Buffalo-Style Wings, Hope Garage
Williamsburg
These take the "standard" out of "standard bar wings". They're crispy, not too fatty, and boast a secret weapon: a slightly boozy-tasting bleu cheese fondue dipping sauce.
BJ Wings, Barn Joo
Flatiron
These puppies are Korean-style, so they've got the puffy/fried/crisp/moist thing going on, and you can select one of three flavors: hot, soy garlic, or sea salt and pepper.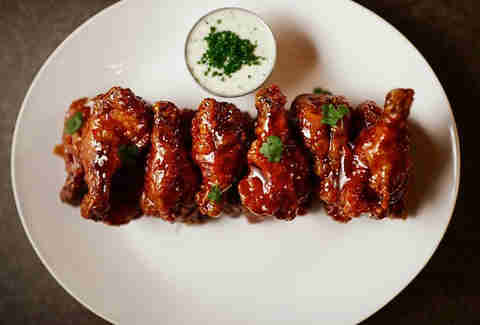 Distilled Wings, Distilled New York
Tribeca
The newest addition to the upper echelon of NYC wings comes from Shane Lyons, a Momofuku alum who basically made it his life's noble mission to make the most delicious wings ever, and he's certainly close. These bad boys are dredged, twice fried, flash frozen, and lacquered.
Croxley Ales
East Village
Aside from often being 20-cents each, these are basically just Buffalo wings done right. Also, they're 20-cents each.
Spicy 'K.F.C.' Korean Fire wings; Danji
Midtown West
More Korean fried chicken here, featuring garlic, soy, honey, and sesame, plus they've got an excellent moist-to-crisp ratio.
Blondies Wings, Blondies
Upper West Side
Good meaty wings, lots of Buffalo sauce, and a bunch of celery you'll never eat. More sports bars should be doing them like this.