Chinese food has been a staple in New York City for decades, and the selection has only gotten better -- and more diverse -- in recent years. But an overwhelming number of options can make it difficult to know where to go, so we've created this guide to the absolute best Chinese in NYC, broken down by must-have dishes. From spicy Sichuan fare in Midtown to a must-try dumpling dive in Flushing, this is where to go when you're craving serious Chinese cooking.

Dumplings
Tianjin Dumpling House
Address and Info
Flushing
Located in the basement of Flushing's Golden Mall, this subterranean stall is arguably New York's most creative dumpling joint, cranking out unconventional flavors like the incredibly juicy lamb with green squash. You can also get the goods at owner Helen You's spiffed-up Dumpling Galaxy, but there's something charming about the no-frills original.
Dan dan noodles
Han Dynasty
Address and Info
East Village
The staff tosses this exceptional bowl of dan dan noodles tableside so you can watch as every strand is equally coated in the house-made sauce (part chili oil, sweet soy, and sesame paste) along with bits of ground pork, preserved vegetables, and scallions.
Rou jia mo (meat "burger")
Xi'an Famous Foods
Address and Info
Flushing
Think of this as a Chinese hamburger, only better. In place of a patty, there are pieces of cumin-scented lamb, and instead of a soft bun, there's a slightly crispy flatbread. It's seriously one of the best sandwiches in town.
Xiao long bao (soup dumplings)
Kung Fu Xiao Long Bao
Address and Info
Flushing
Making the perfect soup dumpling is no easy feat, but Kung Fu has achieved XLB greatness with astonishingly thin-skinned pockets that burst with a rich pork stock-and-meat filling. The ones punched up by crab roe are especially decadent and a definite must-try.
Hand-pulled noodles
Tasty Hand-Pulled Noodles
Address and Info
Chinatown
Jostling with fellow noodle-slurpers is the norm at this hole-in-the-wall shop, where you can get hand-pulled noodles in multiple forms. Select your preferred thickness (normal, wide, or fat) and whether you want them pan-fried or dunked in a bubbling bowl of beef broth (or both).
Da pan ji (big tray of chicken)
Uncle Zhou
Address and Info
Elmhurst
Make no mistake, when they call this a big tray of chicken, they mean business. Best for a group, the platter is made up of bone-in chicken, chunks of potatoes, and wavy wide noodles that soak up all of the amazing chili-spiked sauce.
Peking duck
Decoy
Address and Info
West Village
Ed Schoenfeld and Joe Ng's Peking large-format duck dinner is a feast to remember. Not only does the prix-fixe meal come with a succulent, crispy-skinned bird, but it also includes a range of shareable small plates, fried rice, and even other meaty entrees -- be prepared to take home leftovers.
Mapo tofu
Szechuan Gourmet
Address and Info
Midtown
The bright-red sauce covering giant chunks of soft tofu and ground pork says it all -- this is definitely a dish for spice-lovers. And somehow, the mouth-numbing heat only makes you want to eat more.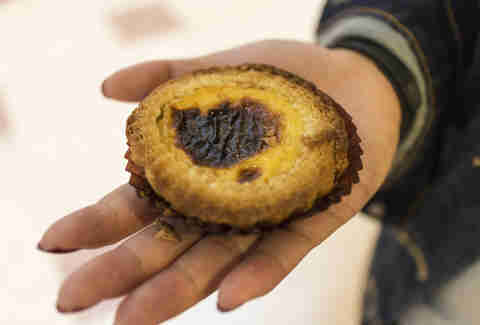 Egg tart
New Flushing Bakery
Address and Info
Flushing
With a buttery, flaky crust cradling a luscious vanilla-scented custard, a good egg tart is truly a magical pastry. And no place in New York City does it better than this Queens bakery, which has a standalone shop on Prince St, plus a stall inside New World Mall. There are plenty of unique riffs -- like peanut butter or green tea -- but the original Portuguese tart is the one to get.
Fried rice
Mission Chinese
Address and Info
Lower East Side
The fried rice at Danny Bowien's perpetually packed restaurant is anything but basic. Laced with lumps of confit mackerel, Chinese sausage, and scrambled egg, the stir-fry packs a umami hit with every bite.
Char siu (barbecued pork)
Lucky Eight
Address and Info
Sunset Park
No hard-to-chew meat here. Sunset Park's premier Cantonese restaurant does this Hong Kong BBQ staple justice, striking the perfect balance between sweet and savory and tough and tender. Get the lacquered slabs by the pound or over rice with vegetables as the ultimate lunchbox.
Sign up here for our daily NYC email and be the first to get all the food/drink/fun New York has to offer.
Patty Lee is a reporter and editor who has written for Zagat, Time Out New York, New York Daily News, and Cooking Channel. She can easily eat her weight in dumplings and noodles. Follow her on Twitter and Instagram.