Have Your Cake and Eat It Too at the Restaurants With the Best Desserts in NYC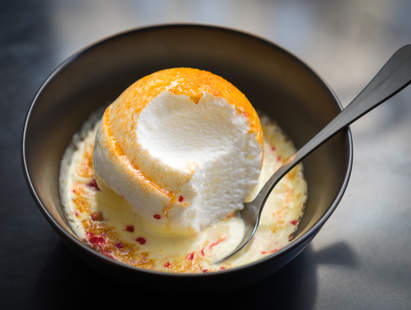 If one surefire test of a chef is cooking a perfect egg -- requiring attention to detail, an instinct for timing, and an absence of fancy tools or fussy ingredients to hide behind -- one test of a restaurant should be its dessert menu. A great restaurant dessert completes a circle, showing total care for not just the food, but the full dining experience. Viral milkshakes and mediocre chocolate cake slices might have made it easy to wave away a waiter with a dessert menu, but if you know where to look, dessert can be the best part of the meal.
Desserts, of course, are the most Instagrammable of courses (and all the sweet emojis are so cute). Bakeries, ice cream shops, and candy stores can satisfy your sweet tooth, but restaurant desserts can offer more than clout -- the best ones linger in your memory, lasting longer than the Likes on a shot of a not-so-good mochi-topped waffle cone or a pink cup of raw cookie dough for which you waited forty minutes in line. Instead, try a classic French ile floattante, a modern lime mousse made to look like half of an avocado, and ginger ice cream made from kitchen scraps -- we've rounded up our favorite restaurant desserts in NYC.
Husk meringue at Cosme

| Maureen Evans
Flatiron
Best for wanting to lick your plate
If a friend's ever recommended Cosme to you, they most likely mentioned the corn husk meringue. Made from charred, powdered corn husks, the meringue ($19) is salty, sweet, crispy, and disappears the moment it meets your tongue. At the heart of the dish, a corn mousse with the creamy richness of rice pudding adds softness to the meringue. The corn is the yang to the yin of pastry chef Isabel Coss' Mexican chocolate dessert ($19), which oozes out a hidden core of spicy chocolate over cacao beans. The two dishes are great alone, but they're even better together -- earthy, sweet and bitter, they're best traded back and forth, fighting over which is your favorite.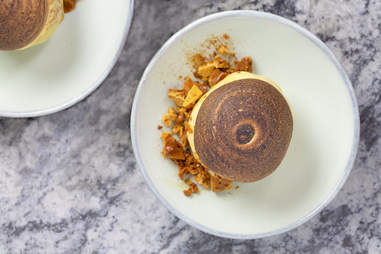 Satsuma orange ice cream at Crown Shy

| Natalie Black
FiDi
Best for ice cream aficionados
The food at Crown Shy, one of NYC's best new restaurants of 2019, should be fussy -- the people are gorgeous, the menu is spendy, and bankers abound -- but the menu refuses to give into that temptation. For dessert, pastry chef Renata Ameni, an alum of Eleven Madison Park, has refined unfussy desserts (icebox cake, ice cream, gooey sticky toffee pudding) into pinnacles of the form. On a recent visit, a scoop of satsuma orange ice cream ($10) topped with a dollop of marshmallow created a nostalgic Creamsicle effect. The marshmallow is heavily torched -- adding one more smart, sour note to the citrus ice cream -- and served with honeycomb darkened to the brink of bitterness. 
Seasonal soufflé at Gotham

| Evan Sung
West Village
Best for all genders who lunch
Even after recently changing chefs, Gotham Bar and Grill (half-heartedly rebranded as simply "Gotham"), retains its roots as a destination for lunch post-medi-spa, or after meeting with one's divorce lawyer. On a recent visit, the clientele was exclusively Boomers -- except for one teenaged boy, who was there for lunch with grandma. While Boomers might control 57% of the nation's wealth (Millennials, on the other hand, hold 3%), they can't keep the rest of us out of their restaurants. Make a reservation at Gotham, skip the $49 milk-fed piglet, and split a $22 pear soufflé with a friend. The classic French dessert, served with a sharp dollop of sheep's milk yogurt ice cream is just as it should be -- delicate, airy, with a melting moment of sugary crunch before yielding to the spoon. You can't eat the rich, but you can eat their food.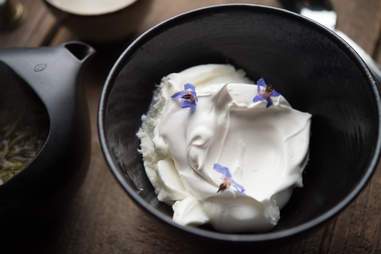 Frozen yogurt with lavender honey at Olmsted

| Evan Sung
Prospect Heights
Best for date night
Alex Grunert -- formerly of the farm-to-impossible-to-get-a-table Blue Hill at Stone Barns -- is the pastry chef at Brooklyn's own Olmsted. (Named for the landscape architect of Prospect Park, a Google search for "Olmsted" should give you an idea of how good this restaurant is -- poor Frederick Law Olmsted's Wikipedia barely makes it to the first page of results.) SEO aside, Olmsted adds neighborhood coziness to its fine dining DNA. On the dessert menu, Grunert's frozen yogurt with lavender honey ($10) is a distillation of this ethos: served in a cold glass and topped with bright lavender buds, it's special without being a Portlandia sketch. The honey, whipped until it's transmogrified into a bouncy, sticky-peaked cloud, adds sweetness to each bite of the tart fro-yo.
Prospect Heights
Best for friend night
Just across the street from Olmsted, Grunert brings his expertise to the French-Japanse Maison Yaki, a skewer-focused restaurant where everything on the menu is meant to be shared. For dessert, the matcha-drizzled profiteroles ($8) are worth saving room for. The crackly choux is sliced, filled with ginger ice cream, and drizzled with matcha sauce, which is Ghostbusters green and served from a gravy boat. The ice cream, spun from ginger scraps saved from the bars and kitchens of both Olmsted and Maison Yaki, has a spicy, eye-opening bite.
"Avocado" dessert at Empellón

| Evan Sung
Midtown 
Best for Instagram clout
Pastry chef-cum-restaurant owner Alex Stupak -- formerly of the emblematic-of-the-aughties molecular gastronomy paradise wd~50 -- brings his high-camp taste to fancy Mexican in Midtown. Stupak's viral "avocado" dessert ($17), features lime and avocado mousse served, trompe-l'œil-style, over "salt" (shaved ice) in the exact form of an actual half avocado. Is it as fun to be served simulacra in 2020 as it was in 2003, in the time of deep-fakes and Lil Miquela and the increasing inability to distinguish real things from their dark shadows? Maybe!! When you slide your spoon through the "avocado" and the flesh reveals itself to be dessert, you do feel a flutter of pure, goofy delight.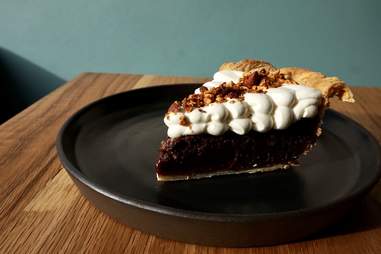 Mexican Chocolate Chess pie at The Banty Rooster

| Alex Strausman
West Village
Best for feeling right at home
Pies, having had their moment, are easy to find -- but rarely on restaurant menus. When Delores Tronco-DePierro opened The Banty Rooster, she knew she wanted to offer a slice. Served (sometimes) with a scoop of ice cream, pie is the perfect match for the restaurant's homestyle, Southwestern food, where the chicken is served with "mom's rice." Olivia Morris, The Banty's pie-maker, isn't a professionally trained pastry chef -- she's an entirely self-taught baker. She comes in at the crack of dawn to make the pies, forming each crust by hand, and then leaves them cooling on the counter so they're ready to serve by the time the team comes in. The pie of the day ($11) might not be the fanciest dessert on this list, but it satisfies in a way that only a home-cooked meal can.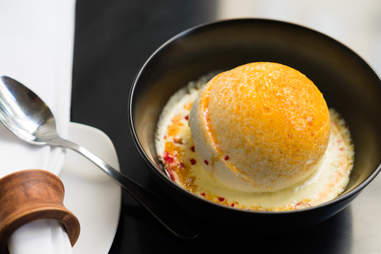 l'ile flottante at Le Coq Rico

| Courtesy of Le Coq Rico
Flatiron
Best for pretending you're in Paris 
Dessert at Le Coq Rico finally answers the age-old question: The chicken did, in fact, come first. After a chicken-centric meal, the standout dessert is l'ile flottante ($13), a cheekily egg-shaped take on the classic, hard-to-find French sweet. In a traditional ile floattante, shapeless clouds of meringue (the islands) are poached before being plopped into a bowl of crème anglaise (the sea). At Le Coq Rico, the meringue is steamed into a sphere, instead, to better resemble the humble egg. Perched in an extra-yolky (of course!) crème anglaise, pulverized caramel is sprinkled on top to recall the pattern of an eggshell. Pink praline adds another level of crunch (like birdseed? They lost me on the chicken metaphor on this one...) to an otherwise perfectly smooth execution of the floating island.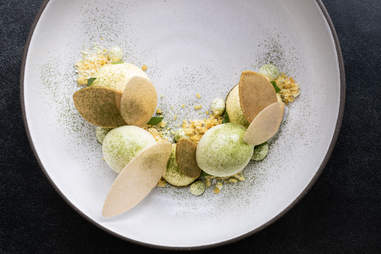 Electric Lemon curd at Electric Lemon

| Corry Arnold
Hudson Yards
Best for after a workout
Electric Lemon, the restaurant high above the Equinox Hotel, purports to extend the fitness empire's lifestyle brand through clean eating. While the entire premise of eating "clean" is problematic, the dessert menu at Electric Lemon manages to transcend the subjugated desires of the SoulCycle crowd. The self-titled Electric Lemon curd ($13) is, in fact, pure joy. Pastry chef Kelly Nam's house-made pop rocks (a nod to the buzz of electricity) fizz and crackle, adding even more drama to the sour pucker of the lemon verbena sorbet. It's sharp and sweet and even kind of funny -- a welcome bit of laughter in a serious space.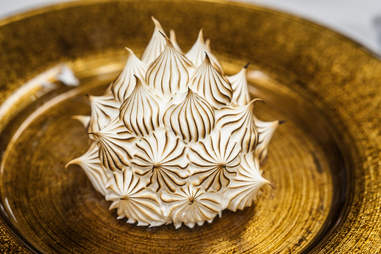 Baked Alaska at Delmonico's

| Courtesy of Delmonico's Restaurant
FiDi
Best for the classic dessert connoisseur
Delmonico's, first opened in NYC in 1827, still serves the Baked Alaska ($14) they claim to have invented over 150 years ago. While the exact origin of the Baked Alaska remains shrouded in meringue, legend has it that Delmonico's chef Charles Ranhofer originally dubbed the hot-and-cold dessert the "Alaska, Florida." Believed to be inspired by the structurally similar omelette norvégienne, Ranhofer's original version featured walnut spice cake, banana ice cream, and a crown of torched meringue. Today's version remains mostly unchanged -- except now it's banana gelato, and the walnut cake is layered with apricot jam. Slice a spoon through the layers, making sure to get a scoop of ice cream with every bite, to get a taste of history.
Midtown East
Best for blowing your paycheck 
The extremely French La Grenouille is one of the last bastions of French haute cuisine in New York City. Opened in 1962, the space's old-school flower arrangements and plush upholstery are a reminder of what restaurants looked like before the Pinterest trifecta of blonde wood, black light fixtures, and Monstera plants. La Grenouille's dessert menu is old-school, too, with a total disregard for virality or kitsch. Their soufflés are, shockingly, $35 (if you're ordering, spring for the delicate Grand Marnier flavor), but if you're souffléd out after le soufflé au fromage, order the crêpes ($35) for dessert. The crêpes are not, as the price would suggest, made of gold -- they're served with fresh orange, preserved lemon, and flambéed with kirsch liqueur. The dish is totally decadent, totally French, and totally unlike anything you'll find in today's restaurant scene.
Sign up here for our daily NYC email and be the first to get all the food/drink/fun New York has to offer.