Cronuts had their day in the sun, and Dunkin' has been exploring donuts as sandwich material, but amid all this innovation, NYC's actually in a golden age for fans of actual donuts. Between the old-school spots still on their game and the upstarts doing borderline-insane things with them, it's easier than ever to find a top-notch specimen. So use the below rundown of the eight best in the city to guide you... but really, you can't go wrong, they're all donuts after all.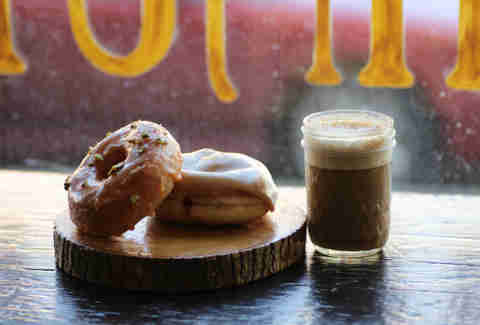 Dun-Well Doughnuts
Williamsburg
What You're Getting: Something you've never seen before
This surprisingly vegan (but nonetheless awesome) donut shop's constantly evolving menu has featured everything from Cadbury Creme Egg donuts to avocado mousse donuts. Stalk them on Twitter, wait 'til they drop something crazy, and book it on over.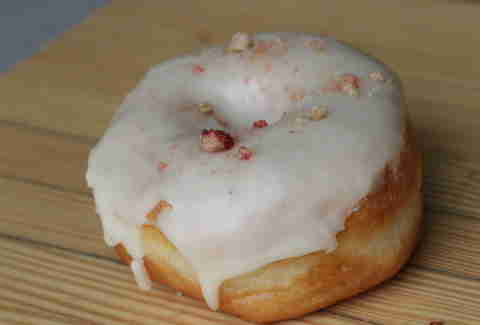 Dough Loco
Upper East Side
What You're Getting: Miso Maple donut
The uptown newcomer has a slew of tasty choices like the elegant Rosemary Blueberry or a flawless Chocolate frosted, but the current champ is the Miso Maple with a sweet, well-textured glaze, and the little clusters of maple brown sugar resting on top that add the perfect contrast. Oh, and please, refrain from "miso hungry" jokes when ordering and eating.
Do or Dine
Brooklyn
What You're Getting: Foie Gras donut
Do or Dine served as the launching point for Next Food Network Star Justin Warner with creations like this meaty donut that could come off as sheer gimmickry if not for the deliciousness of the rich, gooey foie surrounded by fluffy pastry.
The General
Lower East Side
What You're Getting: Fruity Pebbles donut
The sceney Bowery restaurant is also open for breakfast, and it has made the pure genius decision to combine two all-time favorite childhood treats into this glorious duo of unhealthiness. If your mom wouldn't buy you sugary cereals as a kid, this is the ideal vengeance.
Peter Pan Donut & Pastry Shop
Greenpoint
What You're Getting: Red Velvet donut
An OG in the burgeoning dining and drinking destination of Greenpoint, they've been slicing open donuts and shoving them full of ice cream for years, paving the way for others. However, all you really need is the red velvet, packing a creamy richness that puts cupcake creations of a similar ilk to shame.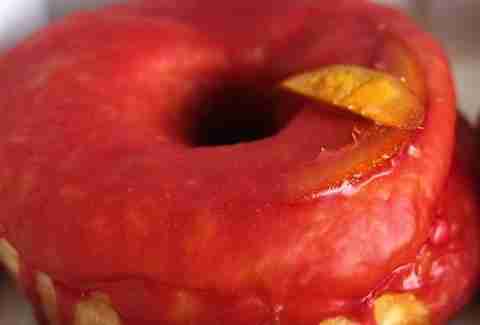 Dough
Bed Stuy
What You're Getting: Blood Orange donut
Another constant innovator (how are these people so productive being around donuts all the time?), this Bed Stuy shop and regular at Smoragasburg might always have something new on the menu, but if it's there don't miss the sweet, citrusy flavor of the seasonal Blood Orange glazed with a candied fruit slice.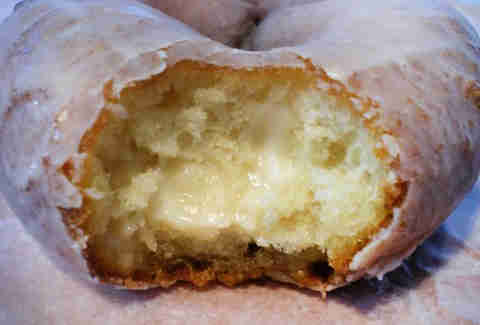 Doughnut Plant
Lower East Side, and locations throughout the city
What You're Getting: Tres Leches donut
Sometimes they're round. Sometimes they're square. Always, they're awesome. While it's tough to make a BAD call, the Tres Leches (round, like you'll be) are the RIGHT call -- fluffy, thoroughly, and filled with a substantial helping of cream.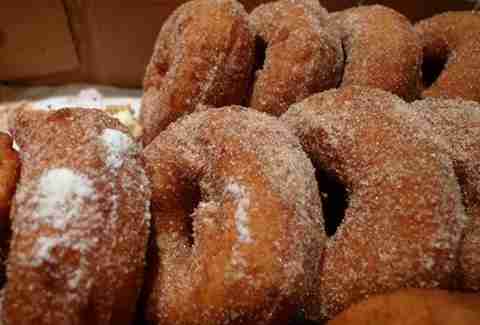 606 R&D
Prospect Heights
What You're Getting: Cinnamon Sugar donut
Much hoopla surrounded this spot's donut robot when it opened because, well, DONUT ROBOT! Really it's essentially just a machine pumping out fresh, simple donuts on a regular basis, but you won't be disappointed thanks to the outstanding recipe they transferred over from a Hamptons spot. The cinnamon sugar adds nice sweetness and texture, but even the plain ones deliver the goods.