It's such a simple concept -- wrapping meat and vegetables in dough, then steaming, boiling, or, better yet, frying the hell out of it. But, simple as they are, some dumplings, potstickers, and wontons are better (and sometimes way better) than others. These 10 are the best NYC has to offer:
 
Shrimp & snow pea leaf dumplings
Nom Wah Tea Parlor (address and info)
Chinatown
Choosing a favorite dumpling at Wilson Tang's revived Chinatown tea house ain't easy, but these open-faced beauties edge out the rest with their generous filling of fresh shrimp and leafy greens, plus the translucent, nearly melt-in-your-mouth wrappers.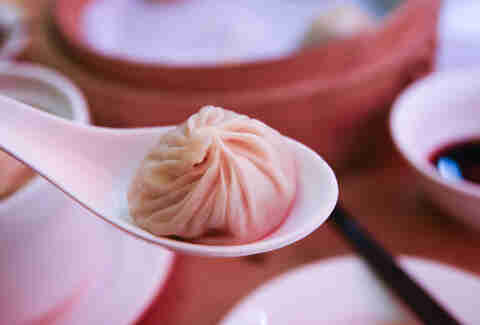 Kung Fu Steamed Pork Buns
The Bao (address and info)
East Village
Unlike most of Manhattan's Shanghainese restaurants, the xiao long bao at this St. Mark's newcomer (sibling to Flushing's Kung Fu Xiao Long Bao) strike the perfect balance. The wrapper is delicate, yet strong enough not to pop under the weight of the broth-y filling. Dig into these babies as soon as they arrive -- it'll be well worth the scorched tongue.
 
Hot and sour soup with pork dumplings
Yun Nan Flavour Garden (address and info)
Sunset Park
Noodles may get top billing here, but this dumpling soup is no quiet sidekick. With plump pork wontons submerged in a spicy, tangy broth that's a trademark of China's Yunnan province, the bowl nearly upstages leading actors like the restaurant's signature crossing bridge noodles.
Shanghai pan-fried pork buns
Kung Fu Little Steamed Buns Ramen (address and info)
Hell's Kitchen
Think of these as xiao long bao on steroids -- just like soup dumplings, the filling of sheng jian bao LITERALLY explodes with pork juices, but the sturdier wrapper holds up to some serious pan-frying.
 
Spicy & sour spinach dumplings
Xi'an Famous Foods (address and info)
Multiple locations
These vibrant, all-veg dumplings easily hold their own against their more well-known, lamb-stuffed siblings. Jam-packed with chopped spinach and bouncy vermicelli noodles, the hefty bright green bundles arrive in a bowl of vinegar-spiked chili oil that brings just the right amount of heat to the entire affair.
Lamb and green squash dumplings
Tianjin Dumpling House and Dumpling Galaxy (address and info)
Flushing
Between her two restaurants, dumpling maven Helen You churns out more than 100 varieties, but it's this must-order classic -- tender pockets filled with gingery minced lamb and sweet summer squash -- that remains tops in our books.
 
Momos
Lhasa Fast Food (address and info)
Jackson Heights
This serious momo specialist is tucked in the back room of cell phone store Tibet Mobile, and from there they dole out basket after basket of Himalayan dumplings made from hand-rolled wrappers and fillings like spiced beef or wild chives. Load on the house-made sauces and you've got yourself a deliciously doughy flavor bomb.
Pretzel pork & chive dumplings
Talde (address and info)
Park Slope and Jersey City
Dale Talde's new-school riff on classic potstickers combines two food groups we love: pretzels and pork. The genius hybrid features a traditional Chinese filling, but its chewy, salt-speckled casing is entirely New York.
Wontons in hot chili oil
White Bear (address and info)
Flushing
Perhaps the neighborhood's most talked about dumplings, these floppy wontons deserve all the praise and then some. The silky-skinned parcels -- stuffed with pork and vibrant greens -- are excellent on their own, but reach a whole new level of dumpling greatness when smothered in house-made chili oil, pickled vegetables, and fresh scallions.
Fried dumplings
Lam Zhou Handmade Noodle (address and info)
Chinatown
Chinatown's dollar dumpling joints have nothing (other than the whole dollar thing) on this East Broadway noodle house, where the metal platters of thin-skinned potstickers always come out perfectly crisp and bursting with succulent chunks of chive-studded pork.
Sign up here for our daily NYC email and be the first to get all the food/drink/fun New York has to offer.
Patty Lee is a reporter and editor who has written for Zagat, Time Out New York, New York Daily News, and Cooking Channel. At all other times: an eater of desserts, aspiring world traveler, and proud Brooklynite. Follow her on Twitter and Instagram.