Easter's kinship with spring and new life makes it the most daring food and drink-forward holiday. We all expect Champagne on New Year's, chocolate for Valentine's, green beer on St. Patrick's Day, and a hangover the following morning, but Easter offers endless takes on eggs, myriad lamb offerings, and an excuse to drink before noon at an especially celebratory brunch.
In New York City, Easter is the perfect time for restaurants to reintroduce themselves to a dining public's that's been hibernating with Seamless all winter. Chefs citywide curate the season's early bounty with gustatory gusto, crafting fresh new menus evocative of sunshine and warmth. It's also the best time for you to eschew your wool hat, don your favorite vernal bonnet, and settle in for a delectable Sunday brunch that'll make you feel like you've been resurrected from the dead.
Williamsburg
La Cafette's rustic three-course special ($45) is the stuff of a Francophile's Easter dreams: enjoy deviled eggs, an herb-crusted roast rack of lamb with seasonal vegetables, and a poire belle Hélène along with either a mimosa pitcher ($30) or a bottle of sparkling wine ($35), on a sleepy, charming block in Williamsburg. The cozy, très chic et romantique little cafe is best experienced with smallish groups of no more than six.
Jackson Heights
Since Easter is late this year, there's a good (ok, better) chance it'll bring nice weather. Plan to dine under the sun on Bocaito's backyard patio. The Latin fusion cafe's regular menu (Dominican and Colombian breakfast, brunch paella, piña colada chicken and waffles) will be available, and every entree comes with two cocktails.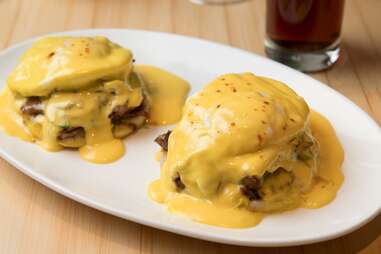 SoHo
Easter brunch gets the Chinese comfort food treatment at Pinch Chinese. Go for the bacon egg and cheese dumplings, Peking duck Benedict, or skirt steak and Sichuan spicy eggs. A $20 add-on gets you 60 minutes of unlimited punch, spritzes, and mimosas.
Bushwick
Planning to sleep in on Easter but don't want to miss brunch? Then Brooklyn Cider House is your spot. From 11am until 11pm, they'll serve novel brunch cocktails like Ciderosa (fresh OJ and their Bone Dry cider), and ribeye steak and eggs, and a holiday special: braised lamb shoulder with wild rice and spring vegetables. And good news for those with furry friends at home -- dogs are welcome to join the festivities on the deck.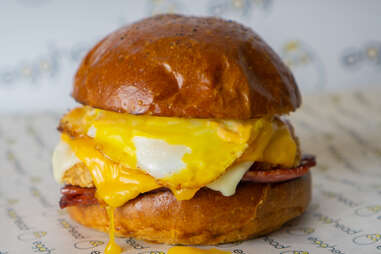 Times Square
If you're torn between brunch and a Broadway matinee, make like a taco kit meme and have both at Egghead. The Theater District-adjacent fast casual stop will sling special smoked egg and ham sandwiches, and house-made chocolate, passionfruit, marshmallow, and vanilla "Peeps" from April 15 through Easter Sunday.
Kingsbridge
This kosher vegetarian restaurant in the Bronx is ideal for your casual Passover-meets-Easter fête. Expect locavore fare like housemade yogurt and ricotta, farm eggs, freshly baked bread and seasonal produce, and longer than normal holiday wait times.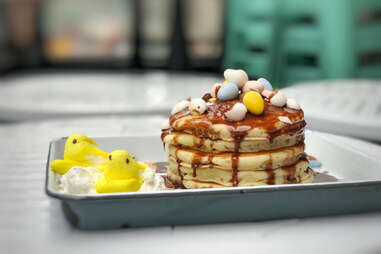 Murray Hill
The Flying Cock serves some of the best and most novel bar food in Murray Hill year round and Easter is its time to shine. In addition to its standard menu items (tuna tartare tacos; cinnamon doughnut bacon egg and cheese; sweet potato poutine), The Flying Cock will roll out Easter Bunny Pancakes, made with chunks of chocolate and topped with fresh whipped cream. Add $21 for 90 minutes of bottomless bloodys, mimosas, or bellinis.
Staten Island
Set back on a little island between the lake and the woods, this literal stone house in Clove Lakes Park makes you feel like you're in a cozy castle, protected from the outside world by a moat. The large dining room is suitable for bigger groups. Choose between the $35 seated brunch (freshly baked croissants, your choice of entree, sides of bacon, sausage, and home fries, plus cookies and brownies for dessert), or the $42 grand brunch buffet (ham, turkey, eggs, pasta, salads, sides, and a chocolate fountain) this Easter.
Midtown East
Armani Ristorante's special four-course Easter menu ($105) nods at Italian tradition. Deviled eggs evoke rebirth, lamb symbolizes sacrifice, and bread marks the end of Lent. If you're feeling really festive, you can hit the Easter parade on Fifth Avenue before brunch -- or take advantage of the vantage point and watch it from the restaurant.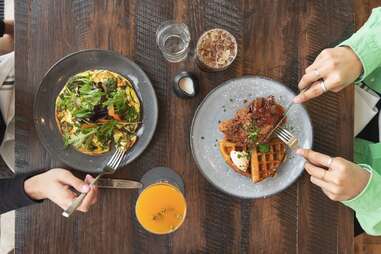 Dumbo
Dazzling Manhattan skyline views make The Osprey an excellent brunch choice any time, and its Easter specials up the ante. Enjoy the first hauls of the local spring harvest in dishes like chilled watercress veloutè with lemon thyme crème fraiche, asparagus with crispy brown egg and taleggio cheese, and prime rib with pomme puree, spring onion, Swiss chard, and au jus. Walk it all off with a leisurely stroll through Brooklyn Bridge Park and up to the promenade.
Sign up here for our daily NYC email and be the first to get all the food/drink/fun New York has to offer.