Zauo

| Cole Saladino/Thrillist
Zauo

| Cole Saladino/Thrillist
Do it often enough, and dinner dates can become a bore. The evenings start to follow the same rhythm and bleed together: Negotiate what to start with and share, order one of your reliable staples as an entrée, talk about your day, eat, signal for the bill, wonder later if the experience was really worth the price tag, then do it all again. Maybe this could be solved by expanding your palate, or by entering couples' counseling, but there's another surefire way to liven up dinners away from the kitchen at home: Don't just get dinner.
Combine your meal with another activity, or break bread in a very particular set of circumstances, and suddenly you're more engaged than you'd be otherwise. Try eating dinner while wearing a blindfold or VR headset, or singing karaoke over Korean BBQ -- the experience will stay with you longer than that small talk you had at the usual spot about which Netflix series to start next. Cynics decry interactive dining as mere gimmickry, and perhaps they're right; but is a gimmick really so bad if it works? After all, there's no denying the simple pleasure of helping to put together a dinnertime playlist, or the intrigue of catching your own fish and having it cooked to order.
New York City's filled with all types of experiential dinners, ranging from the relatively passive to the more interactive. Peruse the recommendations below and decide which ones are your speed. At the very least, you'll have something to reminisce about over future dinners.
Greenwich Village
If you're the type to commandeer the music at a party, Tokyo Record Bar is your ideal dining destination. Customers sit down for a seven-course prix fixe meal at this 18-seat, izakaya-inspired joint, and they each select one song from a decades-spanning list of hundreds. A DJ then weaves together a bespoke playlist on the spot. Keep an ear out for your contribution while scarfing down gyoza, and spend the rest of the evening learning to let go of soundtrack duties.
Chelsea
Catch your own fish in Chelsea, without having to go anywhere near the Hudson. At Zauo, customers are handed a fishing rod and some trick bait, and allowed to cast their line in one of three specialized tanks (freshwater, saltwater, and crustacean). Once you've snagged a live one, let the kitchen know how you'd like your meal prepared (grilled and tempura are among the most popular possibilities), then feast. Cute as the hook might be (sorry), there's a guiding principle behind this Japanese eatery's schtick. Says general manager Rui Higuchi: "The whole purpose of this restaurant is to teach the meaning of being grateful for the fish."
Williamsburg
Nitehawk's original location may not be the biggest dine-in movie theater in NYC, but that's precisely why it's the best. The cozy screening rooms make every showing feel intimate, there aren't too many servers moving about to distract you from the feature presentation, and the kitchen's able to fill orders without sacrificing quality. The burger's always a solid bet, and the ever-changing marquee cocktails complement any flick, regardless of genre. Current pairings include menu items fashioned after Birds of Prey, The Lodge, and Portrait of a Lady on Fire.
Bushwick
Envisioned as a successor to the supper clubs of the 1940s, Guadalupe Inn features a stage in its dining room, where burlesque performances and live Latin music are regular occurrences. Take in a show while splitting a beer-battered squash blossom, or hang back by the oak-wood bar and sip any number of tequila- and mezcal-laced cocktails. Just be sure to check the calendar when planning your visit -- between the stage shows, private events, Taco Tuesday specials ($3 tacos at the bar all night), and vinyl giveaways on Thursdays, this throwback keeps busy.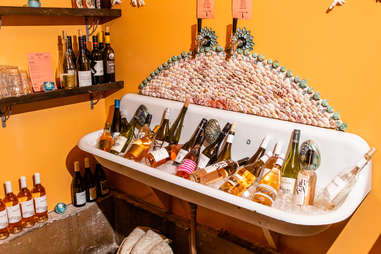 NoHo
To access the Poni Room, you'll have to enter through its sister establishment, Saxon + Parole, and be led down to what was once the wine cellar. There you'll find seating for about 30 and a tap room where, for $25, guests can enjoy light bites and serve themselves unlimited rosé on tap from 6-7:30pm, Tuesday-Friday. You're welcome to one pour-your-own at all other times. Feel free to taste-test a couple of options, but don't abuse the privilege: Oversampling is frowned upon.
Gowanus
Trips to Manhattan are not necessary for top-notch karaoke. Operating within a warehouse-like space, Insa has enough square-footage for both a cafeteria-style dining area and a series of private rooms where you and friends can enjoy a "Wonderwall" singalong. The karaoke menu offers a wealth of choices, and the house fried chicken is ideal for sharing. To help folks overcome performance anxiety, order the scorpion bowl, which contains a mix led by gin, dark rum, and cognac, and will, true to its name, sneak up on you.
Greenwich Village
Let your other senses do the work at Abigail's Kitchen, which hosts twice-weekly Dinners in the Dark. Patrons are given blindfolds and ushered in, conga-line style, to a private dining room to savor a secret menu. Don't get skittish, though: The program highlights aromatic foods and those with interesting textures; it's not meant to test your personal boundaries. "It's not like your introduction to eating insects or lots of organ meat," says chef and owner Abigail Hitchcock. Tickets cost $125 (plus tax), the event runs about two-and-a-half hours, and accommodations can be made for any dietary restrictions. Just don't peek.
Sign up here for our daily NYC email and be the first to get all the food/drink/fun New York has to offer.