Whether it's because it's fried, or because it seems kind of healthy (even though it's really not, because: fried), you love falafel. Especially when it comes from one of the 11 best spots in all of NYC to grab these delicious fried balls -- for lunch, dinner, or drunchies. Speaking of which...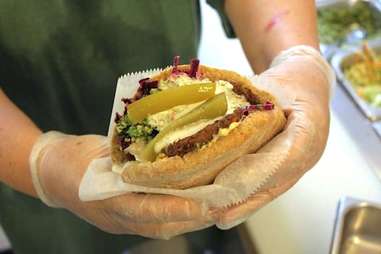 Hell's KItchen
Owner Ezra Cohen = The Soup Nazi, but that won't stop you from coming back to this hole in the wall time and time again -- for falafel sandwiches and platters packed with baba ghanoush, pickles, red cabbage, mixed red peppers, and hummus.
Astoria
Meet the king -- Freddy Zeideia -- himself at this popular Queens street cart. His crunchy, spice-flecked falafel, loaded with lettuce, tomato, onions, pickled turnips, tahini, and hot sauce, helped him win a Vendy Award for best street food in NYC in 2010.

Williamsburg
The closest you'll get to Tel Aviv in New York, these crispy-on-the-outside, light-on-the-inside, non-greasy balls are stuffed with cilantro, lemon, and coriander, and sit atop a bed of curried yogurt and tahini, crunchy pickled cabbage, onions, and smoky tomatoes.
Tribeca
The falafel trio at this Tribeca eatery 1) includes the tried-and-true Classic Forever, Red Hot Chili, and Popeye Delight with spinach and mushrooms, and 2) is so freaking good. A dollop of tahini, skhug, velvety humus, and a kaleidoscope of slaws, salads, and pickles round things out nicely, including you.

Financial District
This Syrian-Lebanese spot is a power lunch favorite for Wall Street types, but the falafel sandwich with crisp, cumin- and coriander-spiced nuggets in thin pitas is well worth the pilgrimage for anyone willing to make the trip downtown.
Flatiron
Forget what you know about falafel: Lebanese chef Philippe Massoud puts his own mind-blowing spin on the grab-and-go snack, with international takes incorporating stuff like cucumber kimchi, fresh scallions, Korean tahini, and basil.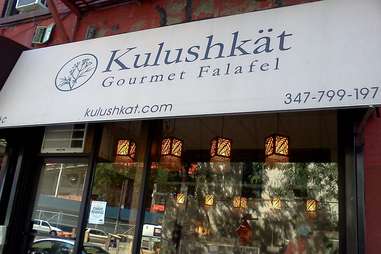 Park Slope
Owner of this mecca for all things Middle Eastern, Israeli/Moroccan Yagil Kadosh was inspired by his Mother's recipe, and this takeout shop doles out Mom-approved falafel in four flavors -- classic, mushroom-and-spinach, spicy, and Mediterranean chicken -- all tucked into pillowy pitas. The name translates to "shut up and eat", sooooooo do that.

Astoria
The hearty moussaka and kofta kabab are both musts at Alexandria-born Ali El-Sayed's spot, but the falafel, with its layers on layers on layers (on layers [on layers]) of flavor, is the move.
Multiple locations
There are three things you need to remember about the chickpea fritters at this joint. Green = parsley and mint; red = red pepper; and yellow = spicy harissa. Down them one at a time or go balls to the wall with a three-in-one pita pocket. Whichever you choose, taïm -- "tasty" in Hebrew -- lives up to its name.

Forest Hills
Don't let the off-the-beaten-path location scare you away from this family-owned, traditional Lebanese spot -- it's one of the reasons Queens might just be the best borough in the city. The fried morsels come wrapped in pita with all the fixings -- pickled turnips, lettuce, tomato, pickles, and a swipe of tahini -- and deliver some serious flavor.
Greenwich Village
Mamoun's has OG status in your book -- and rightfully so -- but it's often overrun with people, especially late at night, and it's important to see other falafel, too. You can always return to this spot with a fresh outlook on fried balls.
Sign up here for our daily NYC email and be the first to get all the food/drink/fun New York has to offer.
Alisha Prakash is a contributing writer at Thrillist and once ate falafel for breakfast, lunch, and dinner in the same day in Israel. See more of her musings on alishaprakash.com.