If there's one complaint that rivals New Yorkers' constant subway grousing, it's our airport moaning. We have three international hubs, and yet, none of them can seem to get it right. They're crowded, outdated, dirty, and severely lacking in modern amenities, like the abundant phone chargers we've come to expect from traveling through practically any other city. An $8 billion dollar overhaul is allegedly going to bring LaGuardia into the 21st century, and JFK is slated for a $10 billion renovation in the near future, but we still can't avoid the grimness of New York's airports while we wait for them to drastically improve.
Airport dining can be rough, but JFK at least has a solid option in each terminal to tide you over until you reach your destination (though pre-packing a bodega sandwich is never a bad move). Here's where to eat next time you pass through.
Terminal 1
JikJi Café
Pre-Security; Grab-and-go with tables nearby
Be warned, pretty much all the decent culinary options in T1 are before TSA, so fill up before surrendering your liquids, if you can. This Korean bodega-style cafe serves decent bibimbap, bulgogi over rice, sushi, dumplings, and other not-quite-airplane-friendly dishes.
Terminal 2
Due Amici
Gate 62; Dine-in
If you have time to sit down for a plate of chicken parm, veal milanese, or pasta, grab a table-service spot at Due Amici, at where you can scroll through a variety of long and short noodles drenched in sauce and served at a relatively quick pace. The pastas are good and sauces are flavorful -- and you'll thank yourself for spending the extra few bucks on a legit meal instead of fast food.
Croque Madame
Gate 62; Dine-in
When scouting a good airport eatery, we typically veer toward the stands serving up made-to-order dishes. Croque Madame has this down, serving crepes stuffed with sweet or savory options at its bar. Are they worth canceling your trip to France for? No, but they'll suffice for airport food. Baguette sandwiches are also great to grab-and-go, preemptively solving any mushy in-flight bread problems.
Terminal 4
Blue Smoke On The Road
Gate B37; Dine-in
If you can resist the fried temptations at Buffalo Wild Wings and Panda Express, slide up to the bar or into a cozy booth at the airport-friendly iteration of Danny Meyer's Southern-style barbecue restaurant. Meaty bacon or sausage egg and cheeses on brioche rolls are breakfast stars, and later in the day a pulled pork or brisket sandwich, or even a grilled cheese, hits the spot.
Shake Shack
Gate B23 & B37; Grab-and-go
Shake Shack is a perennial winner, and if a steamy Shack Stack and an order of cheese fries is going to greatly improve you travel day, go for it. Breakfast sandwiches on potato rolls are a highlight here (until 11am), and sipping a shake as you wait in line to board will make you the envy of your fellow travelers.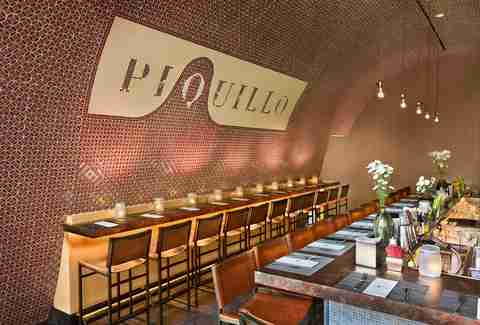 Terminal 5
JetBlue Food Hall
Past-TSA; Grab-and-go with cafeteria-style tables nearby
Reminiscent of a college cafeteria, this large (and often crowded food hall) is comprised of several different restaurants offering made-to-order specialties from around the globe, as well as a salad bar and a hot buffet. Boar's Head lets guests customize their plane-friendly sandwiches and Fresh Italian Pasta combines the shape, sauce, and topping of your choice. The simpler the dish, the better and more satisfying it will be. Trust.
Piquillo Tapas Bar
Past-TSA in the marketplace; Dine-in  
Known as the first-ever tapas bar in an American airport, chef Alex Raij's eatery is one of many celebrity-chef associated spots in T5 and a great place to kill time before a flight. Its space is necessarily small, but if you sit near the back wall you may feel like you've escaped the airport for a moment. Sip some sangria and snack on garlicky shrimp, jamon, chorizo, and Spanish-style tortillas.  
Deep Blue Sushi
Past-TSA in the marketplace; Dine-in
Airport sushi has probably earned its bad rap over the years, but Deep Blue is different. The fish is fresh, rolls are prepared promptly on-site, and the ambiance is actually kind of cool; it looks like someone designed an airport restaurant from the future... in the '80s. Those hesitant to indulge in raw seafood in an airport can still enjoy edamame, tempura, and several noodle dishes. Stick with sushi and you'll find all the typical rolls and sashimi pieces, as well as T5 specialties like a lobster roll with jalapeno, or a yellowtail-tuna-salmon combo. It isn't cheap (two pieces of toro will cost you $20) so you're best off here if someone else is paying.
Terminal 7
Irving Farms Coffee Roasters
Gate 5, grab-and-go
It's rare to find a decent espresso drink after security's limited liquid boundaries, but Irving Farm is the exception, brewing its signature sustainable, locally roasted beans inside JFK. Food-wise, you'll find a nice selection of (pre-made, it is an airport) all-day breakfast sandwiches, quiches and bagels, as well as savory sandwiches like the turkey, apple and brie, served warm.
Terminal 8
Bobby Van's Steakhouse
Gate 14; Dine-in
The wood-paneled, white-tablecloth restaurant is opulent, over-the-top, and probably not the type of place you had in mind for a quick bite before your flight; but if you want freshly prepared food, stop here. Priority Pass holders get $28 off their check (some entrees, like the meatloaf, roasted short rib, and chicken parm are less than that, or you could make a meal of apps and sides) and takeout is available if you don't feel like lingering. Steakhouse salads are large enough to feed two, making them a legitimately good deal at around $25, and a side of gooey mac & cheese is the ultimate pre-trip comfort food.
Wok & Roll
Food Court; Grab-and-go with cafeteria-style tables nearby
Pickings are slim in Terminal 8, and if you're not going the McDonald's or Dunkin' Donuts route, your next best quick option is this steam tray Chinese-style buffet. Load up on fried rice, sesame chicken, and steamed veggies, for health.
Sign up here for our daily NYC email and be the first to get all the food/drink/fun New York has to offer.