Can airport food actually be any good? Even in NYC, one of the greatest food cities in the world, finding a solid spot to eat before your flight can feel like a struggle.
"There are a lot of factors that make airport dining really hard," says Zach Griff, travel analyst at The Points Guy. "The first, and most important, is that everything that goes through an airport has to clear security." That means that every single ingredient bound for your bowl or plate has spent time waiting in a security line—just like you.
Add those ingredients to cramped cooking spaces, restrictions on gas ovens and stoves, and knives that have to be tied down to counters or walls. "All that taken together," says Griff, "makes it very hard to offer a restaurant-quality experience in an airport at a comparable price."
But don't despair! John F. Kennedy International Airport, as NYC's largest airport, has more than enough dining options for you to find something worth paying the airport premium for. Plus, it's got a handy AirTrain to zip you between terminals when you've got some time to find the best bite.
To help you on your culinary journey before your actual journey, we've rounded up our favorite places to eat and drink in each terminal. While dining in NYC is back to 100% capacity, airport dining establishments around the country are still experiencing some serious staffing issues. Please continue to be patient, since some terminals like Terminal 2 might have you rerouted to a different departure area, or eateries in general may be closed or crowded during your visit. We've noted which restaurants are open and which are temporarily closed, although keep in mind that things continue to change day by day.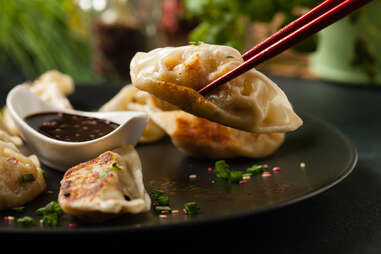 Terminal 1 (Aeroflot, Air China, Air France, Air Italy, Air Serbia, Alitalia, Austrian Airlines, Azerbaijan Airlines, Brussels Airlines, Cayman Airways, China Eastern, EVA Air, Interjet, Japan Airlines, Korean Air, Lufthansa, Norwegian Air, Philippine Airlines, Royal Air Maroc, Saudi Arabian Airlines, Turkish Airlines, VivaAerobus)
Departures Level
S Concourse, Gate 9
Beggars can't be choosers, and if you're begging for a drink in Terminal 1, you're choosing Martini Bar. Serving up beer, wine, and get-the-job-done cocktails, you can throw a few back while people-watching fellow travelers or staring at whatever the TVs are tuned to. Just like most aspects of air travel in 2021, it's...fine. It's fine! Just remember: you'll be happy you shelled out for that martini when you're on the plane with your knees all smushed next to some kid watching Paw Patrol on an iPad without headphones.
Departures Level
Gate 6
This counter-service spot has a short menu that's served up pretty speedily, making it ideal for an on-the-go meal. Dumplings, rice and noodle bowls, and—as the name implies—a selection of sake make this worth a quick stop. Unless you've got the time to jump on the AirTrain and try the eats at another terminal, a plate of microwaved gyoza and cup of Junmai Nigori should tide you over until you reach your destination.
Other options in Terminal 1:
Dunkin, Eat & Go Istanbul, Euro Café, JikJi Café, McDonald's, Panini Express, Pizza Pub, Soho Bites, Starbucks, The LOCAL, Tuscany Café, Uptown Market, Wok & Roll
Terminal 4 (Aeromexico, Air Europa, Air India, Asiana, Avianca Brasil, Caribbean Airlines, China Airlines, China Southern, Copa Airlines, Delta, EgyptAir, El Al, Emirates, Etihad, Kenya Airways, KLM Royal Dutch Airlines, Kuwait Airways, LATAM, Singapore Airlines, South African Airways, SWISS, Uzbekistan Airlines, Virgin Atlantic, Volaris, WestJet, XiamenAir)
Gate B32
Marcus Samuelsson, the celebrity chef behind Harlem's famed Red Rooster restaurant, is serving up the Southern food he's known for—like a catfish sandwich with Carolina coleslaw—at this sit-down spot. Uptown Brasserie is an especially good choice for breakfast, too, where buttermilk pancakes and chicken and waffles are served up hot from the open kitchen and best washed down with a couple of smoky Bloody Marys.
Retail Hall - West
Fancy-pants steakhouse The Palm is serving up filet mignon, lobster ravioli, and other elevated airport foods at their offshoot Bar & Grille. If you've got some per diem to burn on a business trip (or if you just need a quiet-ish spot to nurse a couple of whisky cocktails before you board a plane to see your in-laws for the holidays), pull up a chair and treat yourself to a pretty decent steak dinner.
Other options in Terminal 4:
Open: Buffalo Wild Wings, Camden Foods, Dunkin, McDonald's, Peet's Coffee & Tea, Pizza Vino, Shake Shack, Tigin's Irish Pub & Restaurant, Urban Crave
Temporarily closed: Bento Sushi, Blue Smoke on the Road, Canal St. Noodle House, Caviar House & Prunier Seafood Bar, Central Diner, Five Borough Food Hall, Flatiron Coffee Roasters, Jamba Juice, La Brea Bakery, Le Grand Comptoir, Mi Casa Cantina
Terminal 5 (Aer Lingus, Cape Air, Hawaiian Airlines, JetBlue, TAP Portugal)
Food Hall
New Yorkers are split on the merits of Artichoke Pizza. Some love the saucy slices, and others think it's overhyped and that you can get a better pie at half of the no-name pizzerias in Downtown Manhattan. But you're not wandering around the West Village or NoLita—you're stuck in JFK, baby! The slices are big and make for a relatively affordable meal in a sea of overpriced options, putting this Artichoke Pizza location solidly into the win column, no matter what anybody says.
Food Hall
If you've got an early flight out of JFK, a good bagel and schmear will almost make up for that extremely expensive Uber. Originally open since 1972, H&H bagels has a long and storied history in NYC, making it a crucial bite on any New York tasting tour. Whether you're on your way out of the city or back in, a stop here is the perfect first or last part to your NYC experience
Other options in Terminal 5:
Open: AeroNuova, Aunt Butchie's Bakery Café, Baked by Melissa, Cibo Express, Custom Burger, Eggy Weggy, Deep Blue on the Fly, New York Sports Grill, Re:Vive Bars, Starbucks, World Bean
Temporarily closed: 5ive Steak, Away Café, Caribbean Kitchen, Deep Blue Sushi, Horizon Bakery Café, Jamba Juice, La Vie, Loft, Lucy's Asian Kitchen, Market Table & Feature Entrees Bar, Piquillo, Revolucion
Terminal 7 (Aerolíneas Argentinas, Alaska Airlines, ANA, British Airways, Eurowings, Iberia, Icelandair, LOT, Ukraine International Airlines)
Food Court
Terminal 7's food options are, admittedly, limited, but that doesn't mean you can't find a spot to throw back a glass of wine. Le Grand Comptoir wine bar is the perfect place to sip a chilled white while you graze on some olives or a simple charcuterie platter—anything arranged instead of cooked is always a good choice in an airport. The drinks aren't cheap, but they will liven up your time in Terminal 7, which is more than worth the price.
Other options in Terminal 7:
Open: Dunkin
Temporarily closed: Apartment 7B, Brooklyn Rebel, Burger Joint, Irving Farm, Kobeyaki, Long Island Brew House
Terminal 8 (American Airlines, Cathay Pacific, Ethiopian Airlines, Finnair, Qatar Airways, Royal Jordanian)
Food Court
Another airport offshoot of a local pizza joint, Abatinos is serving up slices to go in JFK's gigantic Terminal 8. For the slices here, the crust is thin, the cheese is hot, and you can fold it in half and eat it like a real New Yorker while you race to your gate. They serve wine and beer, too, so you can take the edge off just in case you get seated next to a screaming baby.
Other options in Terminal 8:
Open: Baskin Robbins, Cibo Express, Dunkin, Mezze Café, Starbucks
Temporarily closed: Angelina's Metro Market, Auntie Anne's, Bobby Van's Steakhouse, Cascata, Drink Martini Bar, New York Sports Bar, O'Neals Restaurant, SoHo Bistro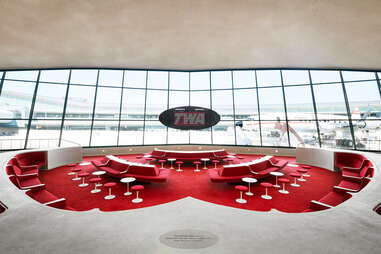 If you've got some time to kill, head a little off the beaten path to the TWA Hotel, which has recently been redesigned in swinging 1960's style and now even offers roller skating. The Sunken Lounge, which awaits you at the entrance, has giant windows and strong drinks—what more could you ask for? Pull up your suitcase, kick up your feet, and order the "Jet Fuel," which is made with cucumber mint vodka, Aperol, fresh lemon juice and muddled watermelon.
Jean-Georges' Paris Café lets you eat a meal away from the hustle and bustle of the busy terminals. The simple menu with healthy-ish options (salads, salmon, chicken breast) has a very ladies-who-lunch vibe, which is highlighted by the vintage decor. Get in the spirit with a raspberry bellini or a glass of bubbly—just make sure you stay sober enough to make the journey back to your gate.
Other options at the TWA Hotel:
Connie Cocktail Lounge, Crêpes Your Way, Feltman's of Coney Island, Fly-By Bagels, Mister Softee, The Pool Bar (only available for guests of the hotel), Vinny's Panini