Like pizza, fried chicken had a pretty great year in NYC in 2014, and as a result, so did all of us (it's called trickle-down chickenomics, look it up). Here, though, are the eight new spots that had the pretty greatest year (looks like the LES was 2014's fried chicken hotbed).
East Village
This Southern spot from from a couple of Top Chef-ers is charming in all the right ways, and pulls off some amazing (if not somewhat divisive) fried chicken. It's slightly citrus-y, somehow kind of light tasting, "crazy juicy" poultry that's brined in sweet tea, dredged in seasoned flour, and pressure fried, which pushes the moisture into the bird. It's also topped with dehydrated and ground lemon slices and comes with a side of bourbon Tabasco honey. And, since you only eat things sandwiched between waffles because you're a Goddamn genius, they've also got a bomb sandwich here just for you.
Lower East Side
It's a fried chicken spot that also specializes in Champagne. Which, it turns out, is a natural fit for the flavors the crispy bird is bringing to the table. Get the Winner, Winner, Chicken Dinner for a whole bird, three sides, and a bread basket.
Lower East Side
With both Southern fried and Korean fried options, this chicken wing bar has something for just about any type of fried chicken enthusiast, especially if you're the type of enthusiast who likes gochujang Buffalo sauce or palm sugar & calamansi seasoning. Also of super-awesome note: drinks in coconuts.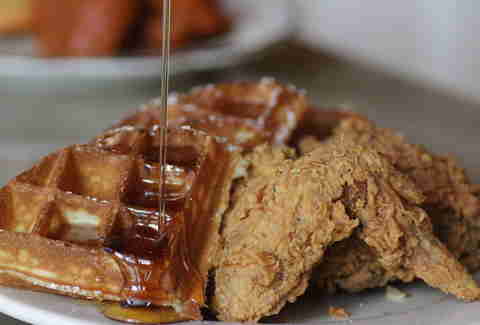 Lower East Side
It was a very good year for fried chicken in the the Lower East Side in 2014, and this second location of the Williamsburg favorite is a big reason why. The always-strong regulars are on the roster here as well as a few specials, including chicken & "foieffles": fried chicken, duck fat maple syrup, and waffles with foie gras packed INSIDE of them. This place gets crazy, and it works.
Murray Hill
Murray Hill needed two things in 2014: 1) a luxury beer pong table dealership, and 2) a badass place to get crazy-as-hell, late-night chicken fingers. Sadly, it only got one of those two things. Way-less-sadly, the one it got was a second NYC location of Sticky's, which both immediately got crazy with the fingers (latke finger anyone?) and introduced the world to s'mores fries.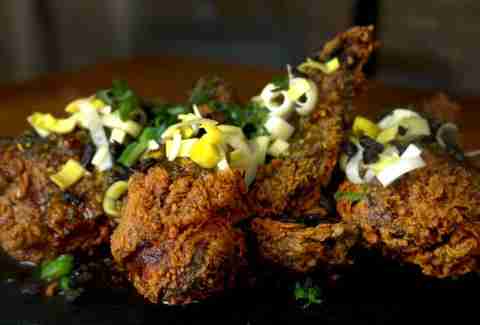 Fort Greene
This spot wowed Williamsburg at Smorgasburg by unleashing its General Tso's buttermilk fried chicken on the already crazy-crowded outdoor food market, combining the best of couch-lazing delivery days and butter milk-infused, top-notch ingredients. Thankfully it's available at the Fort Greene restaurant as well.
Lower East Side
Whether for brunch (fried chicken and waffles Benedict) or dinner (organic Southern fried chicken with gravy), this corner spot has you covered. Also, it's got chicken fried steak, which isn't technically fried chicken, but STILL.
Sign up here for our daily NYC email and be the first to get all the food/drink/fun New York has to offer.
Andrew Zimmer is Thrillist's NYC Editor and he's in awe of fried chicken's ability to be for breakfast, lunch, and dinner now. It's amazing. Follow him on Twitter and Instagram.