Some may think of French fries as just a side to burgers and steaks, but smart people know that the perfect French fry can stand on its own (and, you know, it doesn't hurt when there's some cheese on top). Whether you like them crispy and plain, covered in cheese curds and gravy, or fried three times, these are the absolute best fries in NYC.
Recommended Video
Send Foodz: New York City Wine & Food Festival
Best shoestring fries: Lafayette
Noho
Andrew Carmellini knows his way around bistro fare, so it's no surprise that these are the poster child for shoestring frites done right. Fried twice in canola oil, then seasoned with salt, the sticks manage to stay insanely crisp as you eat them by the handful.
Best steak frites: Balthazar
Soho
A lot of work goes into these golden potato wands and it shows. Russets are peeled, cut, soaked in water overnight, then fried twice and showered with fine sea salt before they end up on your plate.
Best loaded fries: Joju
Elmhurst
We love banh mi. We love French fries. And this Queens hangout ingeniously COMBINES THE TWO by garnishing crunchy potatoes with classic Vietnamese sandwich fixin's (pickled carrots, daikon, cilantro, and jalapeños), spicy mayo, and a zingy house-made green sauce. Oh, and you can can top it all off with an optional (only in name) fried egg.
Bushwick
Leave it to the crew that gave us Dorito kimchee carbonara to come up with mapo tofu chili cheese fries, which feature mouth-tingling Szechuan peppercorns, tofu, scallions, and good ol' American cheese.
Multiple locations
There's a reason Shake Shack's fresh, hand-cut fries were booted in favor of these crinkle cut originals. The ridged taters are never limp and actually hold up under their gooey cheese sauce.
Best thrice-cooked fries: The Breslin
NoMad
The standard two cooks are not enough for April Bloomfield, who first boils her potatoes then fries the chips -- twice. The extra step results in a superb crackly crust, while the thick-cut shape allows the creamy center to remain intact. There's cumin mayo for dipping, but the sea salt-dusted fries are pretty spectacular on their own.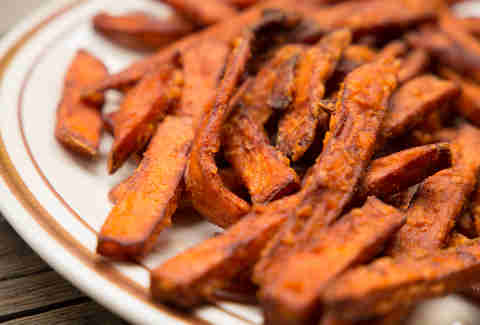 Best sweet potato fries: Grey Dog
Multiple locations
A meal at this brunch-time favorite would not be complete without an overflowing platter of the sweet potato fries. Some are long and some are stubby, but all are equally crisp and well-seasoned.
Best non-potato fries: Narcissa
East Village
What's that you say? You can't put non-potato fries on a best fries list? Well we did ANYWAY, and you'll thank us later. These aren't your average carrot sticks, built to deliver tubs of hummus to your face. Here, John Fraser worked his magic to turn the Bugs Bunny snacker into tempura-battered beauties that are snappy and tender all at once. The jalapeño-infused "mayo" also fools you into eating more healthy stuff -- it's actually made from tofu, sucker.
Sign up here for our daily NYC email and be the first to get all the food/drink/fun New York has to offer.
Patty Lee is a reporter and editor who has written for Zagat, Time Out New York, New York Daily News, and Cooking Channel. At all other times: an eater of desserts, aspiring world traveler, and proud Brooklynite. Follow her on Twitter and Instagram.