A Tour of the Best Greek Food in Astoria
If you're going to have Greek food in New York City, you should go to Astoria. And if you're only going to have Greek food in NYC one time, you must go to Astoria. Just across the East River (minutes from Midtown, in realtor speak), the northwest Queens neighborhood beckons visitors with a taste of the Mediterranean, by way of the 59th Street or Robert F. Kennedy bridges. Named in the 19th century for multimillionaire John Jacob Astor, the sprawling Queens neighborhood has long been a haven for Greek transplants, offering both a fresh start and familiar comforts, via a healthy mix of churches, social clubs, and cultural centers. And the area's dining scene reflects those blue-and-white roots more than any other part of NYC.
 
Of course, Astoria is a hub for all manner of cuisine and communities -- expect to savor the smell of freshly baked bread when passing the various Italian bakeries and pastry shops, pass enticing taco trucks, see old school diners and barbecue destinations, and spot scented smoke billowing out of the hookah lounges in Little Egypt, on Steinway Street. But there's a reason Astoria is known as the Mount Olympus for Greek food in New York City. Wherever you sample moussaka, orzo with lamb, grilled octopus, souvlaki, pastitsio, spanakopita, and tzatziki in the neighborhood, you'll be reminded of Greece.
 
Many Greek eateries are concentrated near Ditmars Boulevard, the final stop on the N/W subway line. The elevated train tracks that run up 31st Street lend that long stretch a sort of cinematic look, intermittently casting tall shadows on the mom and pop shops below. The yellow line rumbles overhead, spilling commuters onto commercial avenues packed with bodegas, nail and hair salons, wine shops and fruit stands. You'll catch the neon glow of big banks and corporate coffee chains, too, but, for now at least, they're less of a blight than they are back in Manhattan. Astoria still feels like a neighborhood; a decidedly Greek enclave of people who've made their homes nearby but who still maintain a connection to someplace far away. You can have a taste of that connection by sitting down for a meal.
This destination is of paramount importance, but getting there is only half your NYC Greek food journey. You still need to know where to go. To suss out which Greek restaurants truly deserve all the glory, I consulted those who know best: people who own and operate Greek restaurants in Astoria. When someone who works in the business is willing to eschew self-promotion and tell you where they go on their day off, or where they send their Hellenic kin, you know it's going to be some of the best of the best. And among these insider tips, I took a detour to visit a lowkey neighborhood favorite and found that it's as great as ever. This is everywhere you should go for Greek food in Astoria, according to the pros.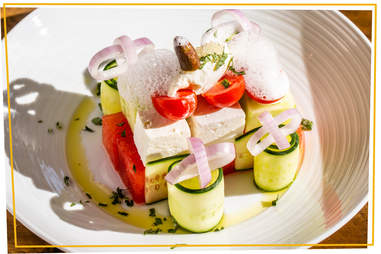 Amylos Taverna

| Cole Saladino/Thrillist
33-19 Broadway at 34th Street
Manhattan Island meets the Greek Islands in modern environs
To start, I dropped by one of the newer establishments -- Amylos Taverna -- which first opened its doors this past January. Rather than head straight to one of the mainstays, I wanted to get an upstart's perspective on the local giants and see why anyone would be emboldened to launch a new Greek spot in a neighborhood already full of 'em.
 
Owner and general manager John Arvanitis Jr. -- whose father owns and operates the nearby Omonia Cafe, further down Broadway -- says Amylos offers a contemporary, refined twist on traditional Greek recipes. They aim to dazzle locals with splashy presentation that'll also draw patrons in from the city's main island.
 
"We're a slice of Manhattan in Astoria," Arvanitis says. "It's gotta be worth it for my customer to jump in an Uber, pop in a cab, come over here, and have that caliber -- or better -- of an experience without splitting their wallet in half."
 
Amylos' "Taverna" tag betrays its clubby vibe. A marble bar, sleek surfaces, moody lighting, and artfully constructed plates combine to create a cool, composed atmosphere.
 
The prices at Amylos certainly aren't featherweight, but they're also not extreme for an eatery that believes its real competition is every high-end Greek restaurant back in Manhattan. Its menu evokes taverna favorites with modern twists. Sushi-grade octopus is served over fava purée and alongside an electric-looking yogurt-beet sauce to flatter several senses at once. The tower of veggie chips is ideal for sharing and comes with a refreshing yogurt mint dip. Moussaka, traditionally a rich, layered Sunday dinner staple, is reimagined here as surprisingly light, easily devoured croquettes. Their take on a watermelon salad might appear a little too pleased with itself -- beer foam bubbles on top of cubed chunks of feta and watermelon -- but the flavors are fresh and summery enough to please Greek food purists.
Stamatis

| Jason M./Yelp
29-09 23rd Avenue near 29th Street
Fundamental Greek comfort food 
After talking it over with his father at Omonia, Arvanitis recommended a couple of options for the next stop on my Greek-eating tour of Astoria. Both of his picks (one of which we'll get to later) specialize in more down-to-earth cooking, meant to please the gut.
Stamatis is "simple, it's authentic, and it's an accurate representation of what you might find in Greece," Arvanitis says.
That all checks out with how Dimitris Filippou, an employee who juggles a few responsibilities at Stamatis, characterizes the joint.
 
"When you enter the restaurant, you feel right away like you're home," says Filippou, who's also related to the owners. "You are never disappointed with the food."
 
His favorite dish on the menu is the lamb with tomato sauce, and it's plain to see why: Served with gobs of orzo in a pool of satiny red sauce, the hunk of lamb meat is incredibly tender, and flakes off so easily that it barely requires a knife. It's exactly the kind of meal you'd expect at a late-afternoon family dinner, except it's served alongside murals of serene seaside views and leaping dolphins, beneath recessed, deep-blue lighting.
19-06 Ditmars Boulevard at 19th Street
Easy to share bites in a familial environment
When he's craving smaller plates to snack on, Filippou heads to Agnanti. The stuffed calamari -- filled with an enticing mash of tomato, feta, and basil -- presents a nice alternative to the far more common fried appetizer, and the zucchini and cheese croquettes will satisfy anyone skittish about seafood.
 
What you'll really want to bask in, though, is the quiet. Agnanti sits near the far edge of the neighborhood, just across the street from the vast Astoria Park, which looks out on the East River. It's an idyllic scene, particularly when the sun's melting away over Manhattan and the light hits the nearby trees at just the right slant. Traffic is minimal -- both foot and vehicular -- and you're far enough from the El line to momentarily forget about your subway commute.
26-02 23rd Avenue at 26th Street
A casual cafe that prizes small pleasures and invites guests to linger
I used Agnanti's close proximity to Gregory's Corner Taverna as an opportunity to check in on this Astoria staple.
 
GCT has been a neighborhood favorite for so long that, ironically, it's easy to forget it's there. And it's an absolute must for cozy surroundings and no-frills eats. The chicken souvlaki sandwich might have been the single most satisfying meal I had in Astoria, thanks to its lean white meat (grilled, very lightly seasoned with salt, pepper, and garlic), pita that's toasted but still soft, and generous smattering of perky, creamy tzatziki, all for under $10.
 
That affordable price tag may evoke notions of quick turn service, but you can linger at your leisure without fear of getting eighty-sixed. GCT's pace is closer to the heartbeat of a late-night European dinner than the organized chaos at a similarly inexpensive fast casual joint in Midtown.
 
Freida Bletsas, who cooks and waits tables at Gregory's, is happy to host. "[It's a] nice place to sit down, chat, drink your wine," she says, intermittently sitting down with me and checking in on other customers.  "We don't kick you out. You eat, drink, and nobody will tell you to get up and leave."
 
Those simple comforts are what Gregory's does best, down to the tin-pressed ceiling inside and the checkered red-and-white tablecloths outside. Once you're done with your plate, take Bletsas up on the opportunity to sit back and enjoy the scenery. If you're out front, underneath the blue awning and among the potted plants, you'll be able to admire the two-story brick homes that line the avenue and watch the occasional Amtrak train rumble along the ominously monikered Hell Gate Bridge. It's enough to make you feel your blood pressure come down -- depending on what you've just eaten, naturally.
31-14 Broadway between 31st and 32nd Street
No-nonsense dining with an impressive reputation among the local competition
Before we said goodbye, Bletsas sent me over to one of the same restaurants that Arvanitis swears by: Bahari Estiatorio, right off of the N/W train.
 
"It's a comfort-food place, for me, at least," Arvanitis says. He adds that Bahari trades in "the oil-based foods. The kind of stuff that your grandmother would make -- if you were Greek." Pretty much everything about Bahari speaks to its air of authenticity -- the storefront window filled with ice-packed fish; the sign outside declaring it a bastion of "authentic Greek cuisine"; the whiting lunch special, featuring a fried outer layer and succulent slivers of meat among the bones; the fact that the staff refused to be interviewed for this piece.
45-07 Ditmars Boulevard between 45th and 46th street
Home-y atmosphere that harks back to the old country
To jumpstart some new leads, I doubled back to Amylos and asked Arvanitis' right-hand man, assistant manager Nikos Belmezas, for his favorite Greek restaurant in Astoria. Belmezas pointed me toward Loukoumi Taverna. He's a fan of how they balance their seasoning and specifically recommends the dakos salad, a mountainous helping of diced tomatoes, feta, and crunchy rusk chunks.
 
"For me, being a picky guy, a restaurant guy, to go there and not touch anything, it means they're doing a decent enough job on the spices, olive oil, vinegar, dressings they're going to use, so it's balanced," Belmezas says. "Whatever they serve on a plate, I like it."
Even though it's competing with more savory dishes, the dakos salad satisfies; bits of barley rusk come drenched in olive oil and buried underneath the tomatoes, the feta melts almost as soon as it hits your tongue. Follow that with the pork souvlaki platter to make your meal a feast. The meat's as tender and seasoned as perfectly as you'd expect -- salt, pepper, oregano, served on a skewer with figs and tomatoes.
 
Stone walls and mounted white shutters create a transportive experience, but what really sells the room are the black-and-white photos hanging all over. They're shots of the owners' family and old friends back in Greece, printed with the venue's slogan, "Life is Loukoumi" -- not only the name of the restaurant but also the name of the cubed jelly candy that accompanies each check. Here, life is sweet, indeed.
Taverna Kyclades

| Cole Saladino/Thrillist
33-07 Ditmars Boulevard between 33rd and 35th street
Essential eating for fans of straightforward fish dishes
For a seafood-centric, bold-name restaurant regularly recommended by everybody and their Yaya, try to nab a table at local institution Taverna Kyclades. This no-reservations spot is always bustling, with people streaming in and out from underneath its bright, can't-miss-it blue awning.
 
"Everything is fresh here," says Kostas Petrovas, a waiter and assistant manager at Kyclades. "We're so busy, we cannot keep food. Everything is sold out almost every night." 
If popularity is any indication of quality, then the grilled octopus is the most delicious item on the menu -- regardless of when you sit down at Kyclades, someone is cutting into a set of tentacles. I went with the dorata, which was meaty without feeling too heavy, tasted fresh, and was nicely prepared with simple lemon and olive oil. Just keep a keen eye out for bones.
26-19 23rd Avenue at the corner of 27th Street
A taste of Greece in one signature dish 
When he's not in the scrum at Kyclades, Petrovas spends time at E Taverna, near Gregory's and Stamatis. "It reminds me of Greece a little bit," Petrovas says.
 
E Taverna's vision of Greece involves a ton of wooden decor and tapas. Charlie Mastoras, the owner's son, who manages the space and waits tables, says that the spanakopita is a best-seller. He brings me a brick-sized slice of spinach pie, with a crust so crispy and buttery that I can still taste it almost a week later. It's even better with a glass of house red wine, served chilled since it's summertime.
 
Before I leave E Taverna, I ask Mastoras for his favorite Greek restaurant in the area. Even though he says he can't stomach seafood, he picks Taverna Kyclades. I ask why, and he echoes what Petrovas says about E Taverna, and what all of these spots have in common with each other: "It reminds you of Greece."
Sign up here for our daily NYC email and be the first to get all the food/drink/fun New York has to offer.
Kyle McGovern is a writer and editor living — get this — in Brooklyn. His work has appeared in Vulture, SPIN, and GQ.